Sunday night news broke that former Rep. Anthony Weiner had apparently, for the third time, been caught sending graphic text messages to a woman who was not his wife. His wife happens to be longtime Hillary Clinton aide Huma Abedin, who is currently the vice chairman of Clinton's 2016 campaign. And apparently "helping your disgraced husband deal with his third major disgrace" is not something that Huma Abedin wants to be messing around with during the stretch run of a presidential campaign, because she has announced that she is separating from Weiner:
The Drudge Report is already slanting the news to play the far-right nut-o-sphere's creepy fantasy/conspiracy theory that Hillary Clinton and Abedin are longtime lesbian partners: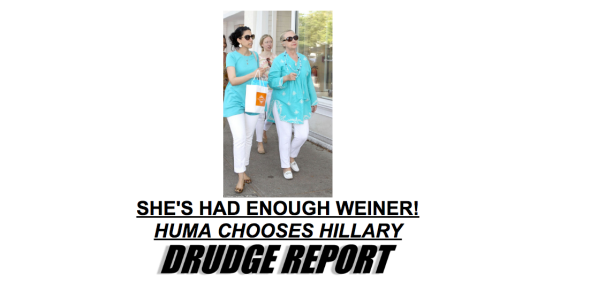 Nice. Also, the internet's Brian Feldman is certainly right about this:
Indeed. Fun ("fun") times ahead.
Update, 12:30 p.m.: Donald Trump has weighed in with a statement tying Weiner to Clinton's email server scandal. From the New York Times: