CLEVELAND—Mike Lee was killing time, waiting for Utah's turn in the state-by-state roll call to nominate Donald Trump for president of the United States. His fight at the convention was over, the Trump-defying contingent of which he was a leader having been crushed by the machinery of his own party. The roll call was just a detail, the body count coming in from a shattered front. It was time now to talk about Pokémon Go. What does Mike Lee think of Pokémon Go? Not much.
"I downloaded it thinking it might be fun, because it's all the kids are talking about," he said. "I can't for the life of me figure out what is fun about Pokémon Go. No one has been able to explain it to me. Staffers, my children, neighbors tried to explain why it's fun. It makes no sense. It is not a fun game. Maybe there's something in it that I'm missing." He lamented that you don't even "stumble across any Constitutions in it."
He went on: "I even opened Pokémon Go inside the Senate chamber one time—we're not supposed to do that, it's against Senate rules—but I was curious to see whether there were points to be scored inside the Senate chamber. Nothing. So." He went on about this for a little while longer, and even tried to open it on his phone, sometime around Oregon. He couldn't get any service. Oh, well.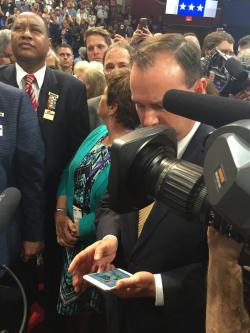 But what else was there to talk about? Certainly he didn't want to talk about what was unfolding in front of him. I stood by Lee for about an hour leading up to Utah's turn in the roll. Waves of reporters would arrive every 10 minutes asking the same two questions, both of which he was perfectly polite in answering for the 10-millionth time this convention.
How is he feeling? "It's the convention. It's like the Super Bowl!" (One time he added, more glumly, "like the Super Bowl, at the end of the day, it turns out to be no big surprise.")
Will he endorse Donald Trump? "We'll see." He would like Trump to show that he understands federalism and the separation of powers.
Lee, Sen. Ted Cruz's first (and ultimately one of the few) endorsers in the Senate, mostly kept silent on Trump for a long time. Sixty-nine percent of Republican caucus-goers in his heavily Mormon state went for Cruz, while 14 percent went for Trump. No state's Republican electorate was as distinctly disgusted by Trump as Utah's, and Lee, behind that extremely polite demeanor, seems to feel likewise.
In late June, the smile finally fell off during a Newsmax TV interview when he was pressed about not endorsing Trump. "We can get into the fact that he accused my best friend's father of conspiring to kill JFK," Lee told Steve Malzberg. "We can go through the fact that he's made statements that some have identified correctly as religiously intolerant. We can get into the fact that he's wildly unpopular in my state, in part because my state consists of people who are members of a religious minority church. A people who were ordered exterminated by the governor of Missouri in 1838. And statements like that make them nervous.
"Don't sit here and tell me, Steve," he concluded, "that I have no reason to be concerned about Donald Trump."
Lee was among the Trump-resisting delegate leaders who got rolled by the candidate and the RNC during Monday's fiasco over the party rules on the convention floor. I asked him if he had gotten any more information from the RNC about how it had disappeared the petitions. "I haven't heard anything," he said. "I don't necessarily expect to hear anything. Which is unfortunate, but I guess that's where we are."
The roll call proceeded, with Lee offering a running commentary.
Maine now. What does Lee think his dear friend Ted Cruz will say in his convention speech Wednesday? He demurred, focusing less on the prospect of Cruz endorsing Trump than on Cruz's style. "He thinks podiums are a form of torture, or something," Lee said. "He'll have a mic, and he'll pace, and he'll come down in his boots. I think he sleeps in his boots. He's never not wearing boots."
New Hampshire now, Corey Lewandowski, the former Trump campaign manager serving as chair of the state's delegation, looking bug-eyed and puffy-chested as always, shouting out Trump's delegate haul from the state. Lee hollered back, "Great job, Corey!" He and his wife, Sharon, were agog at the severity of the look on Lewandowski's face.
And wasn't it funny how some states referred to Trump as "Donald Trump" while others said "Donald J. Trump. "There might be another Trump," he said. "Donald K. Trump!"
New Mexico now—the state of Breaking Bad, Lee said. "It's real, you know. You think it's a drama, but it's actually real people."
Somewhere around Texas, as state delegation chairs went on and on about their most famous residents, he made a dry joke about what Utah could say. "Ted Bundy!"
Utah's turn was here. Phill Wright, vice chair of the Utah Republican Party, announced that the state would cast all 40 of its delegates' votes to the overwhelming winner of their caucuses, Ted Cruz.
"Nailed it," Lee said to Wright, as they waited, and waited …
"Pursuant to the announcement of the delegation and the rules of this convention," the presiding convention chair eventually announced, "Utah: 40 votes, Trump." Wright, Lee, and others went stone-faced for a moment, though of course they knew what was coming.
The chair explained the peculiar provision in the Utah rules that, "notwithstanding the outcome of the state's presidential contest, those votes will go to the lone surviving candidate in the race." Another reporter noted that Lee's delegation didn't seem particularly happy with the ruling, even if no one there was surprised.
"He came in with 14 percent," Lee said.
But this was all anticlimax. Trump had already hit his mark. Moments earlier, New York had put Trump over the 1,237-delegate threshold. As the Quicken Loans Arena celebrated to "New York, New York," Lee and most of the rest of the delegation stared straight ahead, barely cracking an expression.
I asked Lee if he would describe this as a happy moment. Was this exciting?
He thought about it for a few seconds.
"Conventions," he said, "are always exciting."