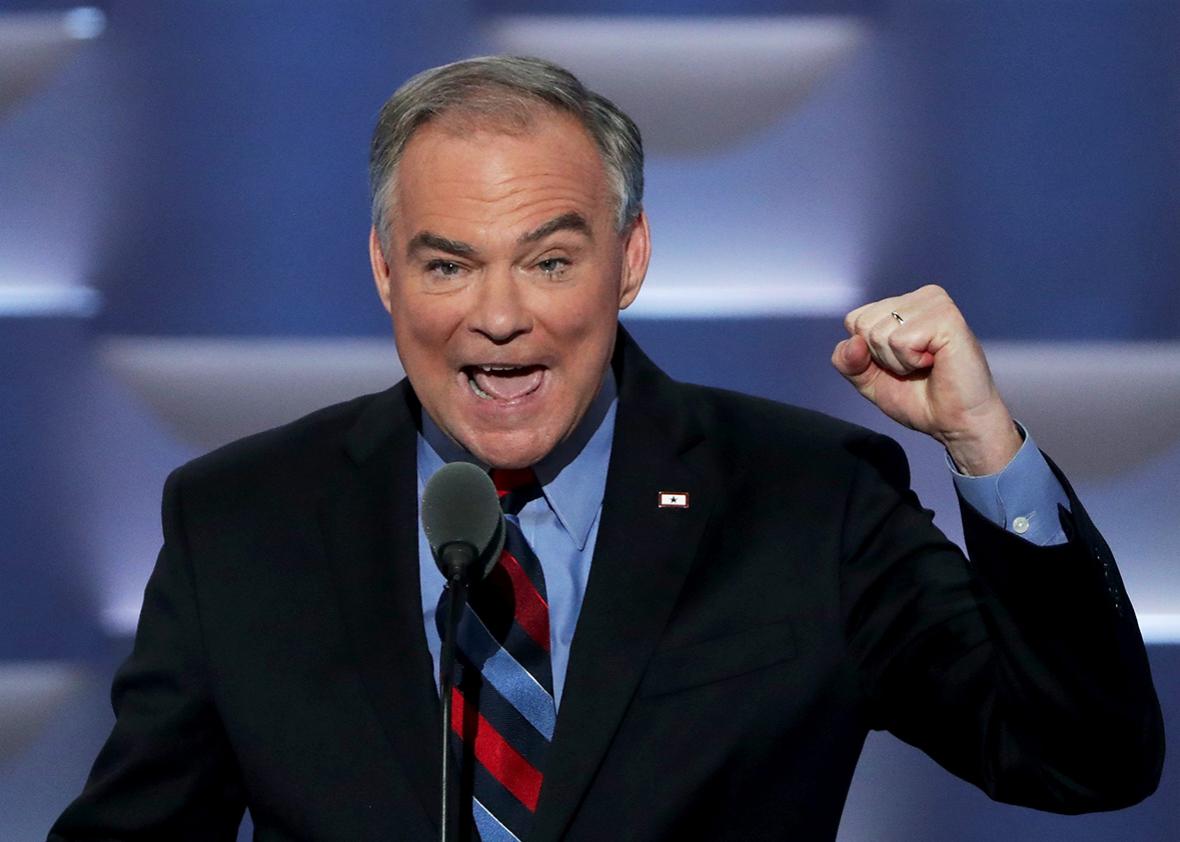 The Democratic National Convention is shifting its attention to voters on the right. That might not please the hecklers on the convention floor. But it's a good thing for the party and for Hillary Clinton. 
Monday, the first night of the convention, was for the left. There were nods to traditional values, but the main theme was progressive populism. The stars were Bernie Sanders, Michelle Obama, and Sen. Elizabeth Warren.
On Tuesday, the conversation began to turn toward the center. Amid the usual ethnic and gender politics, a video described how Clinton, after the defeat of her health care initiative in 1994, worked with Republicans to get health insurance for children. Howard Dean, the former Vermont governor and DNC chairman, addressed "the millions of Republicans who don't recognize the party they saw and heard in Cleveland." Bill Clinton, the great triangulator, boasted that his wife "repeatedly drew praise from prominent Republicans" as a senator and as secretary of state.
On Wednesday, some speakers, particularly Senate Minority Leader Harry Reid, were still using Donald Trump's sins to bash Republicans. But more were courting GOP defectors. Gavin Newsom, the lieutenant governor of California, contrasted Trump with Ronald Reagan. John Hutson, a retired admiral, said he used to vote Republican but was now supporting Clinton. A video of former national security officials condemning Trump featured one Republican luminary after another.
This kind of talk galls some delegates. On Wednesday, there were chants and outbursts when Hutson spoke, when Sen. Tim Kaine accepted the party's nomination for vice president, and when Leon Panetta, President Obama's former CIA chief and defense secretary, addressed military issues. "No more war!" some people shouted. "No more drones!" said others. Many protested Kaine's support of trade agreements. The disruptions stopped Hutson cold and made Panetta, even on TV, difficult to hear.
These attacks on the party's centrist wing are foolish. Look at the latest polls. In a CNN/ORC survey taken July 22 to 24, 88 percent of self-identified Democrats supported Clinton. But Clinton trailed Trump overall because she drew only 37 percent of independents and 8 percent of Republicans. In a CBS News survey, she got 84 percent of Democrats but trailed Trump because only 35 percent of independents and 6 percent of Republicans supported her. The left isn't big enough to win this election. Clinton needs the middle.
Trump presents an unusual threat but also an unusual opportunity. He's invading Democratic turf by running against free trade, entitlement cuts, and military interventionism. Democrats would be foolish not to counterattack on Republican turf. They can court center-right voters who feel betrayed by Trump's desertions of conservative principle, or who are put off by his bigotry, low character, and temperamental unfitness for office.
In Wednesday's convention speeches, President Obama, police chiefs, and relatives of cops talked about gun control as a law-and-order issue, protecting officers who are "outgunned by weapons of war." Speakers hammered Trump for insulting prisoners of war and lying about his donations to organizations that support veterans. A video showed Republican Sen. Marco Rubio agreeing that Trump's jab at John McCain for being captured in Vietnam disqualified Trump from the presidency. "Donald, you're not fit to polish John McCain's boots," said Hutson.
Two former Marines hit Trump with the kind of language normally heard at a Republican convention. One said Trump "praises dictators who've killed Americans." Another fumed that Trump "questions the loyalty of those who served our country, without ever himself serving." Panetta, noting Trump's bromance with Vladimir Putin, challenged the Republican nominee's patriotism. "Donald Trump today once again took Russia's side," said the former CIA boss, addressing the apparent Russian hack on the Democratic National Committee. He's "asking one of our adversaries to engage in hacking or intelligence efforts against the United States of America."
The three most important speakers of the night appealed directly for Republican support. Michael Bloomberg, the former GOP mayor of New York, told the crowd he disagreed with Democrats on education reform, cutting budgets, and demonizing capitalism. But he urged fellow independents to support Clinton as the only "sane, competent" candidate in the race.
Kaine opened with a "Semper Fi" to his son in the Marines. He recalled his own Jesuit schooling and his time as a missionary. He talked about "faith, family, and work." And he spoke extensively about Republican opposition to Trump. Kaine praised his father-in-law, a former Republican governor of Virginia, for supporting civil rights and voting for Democrats. He hailed Barbara Bush for spurning Trump as a misogynist. He pointed out that Ohio Gov. John Kasich had refused to attend Trump's convention even though it was held in his own state. "If any of you are looking for that party of Lincoln," Kaine told disaffected Republicans, "we've got a home for you right here in the Democratic Party."
Obama, too, contrasted Trump with Reagan. He said his own Midwestern ancestors were mostly Republicans but didn't like bullies or braggarts. Obama blasted Trump as a fake hawk who "cozies up to Putin, praises Saddam Hussein," insults the military, and undermines NATO. "What we heard in Cleveland last week wasn't particularly Republican," said the president. "And it sure wasn't conservative."
If you're a Sanders fan, these messages aren't aimed at you. But they matter. If you can't stand a party that reaches out to center-right voters on issues such as religion, law enforcement, and the use of force, you'll lose. You'll get a Republican president, as you did in 2000. But this time it will be much, much worse. "If you want to fight climate change," Obama pointed out, you've "got to reach out to the coal miner who's worried about taking care of his family." To fight gun violence, you've got to connect with "gun owners who agree on things like background checks." And you can't reject Clinton "just because she might not align with you on every issue," said the president. "Democracy isn't a spectator sport."
Compromise, in Obama's view, is a matter of pragmatism. But it's also about intellectual humility. Clinton "understands that most issues are rarely black and white," said the president. "Democracy doesn't work if we constantly demonize each other. … We have to listen to each other, and see ourselves in each other, and fight for our principles but also fight to find common ground." That's an apt message to a party that prides itself on diversity. Sometimes, inclusion isn't just about race, religion, or gender. It's about ideas.
---