CLEVELAND—They are the rarest of objects. Only three exist in the universe. Each one cost $53 million to make.
I speak, of course, of Jeb Bush's delegates to the GOP convention. Jeb campaigned earnestly—and, yes, expensively—for the better part of a year, yet this lonely trio was the sum fruit of his efforts. These three brave souls were appointed his banner bearers and asked to trudge here from New Hampshire, to … do what, exactly? To register a pitiful scatter of votes for their guy—a man who wasn't there and couldn't win? To notarize the victory of his most despised rival? Or perhaps to insist, in some small way: Hey, Jeb existed.
In my imagination, these three knights of Jeb, trembling and unarmored, stand across a muddy battlefield from the 1,543 Donald Trump delegates. The Trump horde beats its chest, cackles derisively, rushes forward. The Jebbites close their eyes and await release from this cruel world.
Over the course of the convention, I became obsessed with the idea of finding them. I yearned to view the Jebbite trinity in the flesh. To hear their proud little voices piercing the Trumpian din. To me (with my documented soft spot for Jeb), they were somehow apart from the rest. A nobler breed. More precious than Rand Paul's pair of delegates or Ben Carson's magnificent seven.
As it turns out, Jeb's delegates were seated comfortably somewhere down there on the air-conditioned convention floor, dotted among their friendly Republican colleagues, invited to assimilate. They were of little use to anyone—their numbers too few to sway any rules votes or be relevant in some sort of coup—and so could be safely ignored.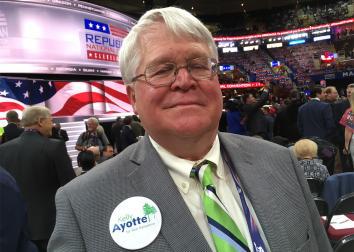 Eventually, via asking around and generally being a pest, I found my first Jebbite: His name was Paul Speltz. He was a kind, portly fellow with a head of snowy hair and an apple-cheeked visage—sort of like a well-fed, senior citizen cherub.
I asked him how it was that he had become a synecdochical representation of large-scale failure. Just kidding: I asked him how he'd come to be a delegate for Jeb. It turns out that Speltz has known the Bush family for decades. He'd served as an official economic emissary to China, designated by George W. Bush's treasury secretary. And he'd supported Jeb while he was in the race.
"I just talked to Jeb yesterday," he told me, during a break between speeches from the stage. "He's down in Florida, relaxing. He thinks what's going on here is very … interesting."
I asked Speltz if he agreed with me that Donald Trump, character-wise, is everything Jeb is not. "Jeb Bush is earnest, warm, and a gentleman," he replied without fully taking the bait. "Donald Trump is a new kind of candidate. He's a different kind of a guy."
At this point, Corey Lewandowski—one of Speltz's fellow New Hampshire delegates, who also happens to be Trump's awful former campaign manager—came into our orbit, standing a few feet away. I asked if Speltz held any grudge. "Corey's a good guy," he said. "I met yesterday with him to make sure he'd call out Jeb's votes when he made our announcement to the convention. He did a good job. We accurately represented the voters of New Hampshire. I think Jeb won a couple of delegates in South Carolina, too, but they threw all their votes to Trump here. That was a little bit unfortunate. They could have given Jeb his delegates. Trump was going to win anyway."
Surely, I thought, Speltz must harbor lingering resentment toward the nominee, given that Trump had seized every possible opportunity—during the primary campaign and even after it had ended—to cruelly insult Jeb. "It wasn't Jeb's style, it wasn't his personal preference to have that be the tone," Speltz said. "But that's yesterday. There's yesterday, there's today, and there's tomorrow." Would he vote for Trump in the general election? "There's a little time involved here—we are kind of watching," he said. "But I'm voting for the Republican Party. The most important thing is to defeat Hillary Clinton. We're Republicans and we're going about trying to unite."
This was not exactly what I hoped to hear when I began my quest: I was disappointed on Jeb's behalf. Here was one of Jeb's own very hard-won delegates ignoring Jeb's clearly stated clarion call not to vote for Trump in November. What does $53 million get you these days, anyway?
And again, why were these non-Trump, off-message delegates even here? To wallow in the buffets? To watch balloons drop? To schmooze? Well yes, certainly to schmooze. But wasn't there more to it than that? Were they not also on hand to each embody the ethos of the man who'd designated them his representatives?
Who, I wondered glumly, would be a full-throated champion for Jeb?
About an hour later, a second Jeb delegate arrived in the arena. Melissa Stevens is a 36-year-old stay-at-home parent and local town councilwoman back home in New Hampshire. She'd been a Jeb supporter since last summer, had done a lot of events, and had met Jeb and the Bush family. "I met a lot of candidates in New Hampshire, in hotel lobbies," she said. "I never had any regret about choosing Jeb when I was deciding who to support." She described him as friendly, intelligent, and "humble."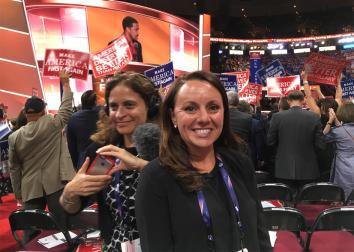 On the first day of the Cleveland convention, Stevens told me, she'd proudly sported her Jeb T-shirt. A few Trump fans harassed her, but she didn't care. "I wouldn't be here without Jeb," she said. "I felt I owed at least that much to him and to his supporters."
Stevens refuses to fall in line with Trump. "I'll leave my presidential ballot blank in November. Or I'll write Jeb in," she said. "Jeb presented concrete policy positions. He's a wonk. He had a record I could look at in Florida. That made me comfortable. Trump hasn't presented much in terms of policy detail, and he's never served as a politician, so we really don't know what we're getting. That makes me nervous. "
I asked her: Did it give her any pause that her cost to Jeb equaled the approximate annual GDP of Uruguay?
"I think I'm worth every penny," she said with a huge grin.
There was one last Jeb delegate in the triumvirate. I waited and waited for her on the arena floor, but I never found her. She didn't respond when I emailed, texted, and phoned. And thus, my mission failed. I had found a 66 percent majority of Jeb delegates, yet I'd fallen short in the end. It seemed vaguely appropriate: What was the Jeb! 2016 campaign all about if not brutally thwarted expectations?
Still, as I watched Trump speak on the convention's final night—shuddering at the bleak vision of America he proffered, dreading a life lived beneath his thumb—it really did hearten me to know that out there in the crowd, staring back at him, was Melissa Stevens. Representing for Jeb. Refusing to bend the knee.