What we know about the situation in Turkey:
The country's secularist military—or a faction thereof—attempted to seize power from Islamist president/strongman Recep Tayyip Erdogan.
In remarks broadcast over Turkish television via an individual holding up what appeared to be a FaceTime livestream of Erdogan, the president called on citizens to take to the streets to protest the coup.
The United States released a statement backing Erdogan and implicity condemning the coup; Turkish opposition parties also denounced it. Civilians protesting the coup crowded public spaces in Istanbul.
It's not clear where Erdogan was when the coup began, but he flew into Istanbul at some point early Saturday morning and appears to still be in control of most of the institutions of government.
Updates will be posted below.
***
Update, 8:10 p.m.: MSNBC is carrying a striking image of what appear to be anti-coup protesters who have occupied the TV station that previously seemed to be under the control of coup forces.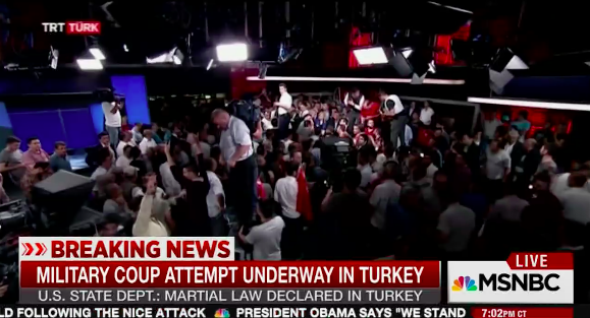 Update, 7:45 p.m.: Turkey's primary opposition parties have denounced the coup, and there are reports that coup soldiers are withdrawing from Istanbul Ataturk Airport after a showing by anti-coup civilians.* Anti-coup protesters also appear to be occupying Istanbul's Taksim Square.
Update, 7:25 p.m.: The United States is backing the Erdogan government.
(Erdogan was in fact elected, but he does not seem to be particularly committed to democratic values.)
Update, 6:35 pm.: A group on one of Istanbul's bridges, presumably a coup force attempting to enforce curfew, has fired on what appeared to be a group of civilians. What sounds like gunfire can also be heard in live footage from Istanbul's Ataturk Airport.
Update, 5:50 p.m.: The U.S. government knows about as much as the rest of us.
Update, 5:35 p.m.: Erdogan is now speaking on at least one Turkish TV channel via FaceTime (!) and is calling for a public uprising against coup forces.
Update, 5:15 p.m.: Someone in Turkey is trying to keep the civilian population out of the streets both literally and figuratively.
I say "someone" because it's not clear who is holding what levers of power right now; there is an ongoing military coup of some sort, but it's not clear whether the entire military is involved, or just factions thereof. There's also still no clarity on where Erdogan is.
Update, 4:50 p.m.: Seems safe to say this is definitely an attempted coup. No word yet from Erdogan, who is the country's president and more or less permanent leader. Or, at least, he's been permanent until now.
Original post, 4:35 p.m.: You know what the world could use right now, with an increasingly desperate ISIS launching terror attacks around the Middle East and the rest of the world, the U.K. having just dealt a huge blow to diplomatic relations in Europe, and an unhinged egomaniac con man within a few months of maybe taking over the world's most powerful country? How about a military coup in the already-unstable country immediately adjacent to Syria? That's what's going on right now in Turkey:
Some initial details:
And:
The bridges over the Bosphorus Strait are in Istanbul, which is some 280 miles from Ankara, Turkey's capital. It's not clear whether the forces mentioned in AFP's tweet support or oppose the attempted coup.
Islamist Turkish autocrat Recep Tayyip Erdogan has tried to reduce the influence of the country's military, which has traditionally been controlled by secularists and has forced four different civilian regimes out of power since 1960. Erdogan has been in power for 13 years.
It's currently nighttime in Turkey, which is seven hours ahead of Eastern Time.
*Correction, 7:55 p.m.: This post originally alluded to the Peoples' Democratic Party as the country's primary opposition party. Turkey's formally identified primary opposition party is in fact the Republican People's Party.