PHILADELPHIA—If, during the nomination by acclamation of Hillary Clinton, the cheers throughout the Wells Fargo Center seemed more unanimous than the makeup of the delegations would seem to reflect, part of that may have been because many of the most hardcore Berners were leaving the room. They had other plans.
Walking onto the arena's main concourse Tuesday night following Clinton's nomination, all you had to do was follow the chant. It wasn't hard to figure out what this growing mass of bodies was doing. "WALK OUT, WALK OUT," they chanted. What may have started with a few states wound up drawing from dozens—at least 30 in all, according to a Sanders delegate from Vermont named Shyla Nelson. They had turned their DNC-issued Hillary posters into protest signs; one scratched out the arrowed Clinton logo and wrote "Go To Hell" over it, while another changed "Do the most good" to "Bernie does the most good."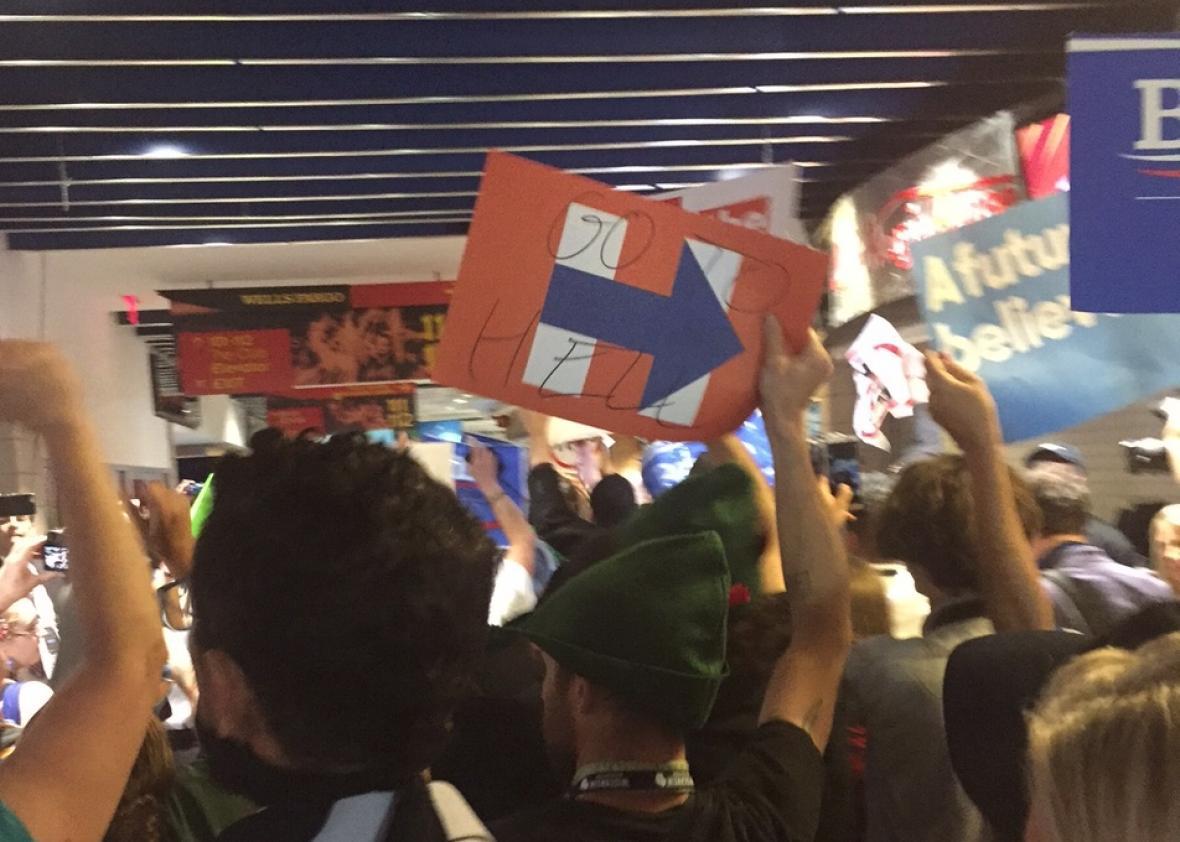 What were they protesting? Nelson branded the walkout "No Voice, No Unity." As the parade lurched toward the exit, one delegate from Utah, disgusted, told Slate: "This was stolen by the superdelegates. They talk about unity—this whole thing was rigged." The crowd switched away from its more logistically instructive "WALK OUT" chant in favor of "FEEL THE BERN!" and the classic activist "THIS IS WHAT DEMOCRACY LOOKS LIKE" call-and-response.
Once outside, a delegate near the head of the group shouted out directions: take over the nearby, nicely air-conditioned media tent. The group walked in, awakening off-site editors from whatever it is editors do. Once inside, some delegates—many with their mouths taped shut—held up banners and posters, while others took their places for the sit-in.
"We are sitting here because we feel like our voices have not been heard," said a seated Emily Kimball, a young delegate from North Dakota. "The DNC is not listening to the Bernie Sanders delegates, and so even though we're being asked to rally around Hillary Clinton … this is us as a people feeling that we're not being listened to by politicians in general."
Nearby, another group was protesting treatment of Native Americans. "I stand with our First American friends," a young white woman—not a delegate—told Slate when asked what was going on. "Their protest is my protest." She pointed to Aaron Jones, a delegate from Washington state. "We're protesting the continual disintegrations of our rights as native peoples of this land," Jones explained. He said he was of Chinook heritage. Nearby, on the floor, another young woman was crying as she explained how "scared she was for our country."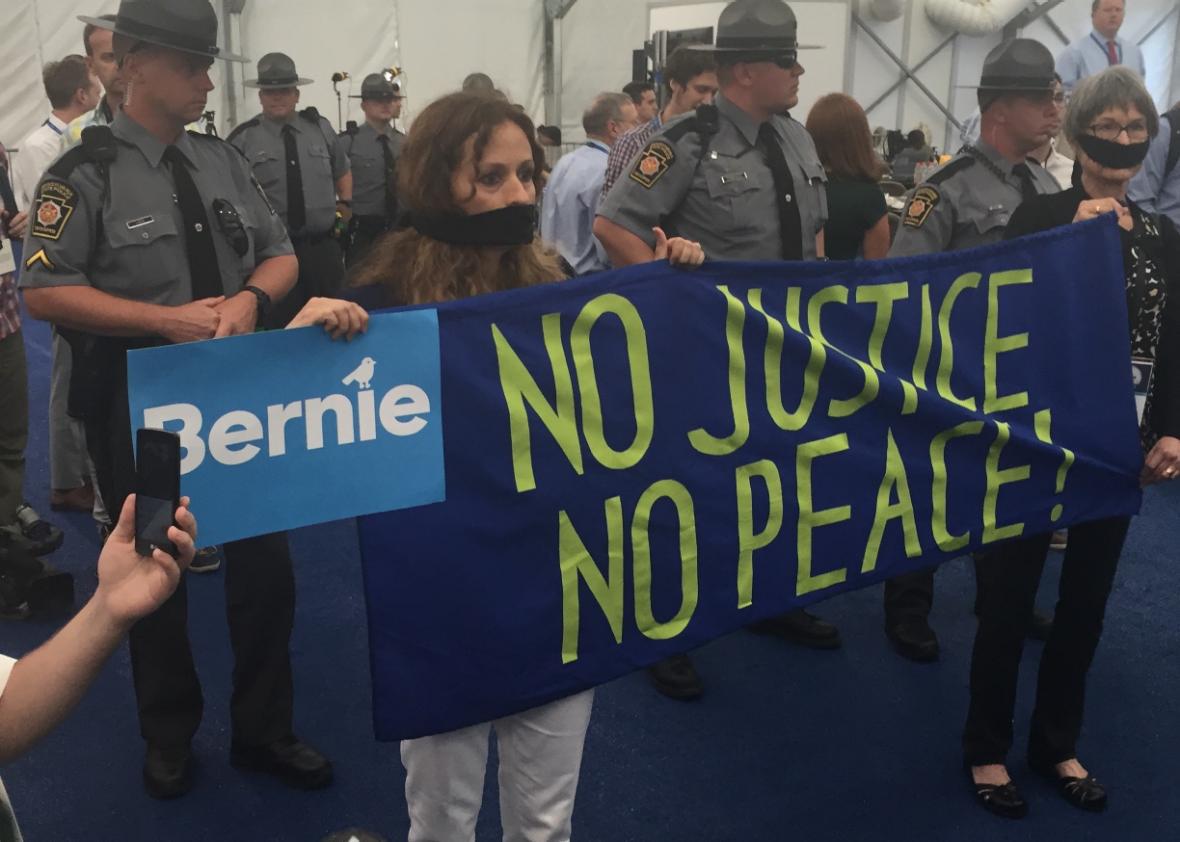 By now the police had sealed off entrances to the media tent with 100 or so protesters inside; outside, word of mouth was drawing out more and more Sanders delegates and sympathizers. Protesters jammed their signs against the media tent's window so photographers inside could take photos, then turned around and did the same for the photographers outside. Needless to say, the ratio of journalists to protesters was roughly eight million to one, and there was something odd, looking out over all the notepads and cameras, in the Berners' insistence that the "corporate media" hadn't devoted sufficient coverage to the Sanders cause. One woman spoke at length with a reporter about narratives and media distortions, and then, rant over, covered her mouth with red tape. It was hard to tell in all this who was taking advantage of whom.
How did the walkout get started? No one really wanted to say. Karen Bernal, a California Sanders delegate and a prominent member of the Bernie Delegates Network, confirmed that it was hardly an impromptu response to events on the floor. "People knew about it," she said. "It was very Occupy-ish in the sense that it was very horizontally organized." When asked where it started, she told Slate she'd rather not say. Another young delegate from Idaho, who'd initially said he was willing to talk, demurred when asked the same thing.
"I know a couple of people from other states and their delegates, and one said that they were having a silent protest," said Nayirah Muhammad, a 20-year-old Alabama delegate who told Slate that she just got made a delegate that day. "My boss is actually a Clinton delegate, and she brought me along—it was a long ride!—and so I got nominated to be a delegate and I got voted in."
She couldn't help but notice what plenty of other people had noticed: These Sanders delegates were young. She talked about how bittersweet it was to watch Sanders move to nominate Clinton by acclamation at the end of the roll call, even if they knew it was coming.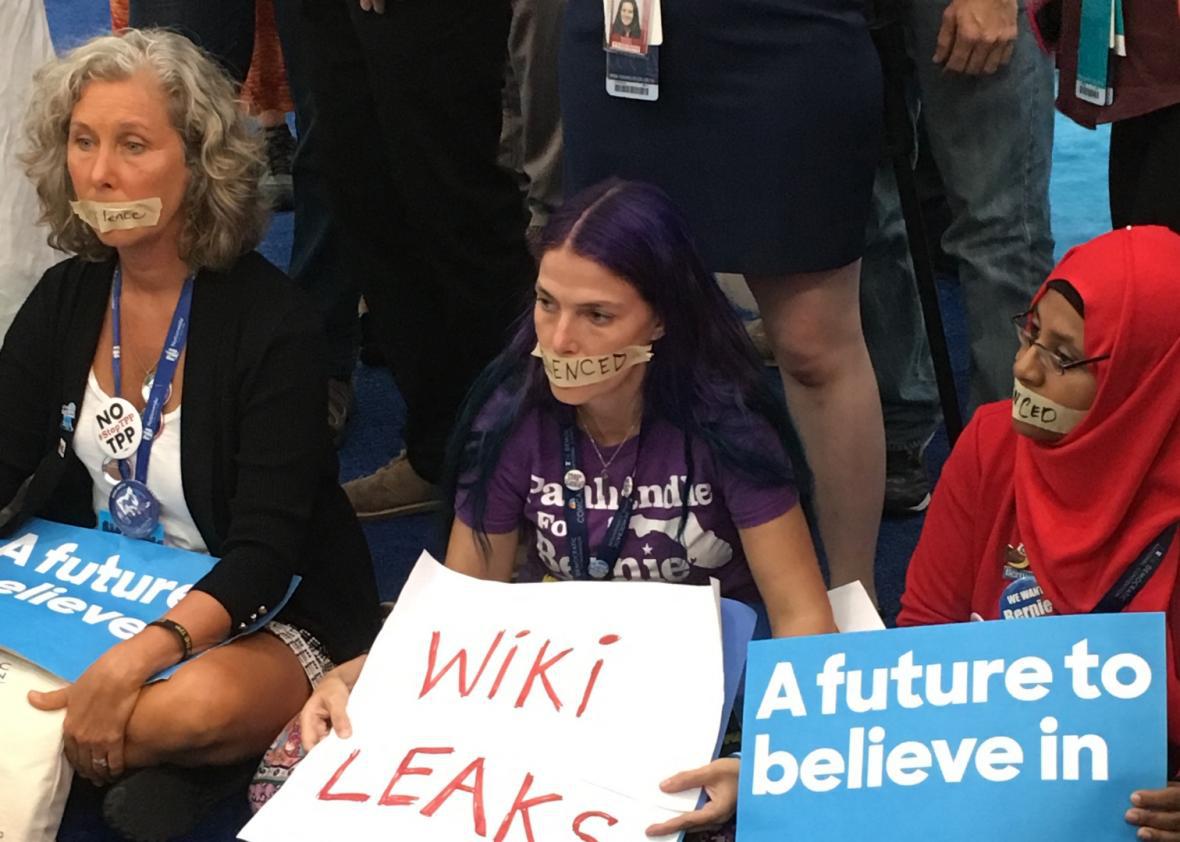 In the middle of everything was Abby Davis, 18 years old. She had joined the walkout late, having come outside with some fellow delegates taking a smoke break, and now there was a camera in her face, and she was crying. "I can't sit by and let it happen," she said. "I think the DNC doesn't like Bernie and I don't know why. It doesn't feel right in my gut." Davis is a delegate from Nebraska, and she'd raised $1,200 to come here with her father, a Republican, who was off walking around the city. "He said it's fine if I get arrested, but it'll be on my record," she said, smiling a little. "Not all Republicans are shit."
It was hard not to feel for Davis. She was experiencing her first political heartbreak, and it was painful. "I'm 18 years old," she said, "so it's not like I'm a loyal member of the Democratic Party. I'm loyal to my ideals."