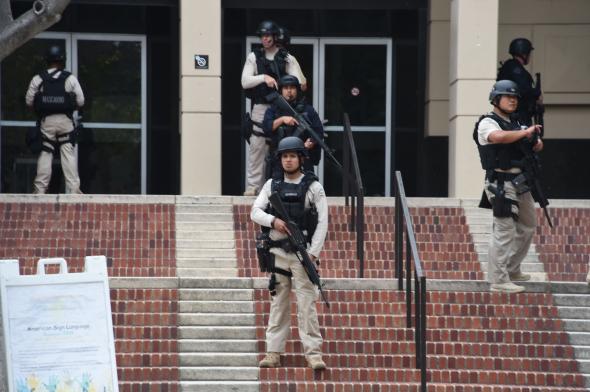 Update 3:10 p.m.: Local police now say they are confident that the two deaths were the result of a murder-suicide, and that there is no longer a threat to students or the community. At a mid-day press conference, LAPD chief Charlie Beck said that "many, many questions are unanswered at this point," but that "the campus is now safe."
Beck said the shooting occurred in a small office in the engineering building, and that there were reportedly three shots fired. He said that both fatalities were adult men, but declined to provide more information about their identities.
Original Post, 2:48 p.m.: Two people were shot and killed on the campus of UCLA on Wednesday, according to university officials and local police. Both federal and city law enforcement are currently on the scene and the university is under lockdown.
The identities of the victims are not yet known, nor is the motive for the shooting. Here's the Los Angeles Times on the little we do currently know:
The campus was placed on lockdown just after 10 a.m. [local time], as police searched for the gunman, according to the university. … The FBI and the U.S. Bureau of Alcohol, Tobacco, Firearms and Explosives were responding, the agencies said. The Los Angeles Police Department was placed on citywide tactical alert and sent hundreds of officers to the Westwood campus and surrounding neighborhoods around 10:30 a.m.
Police are clearing at least one campus building several students at a time. Footage from local news helicopters has shown several students walking out with their hands above the heads and being searched by armed officers.

We'll continue to update with more information as it becomes available.
---