Thursday was a huge news day, and so is Friday: The British "Leave" vote, two hugely important Supreme Court decisions, the John Lewis-led gun control sit-in. Lost amid all of it was a procedural Senate vote that, despite the high-profile protest in the House, was actually the most significant moment of the day for advocates of gun legislation. And what the results of that vote indicate is that there is almost certainly not going to be any gun legislation passed in the wake of the Orlando terror attack.
The Senate was voting on whether to table a bipartisan amendment introduced by Maine Republican Susan Collins that would have restricted gun sales to individuals on two particular terror watch lists. The bill covered a narrower group of suspects than a similar proposal by California Democrat Dianne Feinstein and would have created an appeal process for individuals who believed they were being improperly denied their gun rights. Fifty-two senators voted not to table the amendment—i.e. they voted to support it. That's technically a victory, but it also demonstrated that Collins' amendment did not have the 60 votes required to create a filibuster-proof majority. In the bigger picture, then, it failed.
Here's the vote breakdown (nay = a vote to support the bill).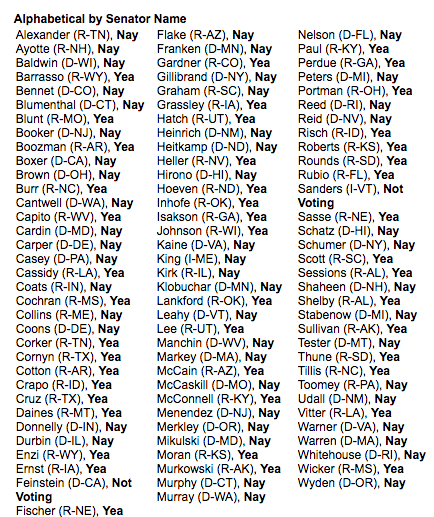 With four other gun-control bills already having been defeated in the Senate, and with the House seeming unlikely to take up any bills at all, this is probably it for post-Orlando gun votes. The good news is we'll get to do it all over again after the next mass shooting!