Each week, Roads & Kingdoms and Slate publish a new dispatch from around the globe. For more foreign correspondence mixed with food, war, travel, and photography, visit their online magazine or follow @roadskingdoms on Twitter.
Darul Aman Palace is a magnificent structure, even its current decrepit state. It sits on the outskirts of Kabul, Afghanistan, one of the world's fastest-growing cities. The neoclassical building is surrounded by unkempt Venetian-style gardens and there are several large holes in the walls, created over the years as more than 100 delicately cast windows were blown out.
The palace has become the center of a debate over the extent to which symbols of Afghanistan's turbulent history should be preserved. "I pass this palace every day on my way to work. It hurts me to look at it," says Hikmat Noori, a young professional from Kabul. "It is time we move forward and away from our dark days. Why should we have to relive the actions of our aggressors?"
Once referred to as the "Versailles of Afghanistan," it was built in a period when all anyone could foresee for the country was decades of economic prosperity and regional supremacy. King Amanullah Khan commissioned the palace in 1920 during a spree to modernize the country. The name Darul Aman, which literally translates to "a place for peace" in Dari, was meant to convey the direction Afghanistan was headed in.
Nearly a century later, the palace has become a quiet testimony to the decades of war and conflict that have ravaged Afghanistan. The crumbling ruins still reflect a little of the original structure's part-European, part-Persian architecture. Its walls bear hundreds of bullet holes, telltale reminders of the many conflicts it has seen.
It isn't just bombs and bullets that wrecked the palace: Time has taken a toll on the building and opportunists have taken the rest. It has been stripped of all the fixtures that held any resale value in a wartime economy. Many of the exposed beams and wires have been pulled out and sold in local markets. The electrical sockets are long gone.
In 1969, a massive fire gutted the building. It was restored and became home to the country's defense ministry until it was attacked once again by Soviet forces during the coup d'état of 1978. A little more than a decade later, the palace became a frontline in the civil war between various Afghan warlords as they fought for control of Kabul. It continued to deteriorate in the '90s, during the Taliban's regime—who may not have inflicted any damage to it but did nothing to preserve what remained of Darul Aman Palace, either. In 2005, after the Taliban's fall, plans were announced to turn it into a house of Parliament but those didn't develop; in 2012, it became a target of a resurgent Taliban.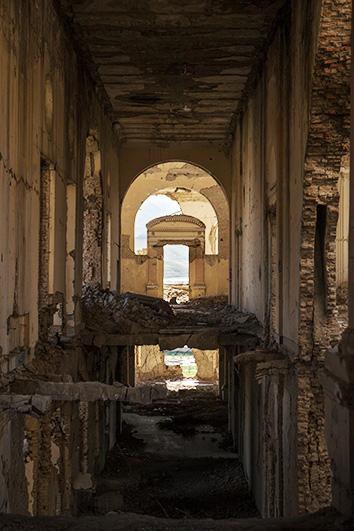 Politicians, Afghan and foreign, have made countless empty promises about restoring the structure. Then, around 2013, the city of Kabul announced plans to turn the palace into a restaurant. The municipality finally started construction on the restaurant last year but had to stop when President Ashraf Ghani intervened. Fixing up the palace was among his many campaign promises, but many objected to plans for an eatery.
In May, Ghani announced that plans for a restaurant had been dropped but the palace would still be restored: A budget of $16.5 million had already been approved by Parliament. As a sign of his commitment to the project, Ghani moved his Cabinet to the ruins for a day. Ministers held their meetings amid crumbling walls and unsteady pillars. "We are returning to our past. … to set the foundation for our future," Ghani said at the time. The government announced that the refurbished palace would draw tourists and host diplomatic events.
But the city is divided over the renovation. The palace has come to symbolize years of struggle, wars, and internal conflicts, and some see this restoration as an attempt to gloss over the building's troubled history. "Preserve it the way it is. Make it safe, but keep the ruins complete with the war wounds," says Omaid Sharifi, a civil rights activist. "The younger generation of Afghans must be able to see what war did to this country, and how we Afghans destroyed our own land," Sharifi says, referring to the civil war in the 1990s during which the city of Kabul was caught between warring factions.
Many of these factions are now integrated into the government. "In fact, why don't we ask these former jihadis to raise funds?" asks Sharifi. He is also part of an art activists group calling themselves Art Lords (a take on the English word warlords). They've come up with a graffiti campaign called "Healing Afghanistan" that depicts the Darul Aman Palace patched up with a Band-Aid. Group members argue that Afghans need to preserve their history, rather than build over it.
Restoration will be no simple feat. Few of the original blueprints survive. The government of Afghanistan procured more than 1,500 images and layouts of the palace from France, but there are concerns over how much of the original building will be left after the renovation.
The city insists the palace is so unstable that it has to be substantially rebuilt—part of the structure collapsed during an earthquake last fall. "If left in its current state, the structure will crumble away," says Nafisa Nemati, a spokeswoman at the Ministry of Urban Development. "By restoring it, we are in fact trying to preserve, not erase history. We will be reviving a form of art that was once integral to Afghanistan."
Nemati says restoration plans include preserving some of the damage: "We will leave a small enclosure untouched, complete with its war wounds, for our children to see and understand what Afghanistan suffered through. But we must restore the rest to its former glory."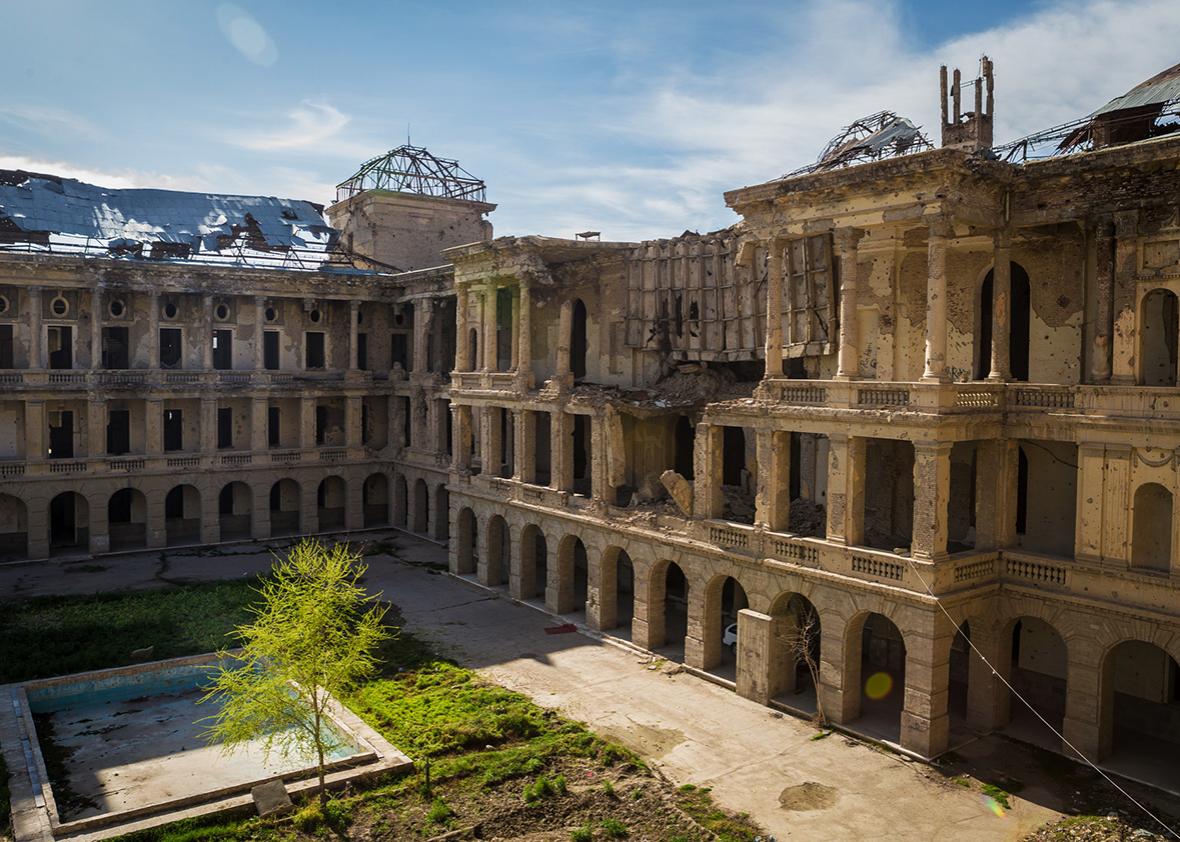 The restoration will also be as faithful to the original building as possible. "Every building block will come from the same quarry as the original palace," she says. "We will also be conducting 3-D scans of the whole complex to help us preserve what we can of the original building."
Though Afghan government will cover all costs, the expense has raised eyebrows as the country continues to struggle to attain economic independence from aid in the face of increased security threats from the Taliban and groups claiming to be part of ISIS. (A large part of Afghanistan's economy is defense spending.) Many find it all wasteful. "For $16 million, they can build a new palace from scratch. Why do they need to spend it on Darul Aman Palace?" asks Sharifi.
Sharifi would prefer that the palace to be preserved as a reminder of what the country suffered: "It is an embodiment of our struggles. It is not the legacy of any one man, but of a collective generation. This could be a beautiful and important museum of war."