WEST HOLLYWOOD, California—Near the back of the route at Sunday's Los Angeles Pride parade, Jim Palmer stood with a sign he had made spontaneously with cardboard and black marker that read simply "Peace. Love. Pulse."
Palmer had heard the news of the shooting attack on the Pulse nightclub in Orlando—the deadliest mass shooting in U.S. history, with at least 50 people dead and more than 50 wounded—when he woke up at 4 a.m. to go to the bathroom and just happened to check his phone.
"I went back to bed and silently wept," he said. "Then I got up and I was determined that I was going to get out of the house today and do something I've never done before, which is actually walk in the march."
Sadness, anger, and fear were all palpable at Sunday's pride event. "I was always too afraid and too ashamed of being politically active in groups like Act Up or Queer Nation," Palmer said of his younger years. "I'm here to look through the corporate sponsorship, the free protein bars, and the free lube to the people who are out here being activists and carrying a message that change still needs to happen and we still need to continue to fight for our rights and our protections."
Palmer was with his Episcopal church group, which has marched in this parade for the past two decades.
"Not only was it a tragedy, but it was a travesty because one person whose anger fills them in such a way that they think it's OK to hurt and abuse other people," said Jon Bruno, the Episcopal Bishop of Los Angeles. "They are violating the laws of God, they are violating the laws of humanity."
Members of Bruno's church held signs that read "God = Love" and "God loves everyone" that seemed to take on extra significance with the news that the shooter, Omar Saddiqui Mateen, had reportedly pledged his support to the head of the fundamentalist Islamic terrorist group ISIS just before the attack. Bruno, who heads the cross-faith Los Angeles Council of Religious Leaders, emphasized a common sentiment among his parishioners, that it was fundamentalists and not religious people or one particular religion that was to blame for religious violence.
"People of other faiths aren't bad, it's extremists who are just as terrible as you could imagine," he said. "[Whether] biblical fundamentalists of the Christian faith, [it's the] same thing in Judaism, the same thing in Islam. But God has the same relationship with Islam, Christianity, and Judaism."
A short drive away in Santa Monica, an Indiana man who police said had been planning to "harm [the] Gay Pride event," had been stopped with an assault rifle and a cache of weapons and ammunitions. The Los Angeles Times reported that authorities had actually considered canceling the Pride event but decided to go forward with tightened security, including undercover officers in the crowd. At the entrance of the route, a handful of officers from the Sheriff's Office could be seen milling about.
"We were definitely on pins and needles coming over here," said 26-year-old Marie Pitre, a member of a group of bagpipe players performing at the parade. "I thought about not coming, but I didn't want to be fearful of being here. I didn't want to give into the fear."
In addition to the fear, there was a sense of defiance.
"I want to be standing up in a life for Christ saying here 'God loves everyone,' " the Rev. Guy A. Leemhuis, a 47-year-old bisexual black man, civil rights attorney, and deacon in a Los Angeles Episcopal church told me. "So if this is my day to go out, what a wonderful time. What a wonderful expression of service."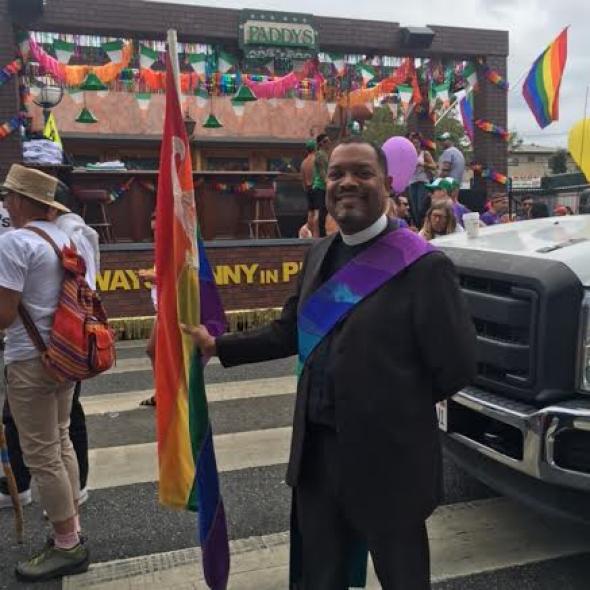 Leemhuis expressed anger not just at the shooter but also at political leaders.
"[I thought] this is why I continue to preach and remind Christians that when you have leaders running for president and they're feeling and fomenting a lot of hate, you need to remember we are followers of Christ and we are in a Jesus movement," he said, referring to GOP presumptive nominee Donald Trump. "Anybody who is going out there telling masses of people to hurt people, to not accept people, and to go back to the good old days needs to take a good look in the mirror because they are not contributing to the love train, they are contributing to the fear train."
In between signing autographs and taking photos with fans, Danny DeVito—wearing a rainbow boa scarf and a pin and riding on the It's Always Sunny in Philadelphia float—fumed at the lack of gun control after mass shootings in the U.S.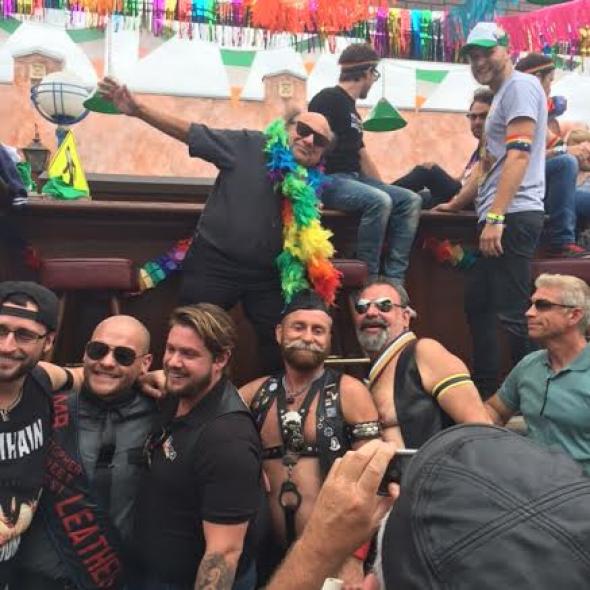 "It's a shame that nobody does anything about this assault rifle bullshit," DeVito said. "Nobody does it. Barack Obama. Donald Trump. Hillary Clinton. Bernie Sanders. You name it, nobody does anything about it.
"It takes a couple of years to get over a bunch of little babies being killed. It takes like three minutes to get over a bunch of black [people] getting killed. A bunch of gay guys, OK, what is this? How long is it going to take?" he said. "We're going to forget about it."