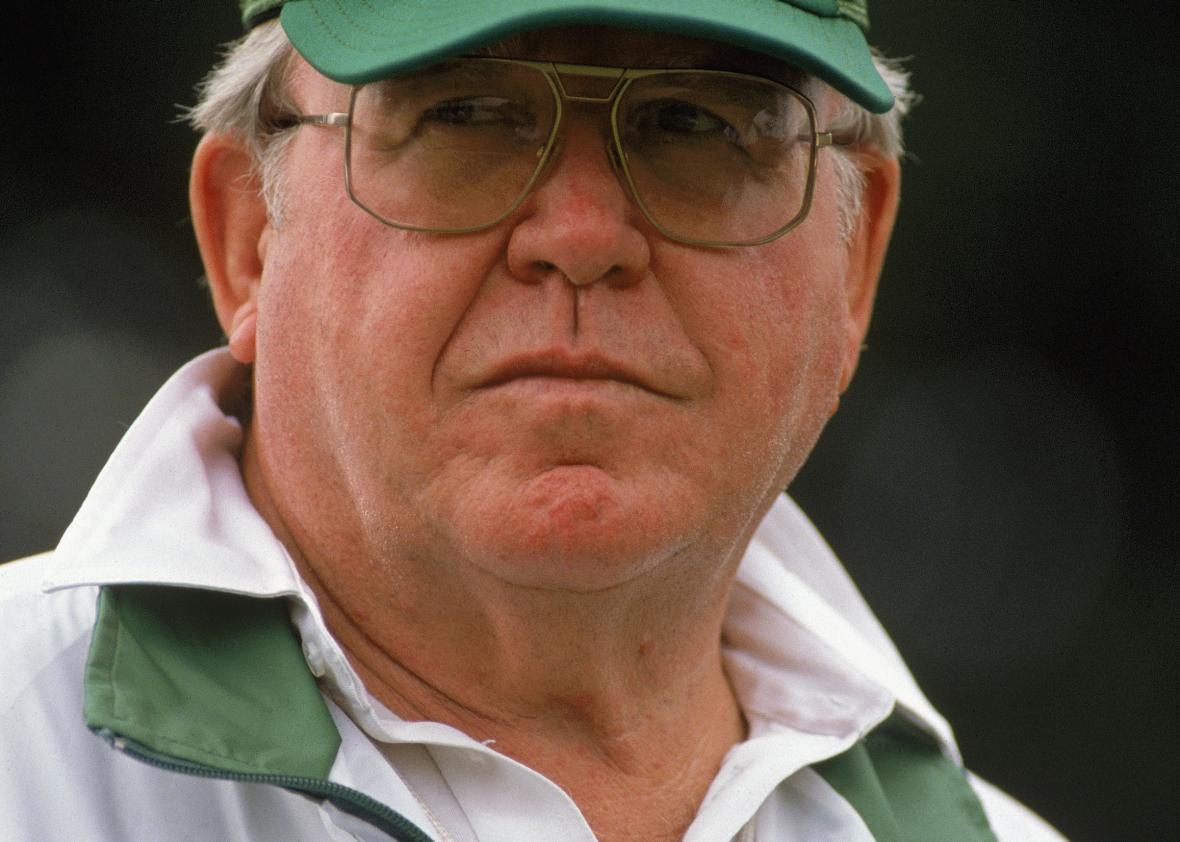 Legendary NFL coach Buddy Ryan died Tuesday at age 82. Ryan, who was the father of Buffalo Bills head coach Rex Ryan and Bills defensive coordinator Rob Ryan, was a defensive genius—and as brash as he was innovative. He beefed with opposing coaches, called quarterbacks "overpaid, overrated, pompous bastards," and once punched one of his fellow coaches on the sideline.
But there's another story, mentioned in nearly every Buddy Ryan obituary, that illustrates his brawling style. On Oct. 25, 1987, Ryan's Philadelphia Eagles were up 10 on the Dallas Cowboys, apparently letting the clock run down until the final whistle. That is, until Eagles quarterback Randall Cunningham faked taking a knee in the game's waning seconds and launched a pass to the end zone. The Cowboys were flagged for interference, and moments later the Eagles ran the ball in for a touchdown as time expired. This was nasty, salt-in-the-wound stuff that broke about 17 unwritten rules of the game. (Imagine if this happened in 2016! We'd be at hot-take Defcon 1!)
At the time, Dallas coach Tom Landry was … not pleased.
"It's not worthy of comment. Everybody has to live with themselves. I don't have to live with it. I was afraid it might be like this," he said of the play, according to a Houston Chronicle article from the following day.
But Ryan's decision to call the play was rooted in more than his merciless desire to win. It was revenge, carefully planned and perfectly executed, for the Cowboys victory two weeks earlier against an Eagles team depleted by a 24-day players' strike.
According to a Dallas Morning News article from Oct. 12, 1987, seven Dallas regulars—all of whom had recently crossed the picket line to get paid—suited up for the game against the Eagles. Among them were quarterback Danny White and running back Tony Dorsett. As no Eagles players had broken rank, the team played with replacement players and was trounced, 41-22.
"I don't have a lot to comment on," a seething Ryan said after the game, according to an article in the Philadelphia Inquirer. "I thought our offensive line did a super job, compared to who they were blocking. (The Cowboys) ended up playing Randy (White) and "Too Tall" (Jones) toward the end there, when we were on the 10-yard line, so the kids gave a good effort."
Ryan staked out no position regarding the strike, except to demand that his players act as one, no matter the decision. This was as close as any coach in the league was going to get to a pro-labor position, and in fact that's how it was received by Ryan's own boss. After the Eagles' loss to the Cowboys, the team's owner, Norman Braman, dismissed Ryan's calls for team unity and begged players to cross the picket line. At the time, the Eagles were one of seven teams who had yet to have a union member defect, according to the Philadelphia Daily News.

"Of course I'm not glad that our players are all out," Braman told the paper. "Only an ass would say that we're glad they're out." The article continued:
This, of course, is a direct contradiction of what the club's line—as enunciated by coach Buddy Ryan—had been all along. Every time he has been asked, Ryan has said that he wants the striking Eagles to do whatever they do as a team, and not to cross the picket line in twos and threes.

"My head coach can speak for himself," Braman said. "I think it's regrettable that our players are out. And I think that our players should ask some very basic questions of their leaders as to what the situation is concerning these negotiations and draw their own conclusions."
Ryan, though, held firm, waiting for the strike to end. He said: "I'm just looking forward to (the Cowboys') butts coming to Philadelphia. I'll tell you that. … I want to play them with the real Eagles and get after them. You can tell them that."
Two weeks later, the strike was over, and Ryan had gotten his revenge. "That last touchdown," Ryan said, "was very satisfying."
---