Each week, Roads & Kingdoms and Slate publish a new dispatch from around the globe. For more foreign correspondence mixed with food, war, travel, and photography, visit their online magazine or follow @roadskingdoms on Twitter.
As you pass the blue gate at the end of a narrow road, a red brick ruin catches your eye. Rusty metal window frames, shattered glass, a facade riddled with bullet holes. Next to it, another empty shell made of red brick looms over the inner courtyard of the factory. It is a sunny spring morning, and the only sound is birdsong. A bit further into the industrial park, there are signs of life: a van and a car parked in front of another red brick building, this one with windows intact.
It is in these drab edifices of the Borovo footwear factory in Croatia that the hippest shoes in southeastern Europe are manufactured. The pink, unicorn-print canvas sneakers that were featured in Vogue for those who want to "indulge that inner child" are made here.
Borovo footwear is not one of those fast-growing startups created by a crew of cool kids. The company was one of the industrial giants of former Yugoslavia, founded by Czech industrialist Jan Bata way back in 1931. In 1945, when the Federal People's Republic of Yugoslavia was created in the wake of World War II, Borovo footwear was nationalized.
For the next 45 years the company remained property of the state, managed entirely by its employees. The company produced everything from shoe polish to shoeboxes. The employees made their own laces and had their own transportation company, which trucked their products across the former Yugoslavia to their 620 shops. Back then, the company produced around 23 million pairs of shoes a year.
An actual town, Borovo Naselje, was built nearby for the factory's 20,000 workers. It provided housing, schools, a hospital, kindergartens, and sports facilities for the factory's employees and their families. Borovo Naselje eventually merged with the neighboring town, becoming a borough of Vukovar in the 1980s.
Vesna Perkanović, 56, started working in Borovo during the company's golden age in the early 1980s. For over 30 years, she has been watching canvas passing under the needle of her sewing machine for eight hours a day. Her eyes follow the colorful material behind thick-framed glasses—left to right, right to left. Her hands adjust the canvas from time to time, shaping the edges. "I have been working here my whole life," she says. Originally from Vukovar, she was here when Croatia declared its independence and the bombs started falling.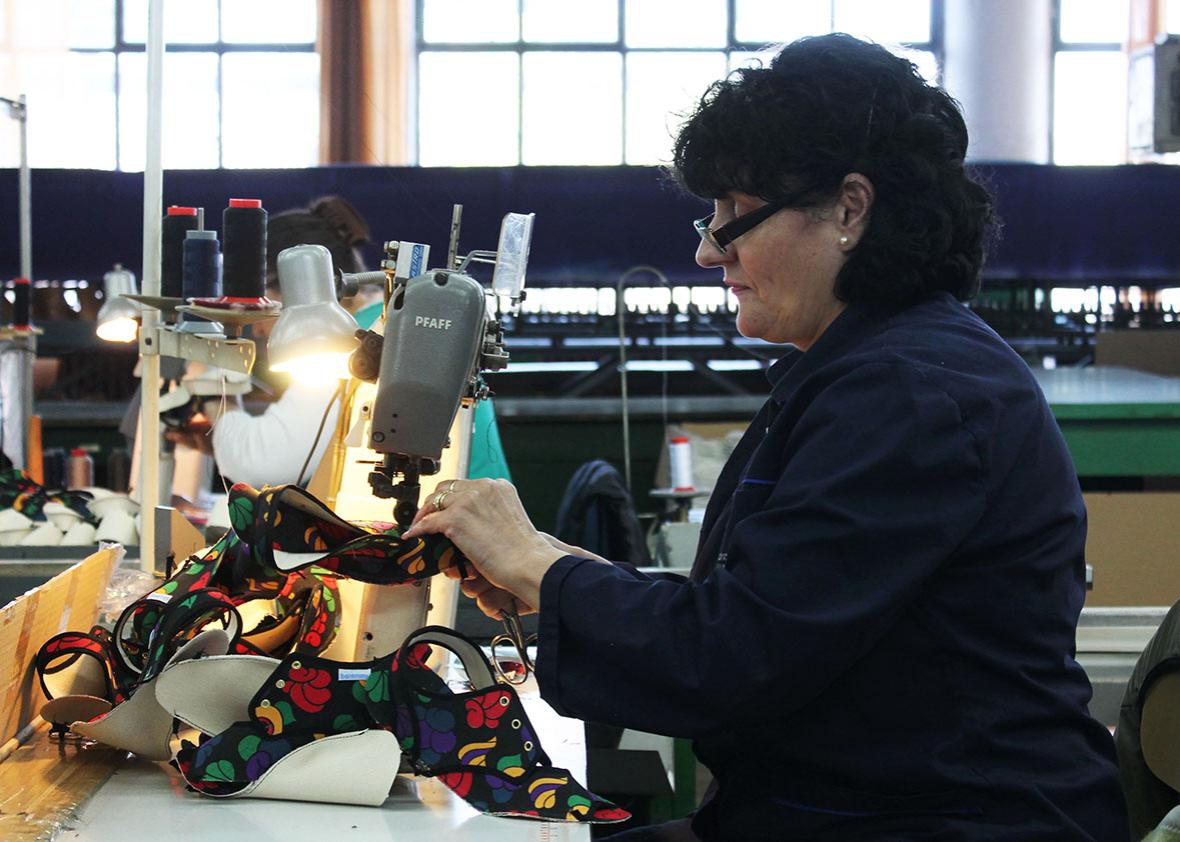 In the former Yugoslavia, Vukovar was a provincial but prosperous town, a center of the food and textile industry in Eastern Croatia. It was inhabited by a mixed community of Serbians and Croatians. Then, in 1991, everything changed. Yugoslavia disintegrated. The war erupted.
Vukovar was under siege by the Yugoslav army and Serbian paramilitaries for three months. It was, at the time, the most destructive battle in Europe since World War II. All non-Serbian citizens—more than 30,000 people—were expelled, and there were many casualties. The exact number of victims in Vukovar remains unknown. Croatian official figures state that about 4,000 people, both soldiers and civilians, were killed on the Croatian side, and roughly 8,000 ended up in concentration camps. The town was integrated into Croatia in 1998.
Even today, there are still tensions between the Serbian and Croatian communities. School children attend separate classes based on ethnicity. The Vukovar water tower, which was heavily damaged in the war, still overlooks the town.
The factory shut down after the battle and reopened when Vukovar became part of Croatia again, but nobody expected it to get back on its feet. The damage from the war would cost hundreds of millions of euros to repair. The brand seemed unfashionable. People—especially young people—stopped buying its shoes. The company fell into obscurity.
However, in late 2000, the company decided to redesign its brand of canvas sneakers, Startas. Originally designed for table-tennis players, the first pairs of Startas were made back in 1967. The shoes are still manufactured with the same technology used 50 years ago. Thanks to designer Mauro Massarotto, new, more colorful patterns started passing through the hands of Perkanović and her colleagues. Startas canvas shoes became a cool new thing.
Another trademark of the company is Borosana. It's an orthopedic shoe, with an open toe and heel, and was the standard footwear of the working class, especially in the service industry. Their slogan from the 1960s until the 1980s: "Work is a treat with Borosana on your feet." It's a canvas shoe sold in two basic colors, dark blue and white, and was, for a long time, the epitome of uncool.
In the 1990s,  popular Croatian rock band Hladno pivo sang about the disappearance of birtija (squalid, popular bars found in all former Yugoslavian countries), lamenting their replacement with pricey, nondescript bars that looked like toilets. The song also paid tribute to the Borosana shoe:
"Where once a waitress with moustache wearing blue Borosanas
would listen to us patiently
There is now a small white computer
And the same kind of personnel
That numbly changes ashtrays"
Borosana outlived socialism and the vast majority of birtijas, becoming trendy through its new, more youthful incarnation, Boromina. The brainchild of the 31-year-old designer Iva Ćurković-Spajić, Boromina is a colorful wedge version of the traditional Borosana, with enlarged toe and heel openings.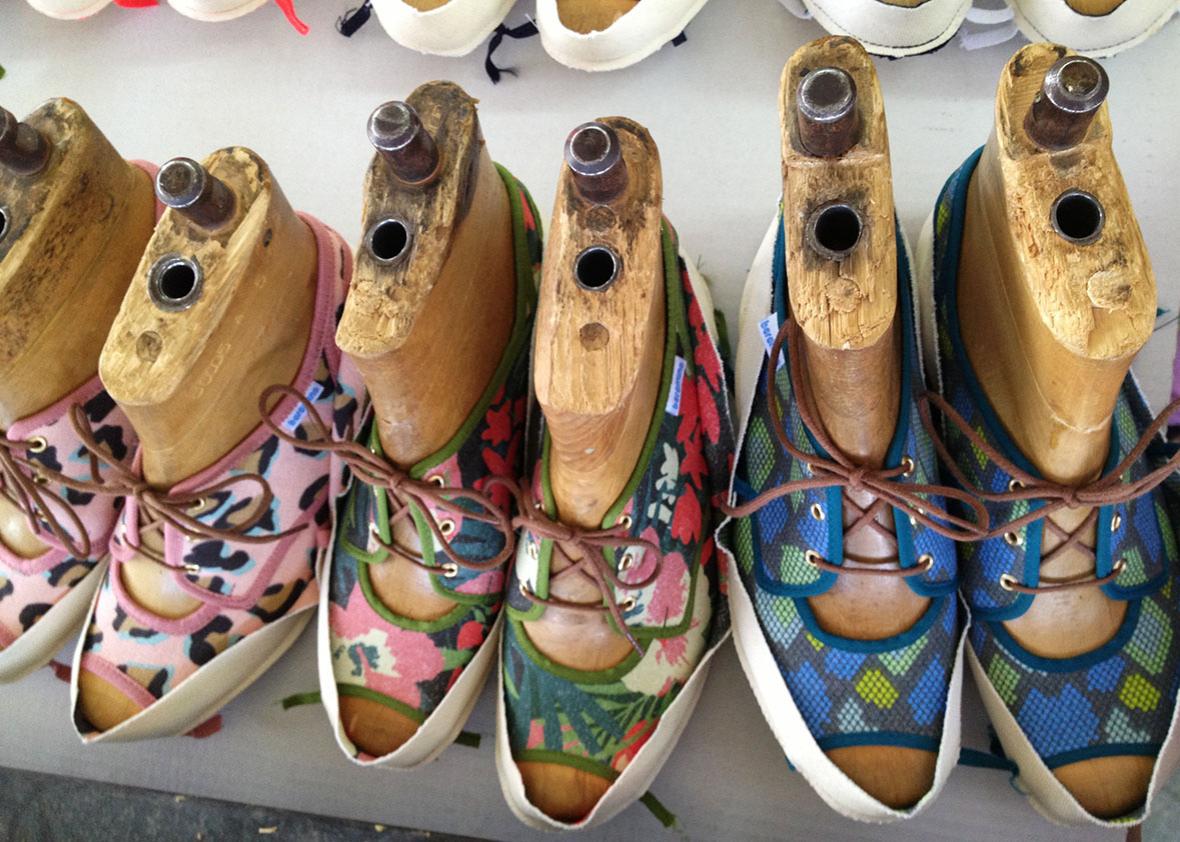 "I took them to my shoe repairman and asked him to attach 2 centimeters of microfoam rubber," says Ćurković-Spajić in an interview. The extra layer made them more comfortable. Since December 2013, Ćurković-Spajić has been the creative mind behind Borovo's canvas and rubber collection.
Ćurković-Spajić says she didn't set out to play the Communist nostalgia trend card. "I find my inspiration everywhere," she says. "At some point I was, for instance, obsessed with patterns I used to find on ski jackets from the 1980s." Models designed for a hipster audience wouldn't make it into production anyway, Ćurković-Spajić says. "I make compromises all the time. In one collection, I have to cover a wide range of tastes, because Borovo can't put too many new models in production."
Factory worker Perkanović says the renewed popularity of the brand hasn't changed her work. "If you ask me, things have been the same around here", she says. She has been working hard for a minimum wage her whole life. That doesn't look like it's going to change. The only real development is that more journalists are visiting the factory and taking photos of the workers, she adds, smiling. "Why would you want to take pictures of old women? We are all ready to retire here. Young people are not interested in this job."
Borovo footwear is currently selling in more than a dozen countries, from France to Australia, but the quantities sold abroad are not enough to attract investment, develop new shoe models, or even spend on a large marketing campaign. The buzz from the mention in Vogue helped, but not as much as fans of the shoes might think. It really only increased sales of the pink, unicorn-print Startas in the United States. Designer Ćurković-Spajić also designs in-store posters, runs advertising campaigns, and manages the brand's Facebook and Instagram accounts.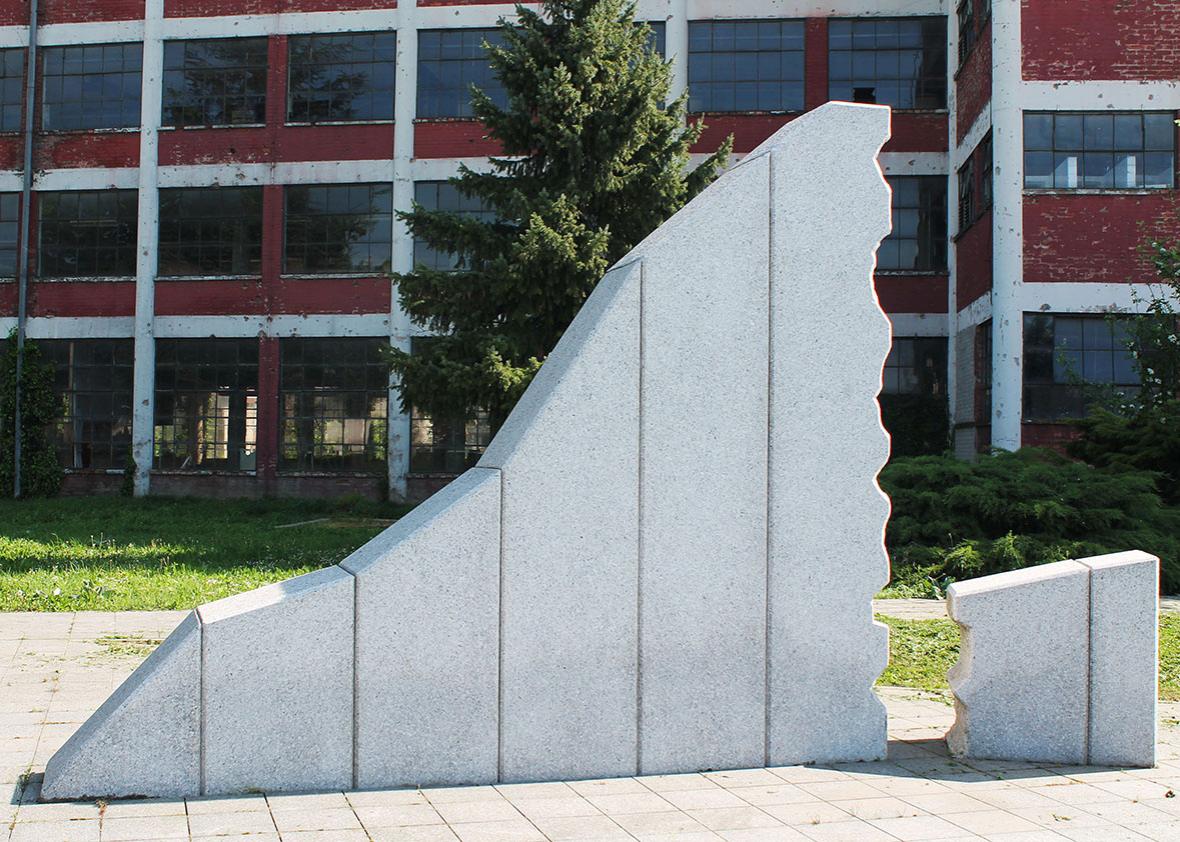 Back in Borovo's factory, management assistant Anica Panenić takes me on a tour of the assembly line. When the factory reopened in 1998, all production was crammed into one, lightly damaged building. As Panenić recalls, these were exceptionally tough times. "Sometimes the heating wasn't functioning. Sometimes, the water would freeze in the toilets." Production expanded into a renovated building in 2008, but the company doesn't have enough funding to do anything about the shell-pocked buildings on the site.
However, Panenić remains optimistic. Sure, footwear factories in Europe are dying out. Sure, the profits are low. But, Borovo has a competitive advantage, she says. "We can't compete with low-cost, mass produced footwear. But our footwear is crafted with care," Panenić says. They don't use child labor and employees don't work in dire conditions, she added.
On our way out of the factory premises, we pass a plain white sculpture. It's the company's evolution carved in stone, says Panenić. It starts with a straight line, at the beginning, when the land was nothing but an empty lot. "The first growth curve marks the company's creation and expansion until 1985, a year of massive strikes and the Yugoslavian recession. Then, a clear cut. "The interruption stands for the war period, when company stopped working," she says. "Afterwards comes a second stone, representing the company that rose from the ashes. It is a slow growth. But we are fighters, we will rise once more."