You know what's presidential? Using 12 minutes of a campaign rally to criticize a judge who is overseeing civil litigation against your failed "education" venture. And that's exactly what Donald Trump did in San Diego when he seemingly bored his audience with details about the ongoing case, specifically attacking U.S. District Judge Gonzalo Curiel for being a "hater" and even speculating about what his ethnicity might be.
"The trial is going to take place sometime in November. There should be no trial. This should have been dismissed on summary judgment easily," Trump said. "Everybody says it, but I have a judge who is a hater of Donald Trump, a hater. He's a hater. His name is Gonzalo Curiel."
Curiel "is not doing the right thing. And I figure, what the hell? Why not talk about it for two minutes?" What followed was "one of his most personal attacks against an apolitical figure since becoming the presumptive Republican presidential nominee," notes the Wall Street Journal. As part of his attack, Trump told his audience, which just moments earlier had chanted about the need to "build that wall," that Curiel is "Mexican."
"The judge, who happens to be, we believe, Mexican, which is great, I think that's fine," Trump said. "You know what? I think the Mexicans are going to end up loving Donald Trump when I give all these jobs, OK?" Curiel was born in East Chicago.*
"I think Judge Curiel should be ashamed of himself," Trump said. "I'm telling you, this court system, judges in this court system, federal court, they ought to look into Judge Curiel. Because what Judge Curiel is doing is a total disgrace, OK? But we'll come back in November. Wouldn't that be wild if I'm president and I come back to do a civil case? Where everybody likes it. OK. This is called life, folks."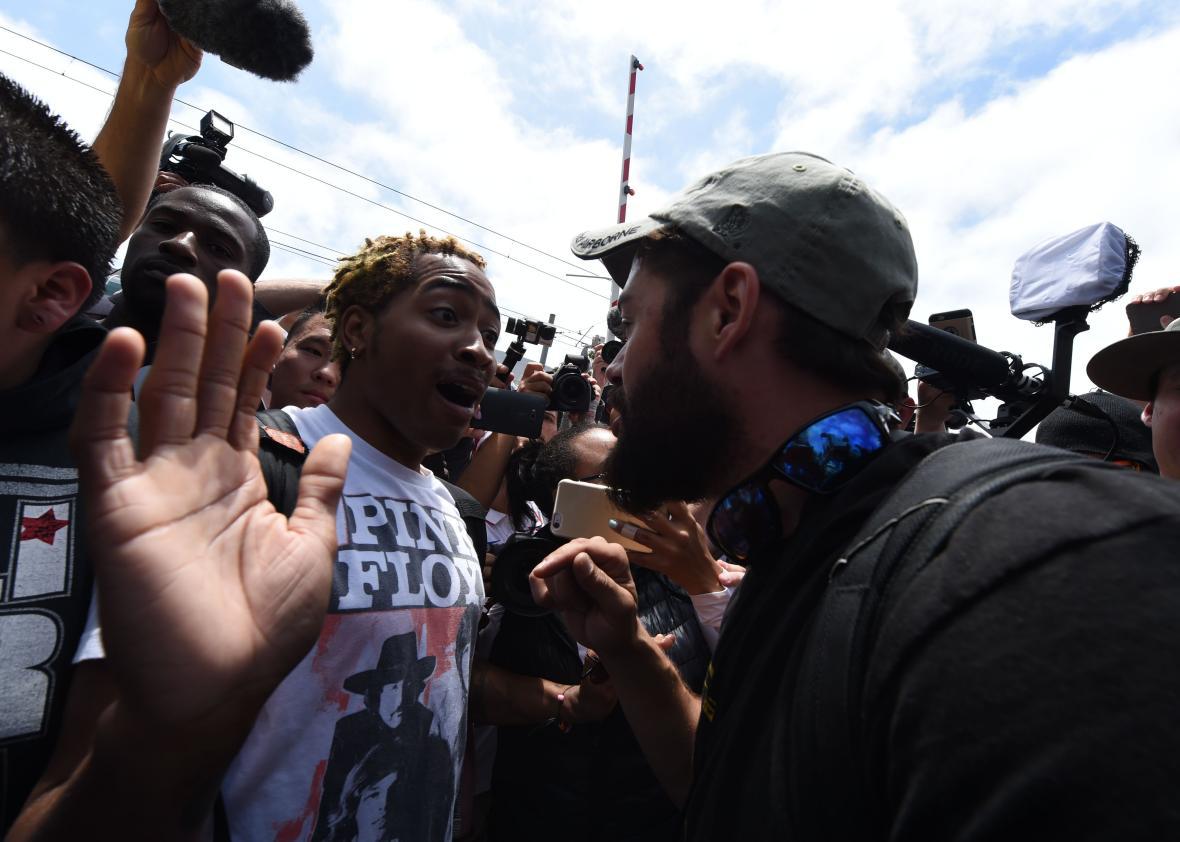 Outside the rally, San Diego Police arrested 35 people after a crowd of around 1,000 people did not disperse as ordered. Although the protests were peaceful throughout most of the day, small fights broke out after Trump left. "Even as there was no room to move, police officers continued to push protesters and reporters, with some toppling over in the fray," reports CNN. "Police pepper-sprayed several protesters." Trump took to Twitter later that night to praise the actions of the police. 
*Correction at 4:45 p.m.: This post originally misstated Judge Gonzalo Curiel's birthplace as Chicago. He was born in East Chicago, Indiana.