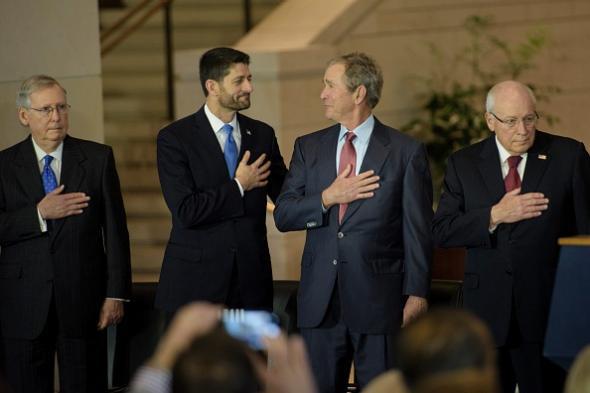 Former vice president Dick Cheney will "support" presumptive Republican nominee Donald Trump, CNN reports:
Former Vice President Dick Cheney will support Donald Trump, he told CNN Friday, an important move as the presumptive Republican nominee is encountering intense resistance from senior members of his own party.
Cheney told CNN Special Correspondent Jamie Gangel that he has always supported the GOP nominee and will do so this year as well.
That's a very tepid non-endorsement endorsement, but still a meaningful one given that prominent Republican figures including George W. Bush, George H.W. Bush, and Mitt Romney have said that they will not support Trump's candidacy.
It's especially interesting given that Trump has repeatedly mocked Cheney and Bush's disastrous mismanagement of the Iraq war; Trump is so committed to attacking the war that he has revised history to claim falsely that he opposed the invasion before it began. Cheney also said in February that Trump was more or less a "liberal Democrat." Trump, however, is an advocate of reinstituting the U.S.'s use of waterboarding and other Cheney-endorsed torture techniques and has said that he would order the execution of terror suspects' families. Cheney's passion for legally counterproductive and practically useless brutality, it would thus seem, is strong enough to make all other considerations—such as whether the Republican nominee is a "liberal Democrat" who has made criticizing the Bush administration a central tenet of his campaign—irrelevant.
---