Hundreds of protesters gathered to demonstrate against Donald Trump on Friday in what was the second day of protests in a row against the GOP frontrunner. The protesters blocked off the road to the hotel where the billionaire businessman was scheduled to speak so Trump was forced to leave his motorcade and walk through the side of a highway to get to a back entrance. "That was not the easiest entrance I've ever made," Trump said at the California Republican Convention in Burlingame, which is outside San Francisco. "It felt like I was crossing the border actually."
Clashes broke out amid the protesters, some of whom tried to rush the barriers that had been set up next to the hotel. Protesters reportedly threw rocks and eggs at police and Trump supporters say they were shoved and even spat on. The two days of protests are largely seen as a sign of just how rowdy the run-up to the June 7 California primary will be. The Golden State has rarely played an important role in the presidential selection process since it always votes so late in the game. This time around though it could very well be the state that puts Trump over the 1,237-delegate threshold he needs to clinch the nomination.
Once he actually made it inside, Trump called on Republicans to unite behind his candidacy in order to beat Hillary Clinton. "I think it's going to come to an end very soon," Trump said. "And really, I'm speaking to the people in this room, because there has to be unity in our party." At the same time though, Trump made clear he is not going to change his rhetoric just because he is close to the nomination.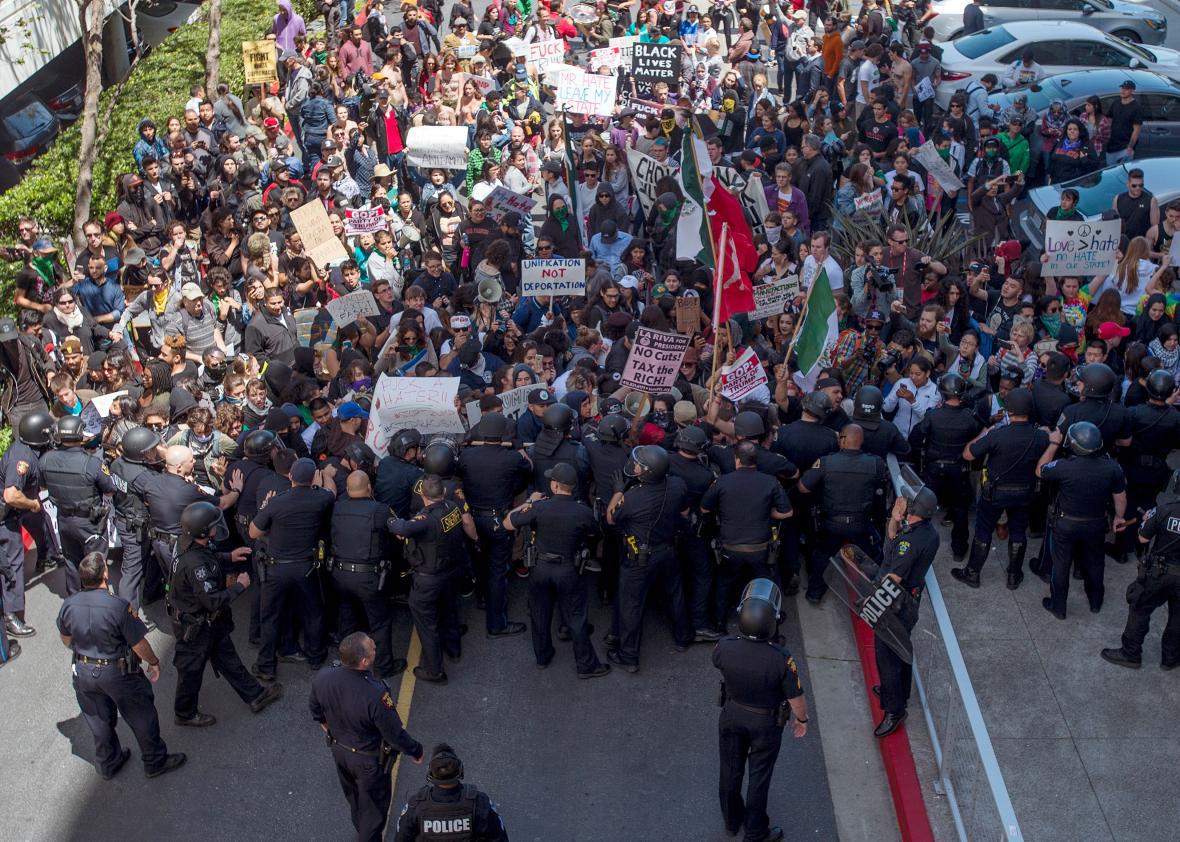 The GOP frontrunner made fun of his opponents and criticized those in the party who have opposed his candidacy. "Is he the dumbest human being on earth?" Trump asked about Karl Rove, a top adviser to former president George W. Bush. He also harshly criticized the party's nominating process and accused his opponents of bribing delegates.
Trump at one point even seemed to mock conservatives who have expressed concern about the real estate mogul's beliefs on key issues such as abortion. "Folks, I'm a conservative, but at this point, who cares? We got to straighten out the country," he said.
Trump's words in California really serve as a summary of where the GOP frontrunner stands with the party. The New York Times explains:
Mr. Trump's remarks offered a vivid illustration of the current state of his campaign: As he edges closer to the nomination, he is under pressure to curb his hard-edged language and exude a more statesmanlike demeanor. But the continuing attacks from other Republicans plainly rankle him, and he appears to have little appetite to make peace with his critics.
"Ideally we're going to be together," he said. But then he said: "I think we're going to win even if we're not together. There are some people I honestly don't want their endorsement."
He emphasized that last point later in his speech. "There should be and there has to be unity," he said. But it's hardly essential. "Would I win, can I win without it? I think so."