Update, April 14: On Thursday, the National Oceanic and Atmospheric Administration has issued an official "La Niña Watch", meaning conditions are now favorable for La Niña to emerge over the next six months. Writing for Climate.gov, atmospheric scientist Emily Becker said "almost all of the computer models we use for predicting climate are anticipating a transition to La Niña during the second half of this year." Also out on Thursday is the first 2016 seasonal forecast of Atlantic hurricane activity from the closely-watched team at Colorado State University. Meteorologist Philip Klotzbach and his team expect "approximately average activity" with a 50 percent chance of at least one major hurricane landfall somewhere along the U.S. coastline. The original post follows below:
With a monstrous and record-setting El Niño on the wane, the implications of its disastrous worldwide consequences are starting to settle in. But there's new evidence that, on its heels, a potentially strong La Niña could emerge later this year—bringing with it a renewed stretch of extreme weather.
On Thursday, the National Multi-Model Ensemble, a blend of the most reliable seasonal forecasts available, showed the clearest signal yet that tropical Pacific waters will cool rapidly over the next six months, likely ushering in La Niña conditions.
Here's exactly what's about to happen, as explained by the fine folks at the National Oceanic and Atmospheric Administration:
In a nutshell, El Niño's burst of warm water has slackened the trade winds across the tropical Pacific Ocean, and pushed the atmosphere there into an unsustainable setup. El Niño is now in the process of eating itself, as Anthony Barnston, one of the world's foremost experts on El Niño and La Niña told Climate Central's Andrea Thompson. As this happens, the trade winds will return with a vengeance, and will promote cooler, upwelling ocean water (which we call La Niña) that will shift weather patterns worldwide.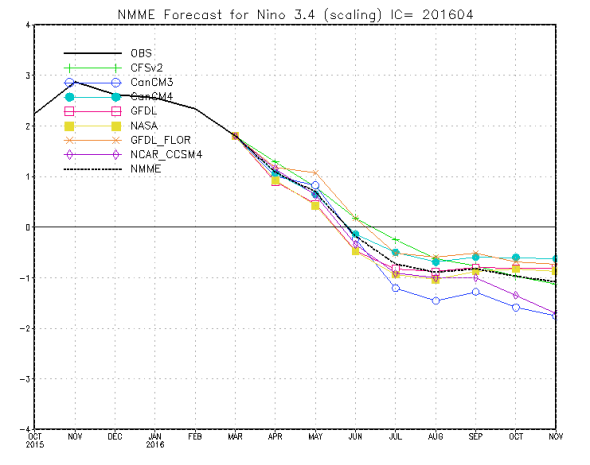 A consensus of longer-range computer models now show La Niña conditions emerging by around July, and should peak this winter at a moderate intensity. Though this time of year is known for its relatively less reliable forecasts of this sort, virtually every strong El Niño on record has quickly transitioned to at least a weak La Niña, and there's no reason to believe that this year will be any different. An additional boost of confidence: A few weeks ago, NOAA researchers fixed a bug in one of their flagship long-range models, which had been showing a continuation of El Niño conditions until 2017. Since then, it's gotten on board with the La Niña forecast, too.
So, you ask, what does La Niña mean for me?
A busy Atlantic hurricane season
In general, La Niña helps slacken cyclone-shredding wind shear over the tropical Atlantic, which means it assists in the formation of hurricanes. This year, there's specific reason to believe those hurricanes may be more likely to head for the U.S. An objective pattern matching technique based on yesterday's NMME data showed similarities to seasons that favored hurricane strikes in Texas, Florida, the Southeast, and New England.
Now, it's impossible to predict specific hurricane landfalls this far in advance, but the United States is long overdue for a major hit. It may not happen this year, but it's slightly more likely to eventually happen in a La Niña year.
Reduced odds of blockbuster East Coast blizzards
If we make it through hurricane season relatively unscathed, this winter may provide additional extreme weather relief, at least when it comes to the sorts of mega-blizzards the Northeast has grown accustomed to in recent years. Though La Niña winters are typically colder than average in the Northeast, much of the fuel for the big blizzards will be gone: The hyperactive tropical jet stream that's a feature of El Niño will be a shell of its former self.
Drought in Texas, cold winter in the Midwest
The center of the country will likely be a meteorological battleground this winter, and we could see a return of the warm West/cold East pattern that seemed to drag on indefinitely during the winters of 2013-14 and 2014-15. The weakened tropical jet stream means rainfall will be less likely for the next several months in Texas, barring any tropical storm or hurricane landfall, of course.
Amazing ski weather in the Pacific Northwest
In the winter of 1998-99, Mt. Baker in Washington state set a new national record: The most snow ever in a single season, 95 feet. Ski bums in the Pacific Northwest got a decent season this past winter, as the El Niño didn't conform to the traditional pattern there, but this coming winter should be even better.
California drought
Thanks to a March miracle, key reservoirs across northern California are nearly full for the first time in years. However, this year's snowpack was still relatively disappointing, and things are only looking worse from here. La Niñas are typically bad news for California, and this coming winter shouldn't be any different: All seven components of the NMME are pointing toward a below-normal start to this winter's rainy season there, and continued pressure from global warming will ensure that storing snow will be especially challenging this year too.
There are, of course, impacts of La Niña worldwide as well: A big uptick in flooding in Southeast Asia, a stronger-than normal monsoon season in India, drought in Peru and Argentina, and reduced risk of typhoon strikes in East Asia.
In the meantime, during the transition, odds are that this summer will be very warm, particularly in the United States, where, for the last two months, every single state has been warmer than average. (South central Alaska, under the influence of a very warm El Niño-fueled Pacific, has had warmer than average temperatures for more than 100 days in a row.) Initial global temperature data from March show that last month was the 11th consecutive monthly temperature record worldwide. This streak should end (finally!) sometime later this spring or this summer as the switch from El Niño to La Niña emerges. Global temperatures will still be much warmer than normal stretching into 2017 (thanks to climate change) but just not quite as record-breaking as we've grown accustomed to over the last year.