As you can see above, Donald Trump finished up his victory speech Tuesday night by asserting that Hillary Clinton would only get "5 percent of the vote" if she were a man, following it up by claiming that "women don't like her." (Fact-check: They like her a lot more than they like Donald Trump.) Standing behind Trump as he made the comment was Chris Christie's wife Mary Pat; many observers, like the New York Times' Michael Barbaro, interpreted her reaction to it as a signal of disapproval.
It's true that in the ABC clip that's going around, Mary Pat Christie glances in her husband's direction, a glance that one could interpret as alarm, and then makes an expression that could be interpreted as disgust:
However! As much as I would like to believe that Trump was actively being undermined by an alleged ally, I think the full clip indicates that both Christies actually reacted to Trump's remark in the same way, namely, a kind of disbelieving amusement, like, "DAMN, HE REALLY WENT THERE." Look at them both seeming mirthful in this still, taken a few moments after the shot above: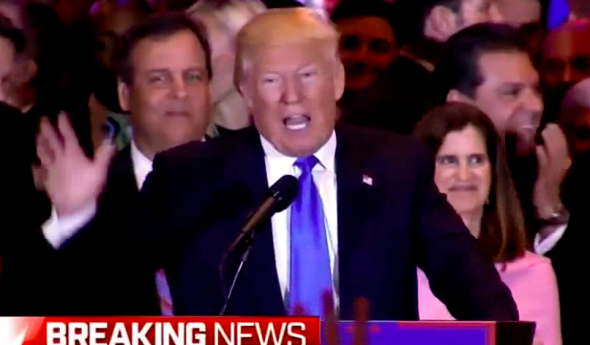 And look at Mary Pat turn back toward Trump as he's stepping off the stage as if to say "Donald, you are incorrigible, BUT I MUST ADMIT IT PLEASES ME":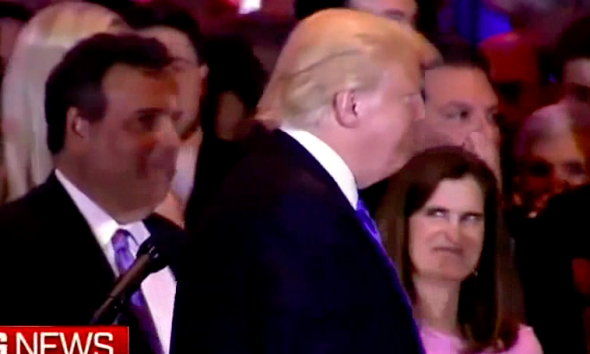 I think she was amused, not annoyed.
Here it is in slow motion.
Slowing it down doesn't necessarily clarify matters, but it does make the audio sound (even more) like a nightmare!
Read more clear-eyed Slate investigations into the GOP primary.
---