A photograph that quickly made the rounds on social media from Donald Trump's canceled rally in Chicago shows an older women decked out in campaign gear for the real estate developer giving the Nazi salute. The Chicago Tribune identified the woman as Birgitt Peterson of Yorkville, Illinois. But Donald Trump Jr., the candidate's eldest son, sent out a tweet endorsing a claim that the woman in the picture was actually Portia Boulger, an outspoken supporter for Bernie Sanders. "Big surprise," wrote Trump Jr. "However, the media will never run this." He later seems to have deleted the tweet.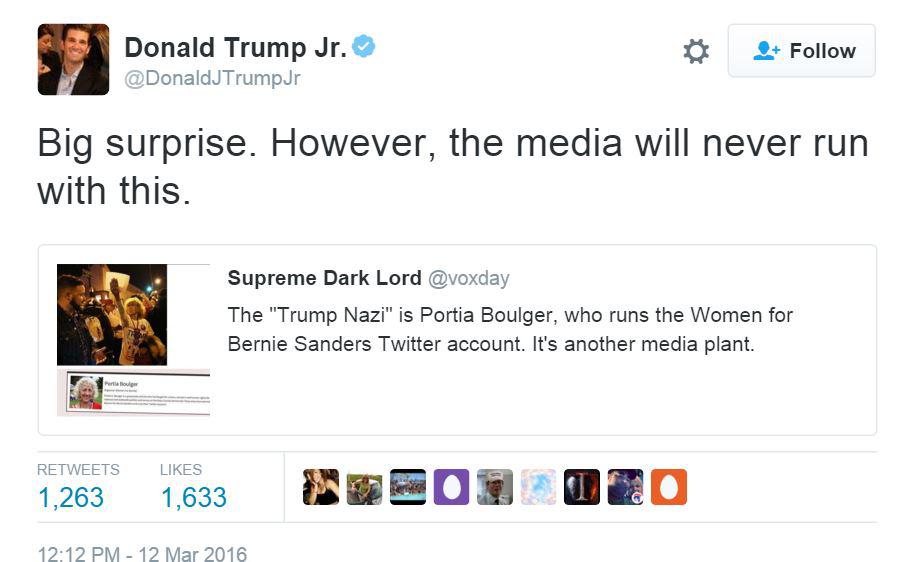 The only problem? Boulger insists she was not in Chicago on Friday night. And, besides, she looks nothing like the person in the picture.
The man who can be seen to the left of the older woman in the picture says he has no doubts that the woman was making the Nazi salute. "She openly Hailed Hitler," he wrote. "And held the stance gladly." He later clarified that she did not actually say "Heil Hitler" but elaborated in a long Facebook post that lays out what happened that led up to the now-infamous photograph.
So who is the woman in the photograph? Well, it looks like she's probably a parrot lover. In 1988 Mike Royko wrote a column about a Birgitt Peterson who was angry about how United Airlines almost lost a parrot she had sold to a customer in Hawaii.