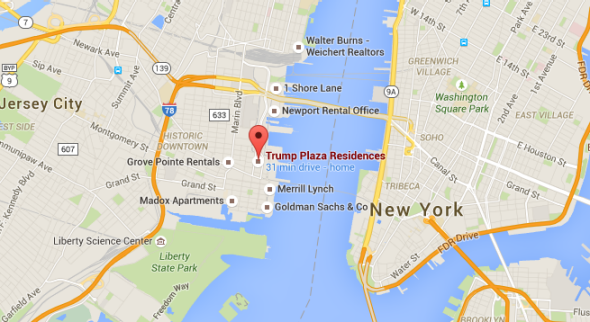 Two of the chief complaints Donald Trump has been making as he campaigns for president are that foreign criminals are taking advantage of the U.S. immigration system and that the Chinese are taking advantage of the U.S. economically. One might surmise, then, that Trump would oppose a project in which a predominately Chinese group of wealthy foreigners receive expedited visas in exchange for funding American businesses in a program that's been found to involve "a high risk of fraud." But Bloomberg Politics reports that a Trump-branded luxury building in Jersey City, New Jersey, is being partially funded in exactly that way: 
The visa program is known as EB-5. In exchange for investing at least $500,000 in a project promising to create jobs, foreigners receive a two-year visa with a good chance of obtaining permanent residency for them and their families. In 2014, the most recent year for which records are available, the U.S. issued 10,692 of these visas—85% to people from China.
The Jersey City project has raised $50 million, about a quarter of its funding, from loans obtained through EB-5, according to a slide presentation by US Immigration Fund. Mark Giresi, general counsel of US Immigration Fund, said he believed nearly all of the EB-5 investors in the Trump project were from China.
The apartment tower is being built by Kushner Companies, whose CEO is Trump's son-in-law Jared Kushner. Trump has licensed his brand name to the project.
Apart from the basic hypocrisy of a guy who complains that immigrants and Chinese businesses get too many favors from the U.S. government helping Chinese businesses get immigration-related favors from the U.S. government, the EB-5 program has been criticized by independent observers for its lax security processes:
The Government Accountability Office, the investigative branch of Congress, found last year in a general report about the EB-5 program that many applications contained a high risk of fraud, and discovered cases of counterfeit documentation. State Department officials told the GAO that there is "no reliable method to verify the source of the funds of petitioners" … 
Senator Charles Grassley, a Republican who is chairman of the judiciary committee, last month cited a memo from Homeland Security saying that EB-5 visa holders do not clear the same hurdles as other immigrants, like proof of education and work qualifications. 
Earlier news reports have also found that Trump-branded clothing is manufactured in Mexico and China, that undocumented immigrants are employed on Trump construction sites, and that he has passed over hundreds of applications by U.S. residents to hire foreign workers for jobs in Florida.
---