There's a report on the National Enquirer 's site that "private detectives" are "digging into" allegations that Ted Cruz has had extramarital affairs; you can read the report here. (The Enquirer's article, to be clear, is very thin and has not been substantiated by any other publication.) Now, the National Enquirer did break the story of John Edwards' affair with Rielle Hunter in 2007, which is to say it isn't always wrong. But much of its reporting on the 2016 cycle … well, let's just say it has had a certain … slant. Here's how the Enquirer has covered non–Donald Trump candidates: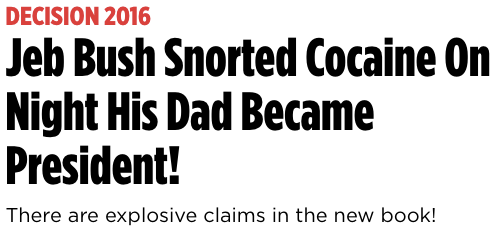 And here are two of its headlines on Trump:


New York magazine's Gabriel Sherman, incidentally, reported in October 2015 that Trump is a longtime pal of Enquirer CEO David Pecker and that Trump's campaign had been a source for the story that accompanied the Ben Carson sponge headline. (The sponge lawsuit was dismissed, by the way, and a Carson spokesperson said "there was no sponge left inadvertently in a patient's brain.") Cruz has explicitly blamed Trump "henchmen" for the new infidelity allegations:
(Update, 3:45 p.m.: Trump denies planting the story.)
Also, there's this slideshow of candidate secrets, which for some reason includes O.J. Simpson: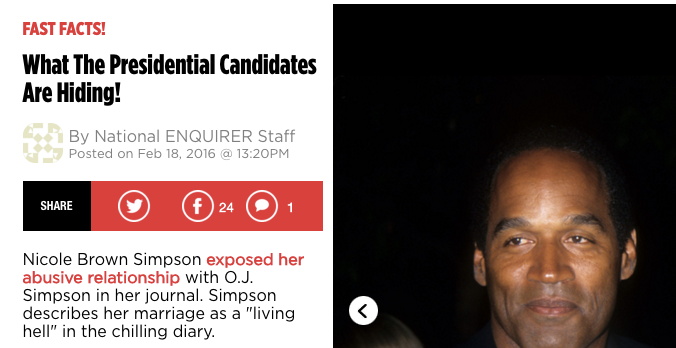 I'll say it right here, though: O.J. Simpson should not be president.