Update, Wednesday, 5:48 a.m.: Bernie Sanders wins in Idaho, his second caucus victory of the night. With nearly all the votes counted, Sanders topped Clinton by roughly 57 points, 78 percent to Hillary's 21 percent. Despite winning two of the day's three contests, though, Sanders won't make up any ground on his rival in the delegate race. According to the Associated Press' estimates, he's on pace to win 11 delegates more than Hillary in both Utah and Idaho but 23 less than her in Arizona.
Update, Wednesday, 1:45 a.m.: Bernie Sanders wins Utah caucus. (via CNN)
Update, Tuesday, 12:30 p.m.: High turnout causes problems in Utah. (via CNN)
Update, Tuesday, 11:30 p.m.: Hillary Clinton wins Arizona primary.
Update, Tuesday, 10:15 p.m.: Long lines in Boise delay the start of Idaho caucus. (via the AP)
By 5:30 p.m. — just a half hour after doors opened at a downtown Boise event center and sports stadium — lines of eager [caucusers] had wrapped three city blocks waiting to get in. The doors were supposed to be locked to any new-comers at 7 p.m. so the caucus proceedings could begin. But with hundreds still waiting, officials postponed the start time until everyone could be register for the event … Four of Idaho's most populated counties had to make last-minute changes to expand or add new caucus venues to accommodate the expected large crowds.
Original Post: The Democrats are contesting three right-leaning western states on Tuesday night, all of which would require a near-miracle to win in the general election. Democratic voters will head to the polls in the Arizona primary to divvy up the state's 75 delegates and will caucus for Idaho's 27 delegates and Utah's 37 delegates. The tenor on the Democratic side changed significantly last week, as Hillary took home large delegate victories across the South to stretch her lead. With her win in Ohio, Clinton also was able to blunt the sense of momentum gained from Sanders' stunning, poll-defying victory in Michigan two weeks ago and head off the suddenly worrisome questions about her appeal in the Rust Belt, where many voters aren't particularly enamored with her husband's economic legacy there.
The race has turned largely amicable for the Democrats as Hillary has stretched out her delegate lead over Bernie to 319 pledged delegates. The superdelegates further pad the Clinton lead.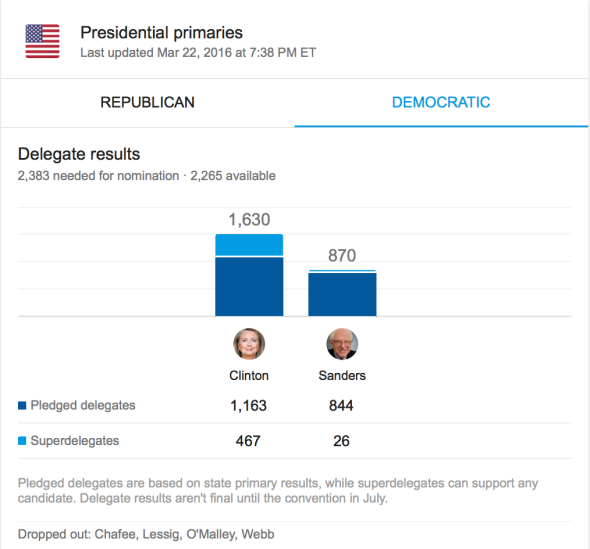 That's not to say it's impossible to Sanders to win the nomination; it's just that it's very unlikely. Sanders has raised plenty of money and will likely stick around to the end either way, but he would need to start chalking up seismic wins in bigger, more diverse states that have so far proven elusive for the Vermont senator. Tuesday is as good a time to start as any for the Sanders campaign, which is positioned to do well and potentially win in Idaho and Utah. There's not a lot of polling being done in Idaho or Utah, and what has been done is dated, but the most recent surveys in both show Sanders in front. Polls taken in Arizona earlier this month show Clinton with a commanding lead.