Update: 11:33 p.m.: Bernie Sanders wins Michigan.
Update, 10:54 p.m.: Just for some perspective on how big an upset a Sanders win in Michigan would be, here's the spread of each of the polls taken in the state in March (via RealClearPolitics):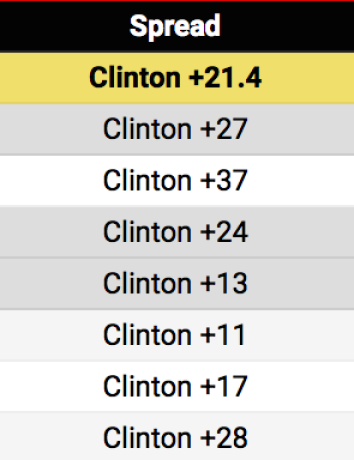 Update, 10:30 p.m.: The Democratic primary remains too close to call with Bernie Sanders holding onto a slight lead over Hillary Clinton with 70-plus percent of the vote counted.
Update, 8:00 p.m.: Clinton wins Mississippi.
Original Post: After a contentious debate Sunday night, Hillary Clinton and Bernie Sanders are back in the ring duking it out in two states on Tuesday: Michigan and Mississippi. Clinton has taken control of the delegate race by winning big in Southern states and keeping it close in states where Sanders came out on top. Clinton is almost halfway home to the magic number of 2,383 that would secure the nomination, with 130 delegates up for grabs in Michigan and 36 more on the table in Mississippi.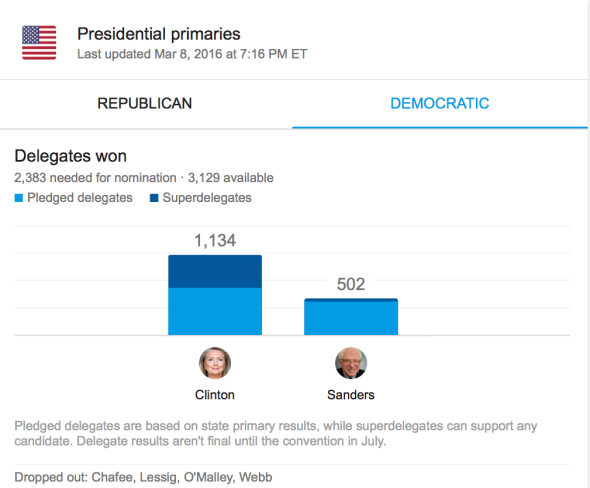 Clinton Wins (11): Iowa, Nev., South Carolina, Ala., Ark., Ga., Mass., Tenn., Tex., Va., La. 59 percent delegates won so far.
Sanders Wins (7): N.H., Colo., Minn., Okla., Ver., Kan., Neb. 41 percent delegates won so far.

Stay tuned, and we'll keep you updated throughout the evening with the latest results.
*This post has been updated.