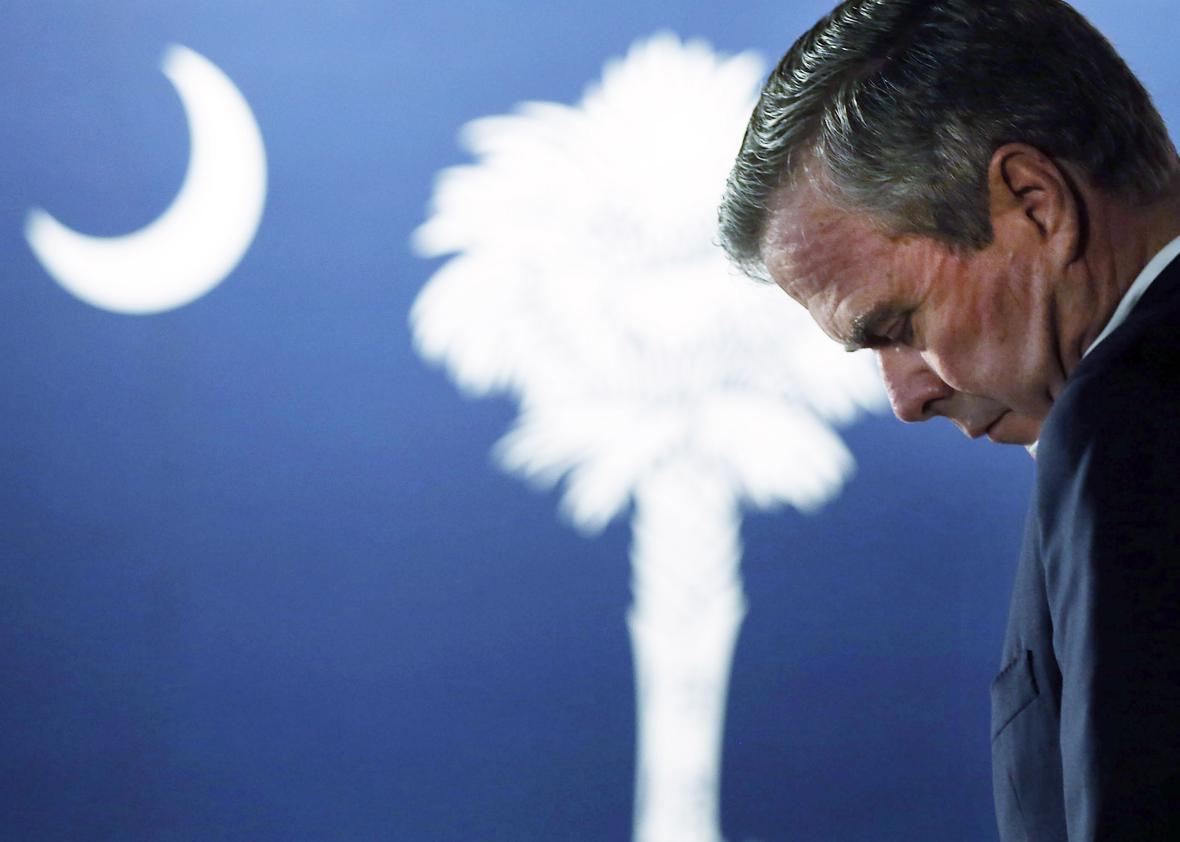 Hello! Welcome back to the Newsletter Once Known as "Today in Slate." In its new form, the Angle will share the most interesting ideas about the news each day, highlighting thought-provoking pieces from Slate as well as other fascinating stories from around the Web. 
Seth Stevenson wrote an eloquent elegy for Jeb Bush's excruciating-to-watch presidential campaign. "I spotted Jeb as a fellow introvert right from the start. Shy recognize shy. It must have been a singular torture to campaign for president with this personality suite," Stevenson writes. (At Vox, Dara Lind rounded up the saddest moments in Bush's 2015–16 run; this is not an easy list to read.) 
But Jeb! had more to offer than pathos, and the fact that his gifts went unrecognized doesn't say good things about our political scene, Stevenson argues. 
Given that the president serves as an avatar for our nation—the face we show the world, the mirror that reflects who we are—integrity in a candidate is no small thing. Earnest attention to detail is to be applauded. Willingness to listen is a mark of solid judgment. Empathy for the afflicted bespeaks good character. Shit matters, is I guess what I'm saying. The Republican race snipped its strongest tether to decency when Jeb Bush bowed out Saturday night.
Jamelle Bouie thinks that Hillary Clinton's win on Saturday night proves the Clinton camp's "theory of the race" correct. "The Clinton campaign believes that Sanders' strength and enthusiasm is illusory; that it reflects the peculiar demographics of Iowa and New Hampshire—rural states with few minorities—more than any pro-Bernie tide in the Democratic Party," he writes. With a win in Nevada, the Clinton campaign is back on a more "stable and steady" road to the nomination. 
Slate's culture team has been producing short films making the case for each Best Picture nominee. Today, Willa Paskin stumps for Brooklyn, a romantic and moving film that, Paskin argues while garbed in period costume, deserves to be considered as carefully as any Big, Important Oscar Movie. 
In related news, Jack Hamilton liked director Adam McKay's Best Picture–nominated The Big Short  (ably repped by Forrest Wickman in this video series) just fine, but thought his 2008 movie "Step Brothers" was even better: "an anti-bildungsroman, a stagnation narrative" that is a "beautiful and searing journey to nowhere."
For fun: What is "Damn, Daniel"? A funny, exuberant viral video made by two teenagers, which our office full of adults found eminently charming. 
The modern world is full of wonders, 
Rebecca 
---