In early November, an email appeared in my inbox: a plea for volunteers in a refugee camp on Leros, Greece. It told of an underfunded, overcrowded, and understaffed camp. Thousands of refugees were arriving on the island daily. The message spoke of inhumane treatment by Greek officials. The refugees were forced to sleep in the streets, and they desperately needed help.
Although it came from a stranger, the message somehow resonated. One of many Greek islands on the front line of Europe's refugee crisis, Leros is less than a three-hour flight from my family's home in Munich. I felt guilty about my comfortable life amid safety and plenty. I have volunteered throughout my adult life—and I don't romanticize the work—but traveling to a Greek refugee camp wasn't cooking in a local soup kitchen or teaching disadvantaged high school students. Friends urged me not to go. But this felt imperative. The scale of the crisis confounded the senses, and yet felt intimate. Refugees in the millions were risking their lives for an uncertain future in Europe and at every step along the way local authorities and volunteer organizations had been overburdened for months. It took me less than a day to make the decision to go.
The Dodecanese islands—a cluster of 12 major islands, including Rhodes and Patmos—are a lot closer to Turkey than to Greece. While Leros has the pastoral beauty we associate with all Greek islands, it is not a choice tourist destination. With its 8,000 inhabitants, the island is filled with the casualties of an earlier housing boom, when loans were cheap and even the town baker felt entitled to a second home.
Half-finished, crumbling properties, empty storefronts and restaurants cover the island. Due to its strategic location and large natural harbors, Leros was occupied by Italy for more than 30 years, from 1912 to 1943—hence the profusion of dilapidated military structures all over the island. The largest of them were turned into psychiatric wards in the 1950s to deal with Greece's most untreatable patients. The hospital's startlingly inhuman conditions prompted the BBC to nickname Leros the "island of the damned." Describing scenes of naked patients chained to trees, the London Observer in 1989 likened Leros to a "concentration camp."
Leros is a microcosm of the refugee crisis. By the time I arrived there in December, the work had become "easier," as it were. With dropping temperatures making the crossing from Turkey ever more dangerous, we had an average of only 400 refugees per day—sometimes 60, sometimes 800. Still, the camp population kept expanding, and life quickly became unbearable.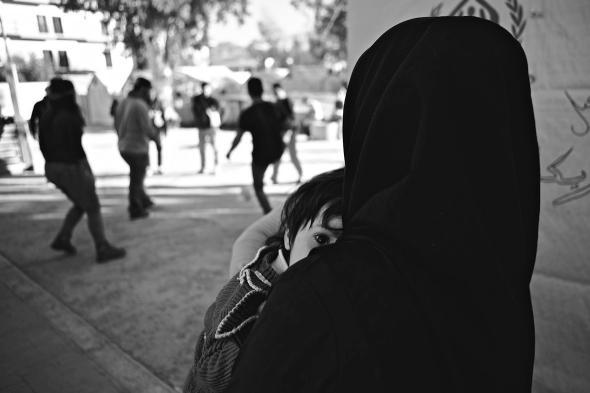 How do they get to this forsaken island? A favorite staging area is Izmir, Turkey's third-largest city and a hub of the trafficking industry. One Syrian refugee I'll call Ahmed told me: "You need only mention you're on the move and dozens of smugglers will spring up offering to take you across. They are all Syrians." From Izmir, the migrants are taken to smaller coastal towns where their dangerous journey to Greece begins. At that point, they have been wandering for many months.
Ahmed said that Leros was his 17th stop. Moving with his younger brother, he had "adopted" a 13-year-old Moroccan boy along the way, who spoke only Arabic and was traveling without family or friends. The trip costs between $800 and $3,500, depending on how well you negotiate, how far you want to go, and whether you buy "bulk" or just a single passage. That's the nasty reality, unless you can claim bona fide refugee status by proving that you come from war zones like Afghanistan, Iraq, or Syria. If you are merely a "migrant," you must be smuggled further through Europe.
Being a "migrant" will cost you. If you are a Moroccan, Algerian, or Iranian, if you travel without any passport or with forged papers, the price shoots up. You may be turned away at the European Union's external borders, or if you get in and are caught, you may be deported. The Greek border patrol in Leros can be fairly lenient, but once nonrefugees get to mainland Greece and farther into the EU, the system is much less accommodating.
So at the camp, we kept reminding refugees of their rights under international law while warning migrants about the grievous complications ahead. Yet without fail, everybody insisted on moving forward.
The traffickers do not bring their charges directly to Leros, given the risk of prosecution and imprisonment. Entry without a visa is of course illegal, as well, but the sheer numbers make enforcement almost impossible. Usually, the refugees bound for Leros are deposited on Farmakonisi, a bare island with a small military base where they must wait for days to be picked up by the Greek coast guard or a merchant marine vessel, the VOS Grace donated by Britain to aid the search-and-rescue missions in the Aegean Sea.
The inhumane conditions on Farmakonisi have provoked charges of human rights violations against the Greek military. A refugee traveling with his wife and young daughter told me how he and a group of 80 others were penned up on the barren island for five days. Soldiers were shooting into the air to intimidate them. Instead of feeding them, as required by law, the soldiers were blithely selling them water and biscuits. Sleeping on the ground in the rain, he watched other starving refugees eat snails.
They nicknamed the island "Biscuit Island."
Once the refugees finally disembark on Leros, they are given blankets, toothbrushes, soap, and snacks. Then they go through the registration process, managed by Frontex. Frontex is the European border police, but they have no real power. So they are relegated to checking passports, fingerprinting, or interrogating those who have no passports and claim refugee status.
This process has become more rigorous following the reports that two of the Paris attackers had passed through Leros with stolen passports last year. But a longtime volunteer, who asked not to be named, told me that depending on their own mood and nationality, officials try to register most people as Syrian refugees if they don't have a passport. A longtime local swore he had seen the mastermind of the Paris massacre, Abdelhamid Abaaoud, on the island this summer.
Next to the makeshift processing area is a coffee shop, where the proprietor—who also doubles as the town oracle—prepares food for the new arrivals and loitering rubberneckers. One Friday night he hosted a boisterous party while a ship brought in 300 shivering refugees. A volunteer and I had come to take a young Iraqi mother and her three soaked children—one of whom was autistic—to a house outside the camp. It was an uncomfortable scene: here the boisterous carousing, there the miserable, dejected arrivals.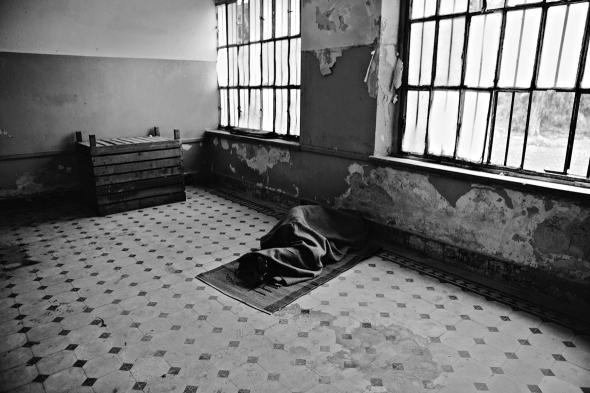 Under the best of circumstances, registration is a chaotic process, and as volunteers, we were often in the way. Others simply used the stage for a little grandstanding. Volunteers normally operate under a strict code of conduct, which emphasizes discretion above all. Yet on Leros the code did not necessarily rule behavior. A high-visibility vest is all you need to acquire an air of officialdom and to inflate your own importance. Coordinators told me of volunteers showing up looking for hardcore adventure—like pulling drowning people out of the ocean. When informed that ships actually drop refugees off at the port, some volunteers up and left.
I met young European men who traveled to Leros merely "to see what things were like"—a kind of disaster tourism. The type can be found all over Europe, operating under the assumption that hugs, teddy bears, and their mere presence are all a refugee needs. They need a lot more, like legal advice, medical care, safety, shelter, and work.
When the numbers dropped briefly a week before my arrival, I learned that the same person who had sent the impassioned email urging me to volunteer had decamped for Idomeni, near the Macedonian border. The place had become a new focus of the refugee crisis, suddenly enjoying massive media attention.
Leros doesn't get much media coverage these days. The camp is in the center of town, surrounded by the local high school, a nursing home, the hospital, and empty restaurants. Bookended by a dilapidated former mental ward and a crumbling former naval building, the camp is made up of a cluster of small Ikea huts (which sleep about 15 each). There is a wall of port-a-potties, a handful trailers, and two large 100-person tents on a dirty, gravelly lot.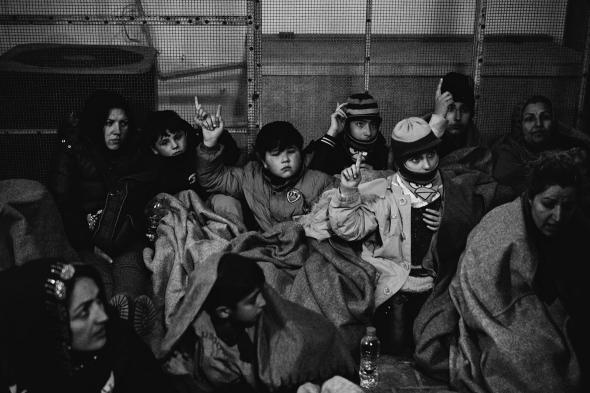 Everyone sleeps on mats or old wooden pallets. The former mental ward houses the waiting areas, a makeshift clinic, and the "boutique"—a chaotic place where refugees receive new clothes. The old naval structure is the place where pallets upon pallets of donations land and teams of volunteers work 12-hour shifts.
Everything from diapers to blankets is kept there. Dirty underwear, party dresses, single shoes, moth-bitten sweaters, and open bags of candy are also among the donations. Mold covers the walls of both buildings, making sickly green and brown patterns from floor to ceiling. Large slabs of wall crumble off every time you move. Windows are broken and must be taped shut with plastic.
Feral cats used to live there for ages, leaving behind the stench of urine and feces. Plywood boards on hinges substitute for doors. But within hours, the weird logic of this little universe begins to make perfect sense. You run from one end to the other, replenishing stocks and answering questions with a five-word Arabic vocabulary. The most essential term is bukra—tomorrow.
You pull a missing size-43 boot from under a pile of 100 other shoes. Then you try to mix baby formula in the most hygienic way you can, given the conditions. Eight hundred refugees have to be squeezed into a space fit for only 450.
Though the camp falls officially under the purview of the United Nations High Commissioner for Refugees, it is actually managed daily by hardworking volunteers. I counted eight nonprofit groups that don't integrate smoothly, nor communicate effectively. So camp life is an accurate simile for the larger forces at work, with kindness competing against organizational self-interest.
That said, it is solely by the good grace of individual volunteers that these camps continue running. This is the bright spot in a crisis dominated by bureaucratic maneuvering in Brussels and barbed wire fences on the EU's eastern borders. The camp is neither sanitary, nor comfortable, but it is vibrant.
The refugees are lucky because they have at last reached the EU, and for a brief moment, the road ahead seems full of promise. During my stay, there were two casualties, both the result of extreme hypothermia. Otherwise, most of the arrivals were in surprisingly robust health—newborns, children, and octogenarians alike.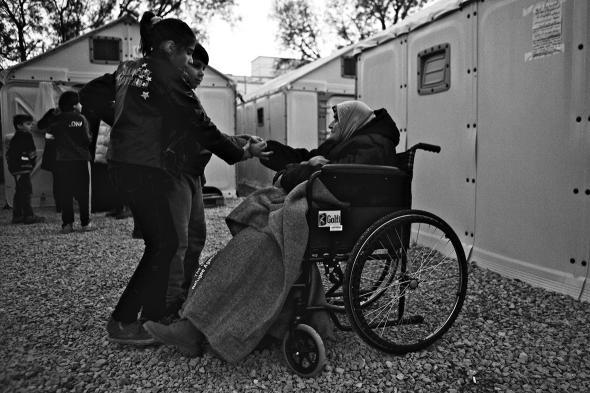 An 84-year-old matriarch in a wheelchair, incontinent and immobile, made the treacherous journey with her family because that was still better than staying put. Although most of the refugees, about four-fifths, are young men, there are always plenty of kids in the camp who appear to be remarkably calm. Like the Iraqi mother's three children: a 4-year-old daughter, a 6-year-old mute autistic son, and a 10-year-old boy.
She worked as an English professor in Baghdad and told me she had tried for a year to get a visa to Germany to join her husband there. She finally decided to take the smuggler route. On her way over in a rust bucket, she and her children were forced to throw everything but the clothes on their backs overboard when the boat started sinking.
Her kids were shellshocked when they reached Leros. As I tucked them in, the eldest son began crying silently into his pillow. The next day they were running around the camp, playing, smiling, and chattering away. We work in shifts but don't get out until well into the night. We don't want to. The camp has a magnetic pull. As soon as you leave, you want to come right back. When we aren't scurrying around for supplies, we play soccer, make music, play hopscotch, or draw with the children. Volunteers and refugees go to nearby cafés together.
I have maintained close contact with a few refugees, people to whom I have grown attached. On my first day in the camp I was tasked with helping to shovel stagnant urine-filled water from a second-floor room leaking into the boutique. The first person I encountered was a young man working without gloves or a mouth guard, wearing a nice pair of hiking boots while fighting the filthy water. Mistaking him for a volunteer, I learned that he had fled Damascus with his young wife and child earlier that week. He worked harder than all of us.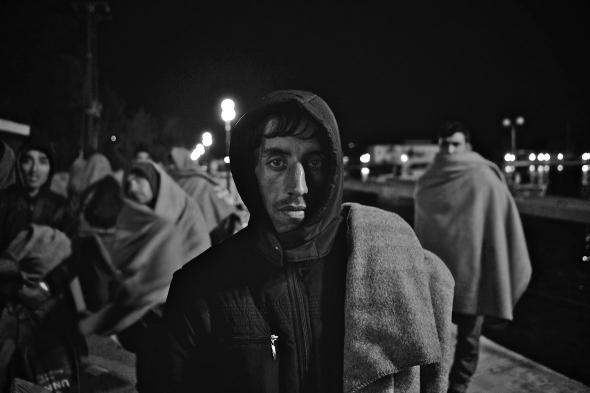 He had studied psychology in Damascus and needed to get his family to a place as far as he could from Syrian dictator Bashar al-Assad's regime. He spoke perfect English and had a wry sense of humor. We have stayed in touch, and though he arrived safely in Germany six days after he left Leros, he is now struggling to move his family into a safer, more hygienic facility. He is forbidden from working, and his wife and daughter are sick. Although Germany is the new promised land for most refugees, it is still the first step into a new life that must be built from scratch.
Officials say that more than 1 million refugees have entered Europe this year. Unofficially the numbers are higher. The EU has come up with a plan to turn a handful of Greek islands into "hot spots"—large permanent camps designed to contain up to 1,000 people. Leros is one of them. The new location of this hot spot: the very same former psychiatric hospital once dubbed a "concentration camp."
Read more of Slate's coverage of the European migrant crisis.