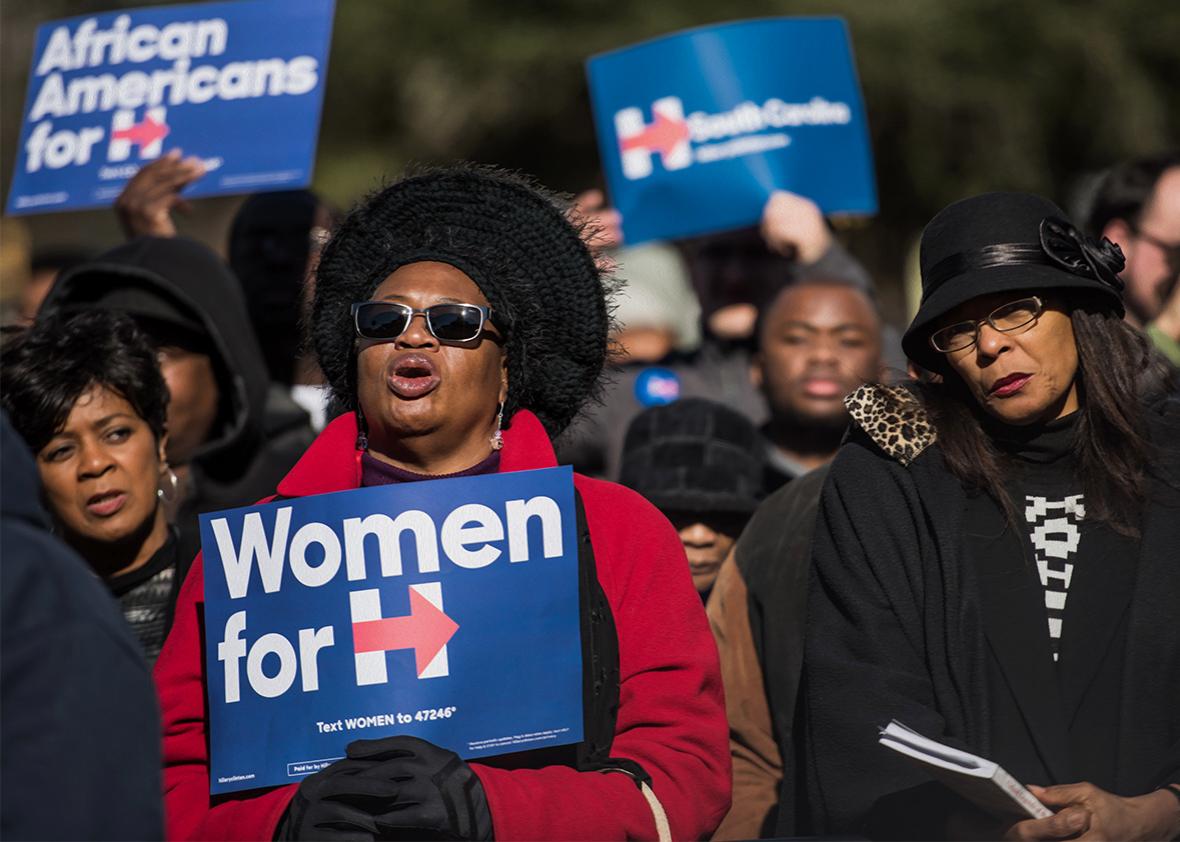 As soon as the polls closed in New Hampshire, Hillary Clinton was aiming for the next two contests—Nevada and South Carolina. These are the "firewalls," states where Team Clinton will—in its telling—stop the Bern before it runs too hot. "We've built first-rate organizations in each state and we feel very good about our prospects for success," reads a memo from Clinton campaign manager Robby Mook that details a strategy focused on the March primaries, which—he writes—"better reflect the true diversity of the Democratic Party and the nation."
Nevada is next on the nomination calendar, but the Clinton campaign is downplaying its significance. "It's still a state that is 80 percent white voters," said spokesman Brian Fallon to NBC's Chuck Todd, inflating the state's white electorate by 15 percentage points. " … There's a lot of reasons [Sanders] should do well." Clinton's team is looking ahead to (and resting its future on) South Carolina. "Without question, she'll be able to win South Carolina, with a broad base of support," said state House Minority Leader J. Todd Rutherford on a Wednesday conference call with reporters.
As assertions go, this isn't outrageous. There are facts in her favor. She retains support from a bevy of black politicians, including the Congressional Black Caucus Political Action Committee, which gave its endorsement on Thursday, including a tough statement from Rep. John Lewis of Georgia. "I never saw him," he said in a comment on Sen. Bernie Sanders' work in the civil rights movement decades ago. "I never met him." Clinton herself traveled to Flint, Michigan, to meet with families affected by the water crisis, and on Friday and Saturday, she (with Bill Clinton) will travel to South Carolina to campaign and meet with black leaders and black communities.
Clinton's big advantage in South Carolina isn't just the number of black voters; it's the shape of the state's black electorate. Here black voters skew older. This isn't to say they're more conservative as much as it is to say they remember the Clinton administration and in particular the positive notes that tend to linger in memory. To these voters, "Clinton" stands for rising incomes, lower unemployment, and relative peace. Even with the tumult of the 2008 primary, Bill and Hillary Clinton's grasp of and respect for black culture still resonates. As for present politics, black voters in South Carolina—and black voters writ large—still back President Obama by huge numbers. Clinton's vocal allegiance to the president (as well as Sanders' criticism) will play an important part in setting the stage for voting.
With this said, Sanders doesn't lack for advantages, too. His appeal to younger voters also extends—in more limited fashion—to young black voters (available polling shows an almost even split between Clinton and Sanders among young blacks). These young voters are also questioning Clinton's record, drawing from the policies of the 1990s to question her commitment to their issues and concerns. At one rally for Clinton at South Carolina State University, reports NPR, black students questioned campaign surrogate Angela Bassett on the 1994 crime bill and 1996 welfare reform, policies that fell hardest on black Americans. Indeed, on that score, Sanders is helped by backing from high-profile Clinton critics such as Michelle Alexander—who penned a strong brief against Hillary Clinton in the Nation, drawing from her work in The New Jim Crow—and Atlantic writer Ta-Nehisi Coates, who says he plans to vote for Sanders, although he doesn't endorse the Vermont senator or identify as a "supporter." Sanders is also using his huge store of resources to hire staff, advertise, and leverage his massive New Hampshire win into a genuine upset in South Carolina.
But more than backers or resources, Sanders has the advantage of a strong, clear, adaptable, and positive message. Yes, black voters like and admire Barack Obama, but that doesn't mean they aren't open to a different approach, nor does it mean they aren't dissatisfied with aspects of the Obama presidency. Even with the progress of the Obama administration, black Americans still face deep and entrenched unemployment, poverty, and incarceration. With a pitch that includes action on black youth unemployment, Sanders could make ground against Clinton.
Clinton, in other words, shouldn't take her support for granted. If she wants to ensure a win, she also needs to bring a clear and positive message to the campaign. Which, in fact, is part of her broader problem. Instead of a singular message, Clinton brings a hodgepodge of appeals to different groups and interests in the Democratic Party. If this primary were a transactional fight between two establishment politicians, Clinton's approach would work. Instead, this is a struggle between a transactional politician and an inspirational one. Her interest-based approach—I will fight for you—doesn't work, and attacks on Sanders for his idealism fall short too. (Bashing Sanders as "absent" from the black community may fall short as well.)
South Carolina, as such, is an opportunity for Clinton to recalibrate and try to appeal to the aspirational. This doesn't mean aping Sanders' rhetoric; it means forging a single frame for her policies, and emphasizing those—like universal child care—that speak to the core of her run for president. Sanders has changed the game, and now Clinton needs to play it. The good news for Clinton is she's already stepped in this direction. "When people anywhere in America are held back by injustice, that demands action," she said at the end of her New Hampshire concession speech on Tuesday. "That is why I believe so strongly that we have to keep up with every fiber of our being the argument for, the campaign for human rights. Human rights as women's rights, human rights as gay rights, human rights as worker rights, human rights as voting rights, human rights across the board for every single American. Now that is who I am. That is what I've always done."
Clinton, it seems, knows what she needs to do. Now, with nine days before the next contest, we'll see if she does it.
See more of Slate's Democratic primary coverage. 
---