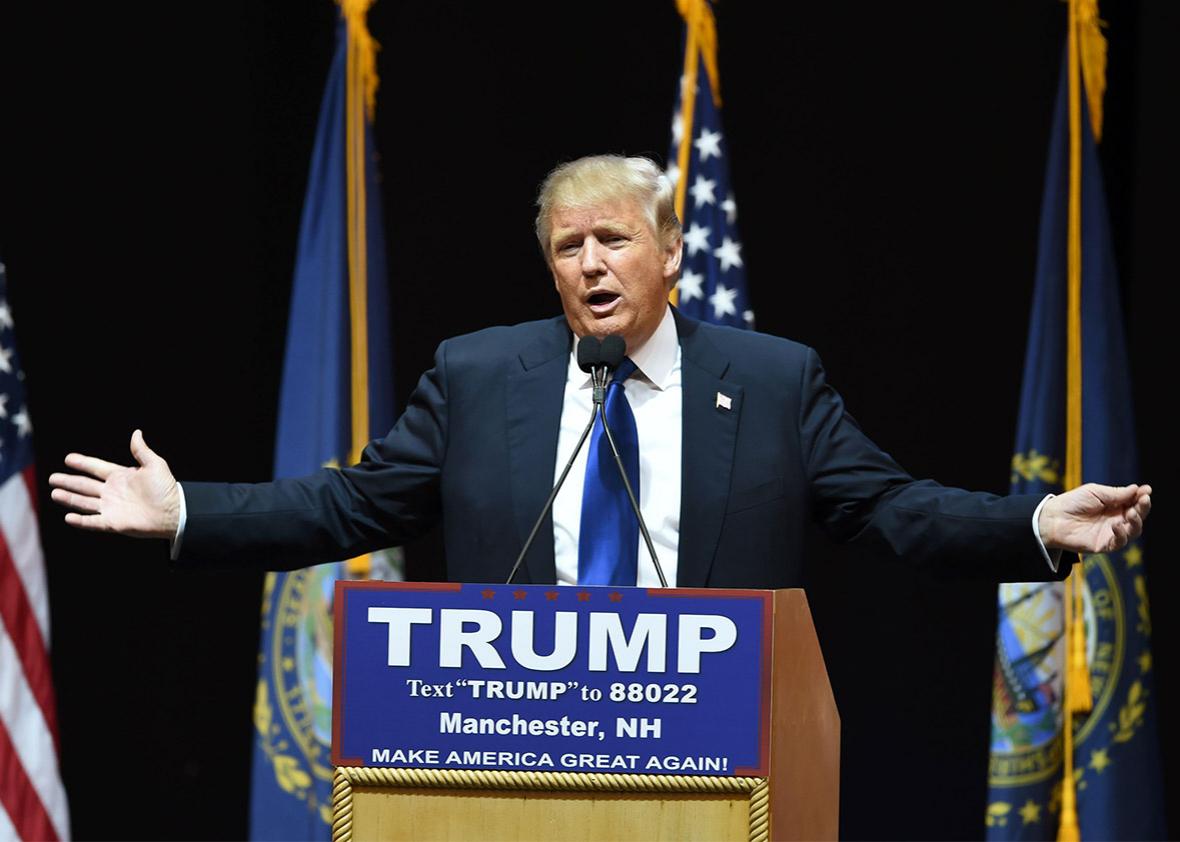 MANCHESTER, New Hampshire—Correct me if I'm wrong, but Monday night marked the first time that a leading presidential candidate jovially referred to a rival as a "pussy" in front of several thousand fans the night before he was expected to win a crucial presidential primary.
Speaking at Manchester's Verizon Wireless Arena, Donald Trump was wondering why Sen. Ted Cruz would not give a full-throated endorsement of waterboarding during Saturday's debate. A woman from the crowd offered an unsolicited but intriguing suggestion.
"She just said a terrible thing," Trump said. "Shout it out, because I don't want to say it." She did, but still not everyone could hear it. Trump giggled to himself in a "Should we do this? Sure, let's do this" sort of way. "You're not allowed to say it, and I never expect to hear that from you again," he said in his faux-admonishing tone. "She said, 'He's a pussy.' "
Sen. John McCain won the 2008 New Hampshire primary by essentially living in the state and doing town hall after town hall after town hall, well after people had given up on him. Mitt Romney won in 2012 by literally living in both New Hampshire and the adjacent state to which many southern New Hampshirites commute. Trump is expected to win in 2016 by ditching the state's retail politics in favor of large, vulgar, off-the-cuff rallies during which, we now know, he may well call a rival a "pussy." Toast yourselves, Granite State.
It was the climax of a celebratory evening with fans who are unlike the New Hampshire primary voters of legend. If you visit another Republican candidate's event, you're likely to find loads of undecided voters still "shopping around" before making a final decision. Trump's voters, meanwhile, are already committed to Trump. Randy Miller of Manchester, for example, didn't really consider any other candidate, because no other top-tier candidate has the specific set of traits that drew him to the real estate mogul.
"I like that he's not a politician," Miller said. "I like that he's a businessman. I feel like the country right now has a lot of debt, I feel like the U.S. government's the biggest business in the world, and Trump's a good businessman—he's proven that time and time again."
Trump did not get into many specifics about his plan to restructure the United States' sovereign debt. But he did offer a couple of suggestions that reinforce why he's so unconventionally popular, by touching on issues that elite Republican presidential candidates tend to ignore.
Take the high cost of prescription drugs, something that everyone obviously hates but that Republican elites rarely emphasize. Trump spoke at length about how he would use the federal government's negotiating power to drive down the cost of drugs—something you'll hear quite often during Democratic primaries but less so during Republican ones.
Trump mentioned a "really great doctor" he was speaking with recently who said—translated into Trumpspeak—"You know, with the medical and with the drugs, the United States, the largest purchaser, they don't negotiate price." Trump told this truly terrific doctor, "You have to be kidding," and the doctor said, "I don't know why."
Well, Trump knows. "Because the drug companies have an unbelievable lobby. These guys that run for office that are on my left and right, they're all taken care of by the drug companies. And they're not going to put out competitive bidding." This is just an incredibly popular thing to say that has the added benefit of not being untrue. Trump doesn't care about how a proposal to use the federal government to squeeze private industry might cause concern with movement conservatives. It's something that working-class Republican voters who don't think in ideological abstractions like, and it fits neatly within Trump's "dealmaker" brand.
Trump also went on to say that the reason he gets booed at debates is because establishment donors to the other candidates get all the tickets and pack the audience. Maybe. It's also worth noting that Trump, in a week's time, has gone from saying that second place in Iowa was an acceptable result, to questioning the results, to now flat-out saying, "I did win Iowa." His theory is that he had more votes "when you add in the Carson votes," a statement that makes no sense but for which he was cheered anyway.
He's learned to play the stupid but necessary "expectations game," too, and now says that it "doesn't matter" whether he wins New Hampshire or not. Of course, it does, as he knows. Blowing Iowa and then blowing New Hampshire would send a strong signal that Trump is blowing—or already has blown—his campaign for president. But Trump on Monday excised the usual segment of his program where he brags about poll results for several minutes. Instead, he just celebrated what he had built, brought his wife Melania and daughter Ivanka onstage to say a few words, and offered an endearingly macabre pep talk for supporters on a snowy night with slippery roads.
"I don't really care if you get hurt or not, but I want you to last until tomorrow," he told everyone. "If you're going to get hurt and you're going to drive like a maniac, do it tomorrow after you vote. And I promise I will come and visit you in the hospital."
---