On Nov. 22, 2014, 12-year-old Tamir Rice was shot and killed by Cleveland police officer Timothy Loehmann while playing with a BB gun in a local park. On Dec. 12, 2014, the shooting death was ruled a homicide. A full, excruciating year later for the Rice family, on Dec. 28, 2015, a grand jury decided against charging the officer responsible for Rice's death. On Wednesday, Feb. 10, the city of Cleveland filed a $500 past due payment claim against Tamir Rice's estate for nonpayment of the cost of the ambulance ride that transported him to the hospital, where he eventually died.
"Affiant states that to date Decedent has failed to pay for the goods and/or services as agreed upon delineated in the invoices, accounting, and/or ledger statements," the claim reads.
Just let that sink in for a moment.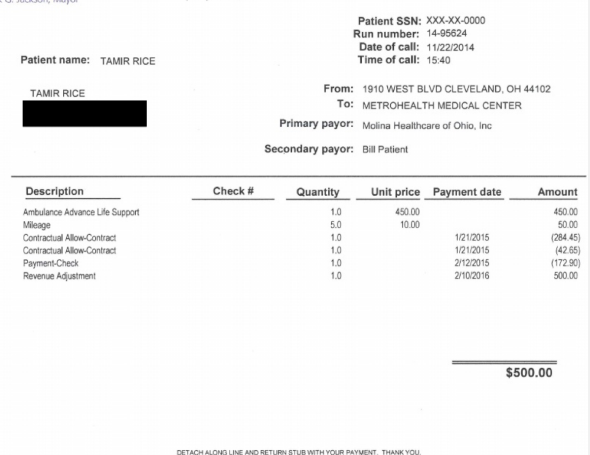 "That the city would submit a bill and call itself a creditor after having had its own police officers slay 12-year-old Tamir displays a new pinnacle of callousness and insensitivity," one of Rice family attorneys, Subodh Chandra, told the Cleveland Scene on Wednesday. "The kind of poor judgment that it takes to do such a thing is nothing short of breathtaking. Who on earth would think this was a good idea and file this on behalf of the city? This adds insult to homicide."
This is not the first time something like this has happened; in 2012, New York sent a $710 bill for vehicle repairs to a mother of a 27-year-old man who had been struck and killed by a cop car. The city attributed its institutional insensitivity to bureaucratic error.