Above is an image of Berlin's Konzerthaus adorned with 14,000 life jackets used by individuals fleeing Syria, Iraq, and other countries who've arrived on the Greek island of Lesbos; the jackets were installed by Chinese artist Ai Weiwei as a reminder, he says, of the immediacy of the European refugee crisis.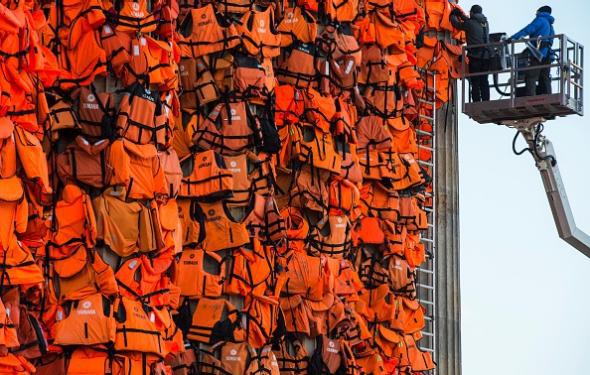 From the Washington Post:
Ai, who is now teaching a master class at the Berlin University of the Arts, is unapologetic about his work. He said the life-vest project came to mind after reflecting on a similar piece he did using thousands of backpacks to illustrate the mass deaths of schoolchildren in China's 2008 Sichuan earthquake, which knocked down buildings alleged to be poorly constructed.
Europe's response to the crisis has become increasingly dysfunctional, with tens of thousands of refugees having arrived already this year despite many problems accomodating the million-plus who are already there. The war in Syria, meanwhile, seems unlikely to be resolved humanely anytime soon.