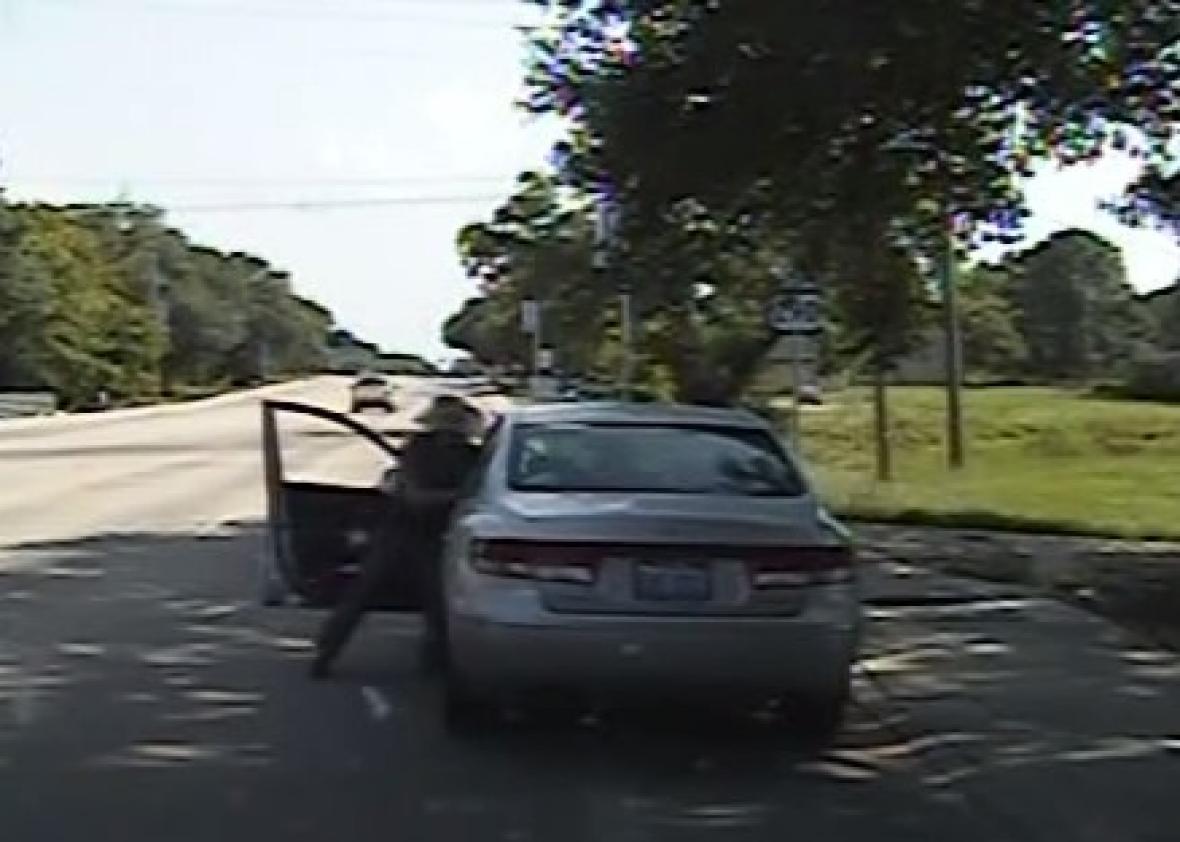 The Texas state trooper who arrested Sandra Bland, the 28-year-old black woman whose death in a Waller County jail cell last summer attracted national scrutiny, has been indicted for perjury.*
According to the New York Times, the perjury charge stemmed from an affidavit that the trooper, Brian Encinia, filed with the jail officials who booked Bland after her arrest. Citing Shawn McDonald, one of the special prosecutors who presented the case to the grand jury, the Times reports that Encinia "wrote that the reason he removed Ms. Bland from her car was to further conduct a safe traffic investigation"—a statement the grand jury believed was false.  
Encinia initially pulled Bland over for an improper lane change, but the encounter quickly turned confrontational after her asked her to put out her cigarette and she refused. As disturbing dashboard-camera footage revealed, the situation escalated when Encinia threatened to "yank" Bland out of her car by force, and yelled "I will light you up!" while brandishing his stun gun. After Bland exited her car, Encinia led her to the sidewalk—and thus out of view of the dashcam—and began handcuffing her. In the video, Bland can be heard exclaiming that Encinia is hurting her wrist, and accusing him of slamming her head against the ground. 

Bland was found dead in a jail cell three days later of an apparent suicide. In December, the same grand jury that voted to indict Encinia for perjury Wednesday declined to bring charges against any of the jail staff in connection with Bland's death.
If he is convicted, Encinia faces up to one year in the same jail where Bland died, and a fine of $4,000, according to the Texas Tribune. The Tribune also says it's unknown at this time whether Encinia is planning to turn himself in.
Update, Jan. 6: The Texas Department of Pubic Safety has announced that "termination proceedings to discharge him" have begun in light of the grand jury's decision. Previously, Encinia had been placed on administrative duty. 
*Correction, Jan. 6: This post originally misidentified the county where Sandra Bland died as Weller County. The county is called Waller County.
---