It's blizzard time on the East Coast, and this week's storm could wind up being one for the ages. But lost in all the discussion of snow looms a coastal flood threat that could rival some of the strongest storms ever to hit the Northeast.
Weather models continue to go all-in on what may wind up being Washington, D.C.'s snowiest snowstorm in history, besting a 28-inch snowfall back in 1922. At the moment, the Washington area is in the bull's-eye, with potential for anywhere from 20 to 36 inches, according to the latest models. The storm is currently forecast to be a Top 10 snowstorm for Baltimore, Philadelphia, and New York City, too. On Wednesday morning, the National Weather Service issued a blizzard watch for the Washington area, warning of "life threatening conditions." The NWS will also begin launching weather balloons twice as frequently for the next few days at each of its offices east of the Rocky Mountains in an attempt to gather more data to improve its blizzard forecast.
While the multifoot predicted snowfall amounts are garnering all the headlines, the latest weather model output shows that flooding from this week's East Coast blizzard may rival some of the worst coastal flooding events in history—especially in New Jersey and New York—putting billions of dollars of oceanfront property at risk. That's a really big deal for a region still recovering more than three years after Hurricane Sandy.
Before Hurricane Sandy, the second-highest water level ever measured in New York City (after 1960's Hurricane Donna) was from a December 1992 winter storm that produced more than 3 feet of snow in Maryland with drifts up to 20 feet high, hurricane force winds at the New Jersey shore, power outages to hundreds of thousands of people, $2 billion of damage, 25-foot waves offshore, and flooded thoroughfares in Manhattan.
Along with several other infamous winter storms of the past few decades, the 1992 storm is now one of the leading historical analogues for this week's blizzard. Like the 1992 storm, this week's blizzard will arrive during a full moon, when hide tide levels are highest. Also like the 1992 storm, the center of this week's weather system will stall just offshore, maximizing the potential for coastal flooding from the Eastern Shore of Maryland to Long Island as hurricane force wind gusts and 25-foot waves again batter the New Jersey shore and funnel storm surge down the Long Island Sound toward New York City.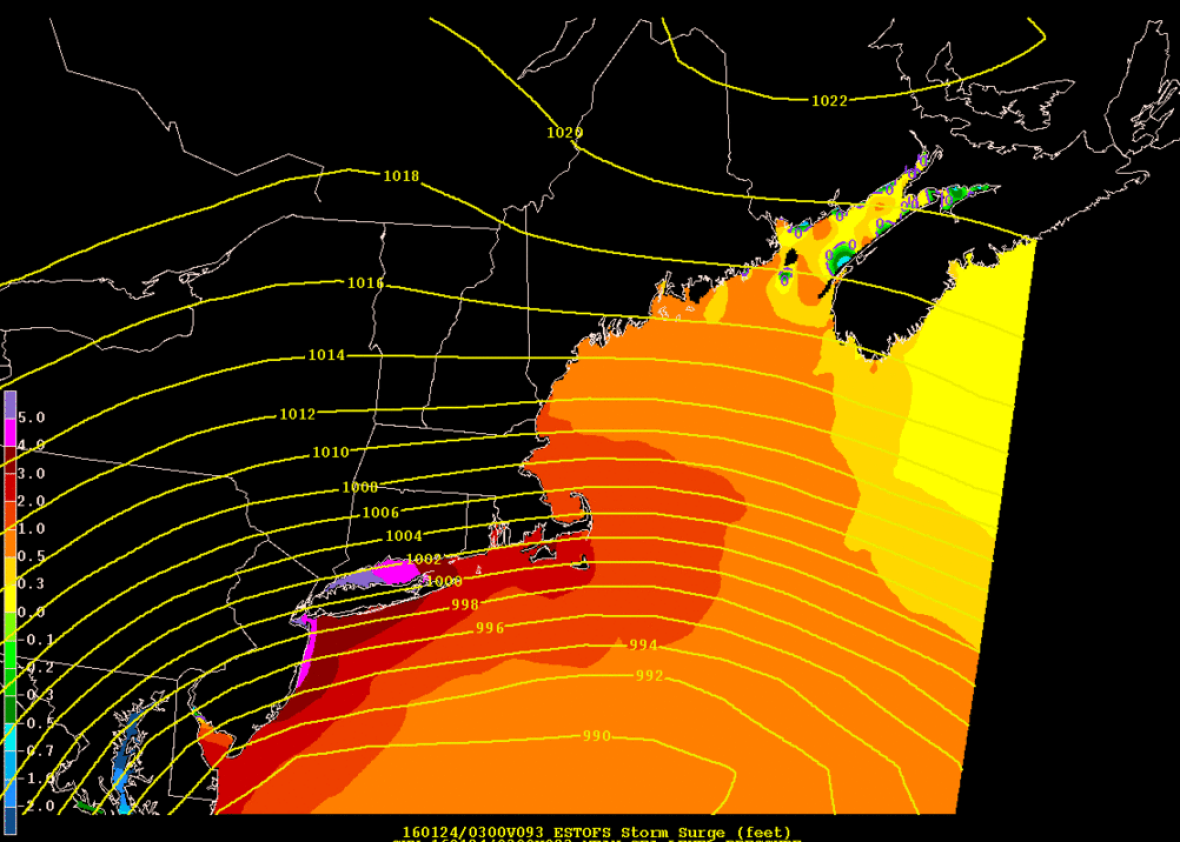 The storm surge from this week's blizzard will probably peak about 3 to 6 feet above typical high tide levels, according to the latest model runs. Such flooding would probably rival Hurricane Irene's in New York City, which came within a foot or so of flooding the subway system. Human-caused climate change will contribute about an additional foot to this week's flooding event, and it may make the difference for whether the subway system floods again or not. (It probably won't, but it will be close.) An analysis by meteorologist Bob Henson breaks apart the effect of sea level rise from climate change and tide cycles on the worst coastal floods in New York City history.
The NWS office with responsibility for the New Jersey shore mentions that water temperatures offshore are about 5–7 degrees Fahrenheit warmer than normal right now, near record highs, which will help strengthen the storm's winds as it makes its closest approach to shore. In Delaware and southern New Jersey, the NWS says the blizzard may even approach Hurricane Sandy's storm surge levels.
The ultimate level of flooding will come down to slight variations in the wind direction. From the NWS:
If it's northerly, it reduces the potential for major coastal flooding. If it's northeast and gusting to near 60 mph along the nearest couple of miles of New Jersey and Delaware coasts, then we've got a big problem on our hands.
In addition to the sheer height of the water, the slow-moving blizzard will cause extensive coastal flooding for three high tide cycles starting on Saturday and Sunday, with the Saturday evening high tide likely the worst. That relentless surf and surge will probably cause additional beach erosion, making the coastline more vulnerable to floodwaters. Again, from the NWS:
Planning should now be taking place to minimize the adverse impact of what "may" be a top 5 coastal flood event in our record keeping, dating back through at least the 1940s.
Chances are this blizzard will be remembered for the snow, not an extensive and devastating coastal flood in New Jersey. But if I were living on the New Jersey shore, I wouldn't want to take my chances.