This is it. This is the storm.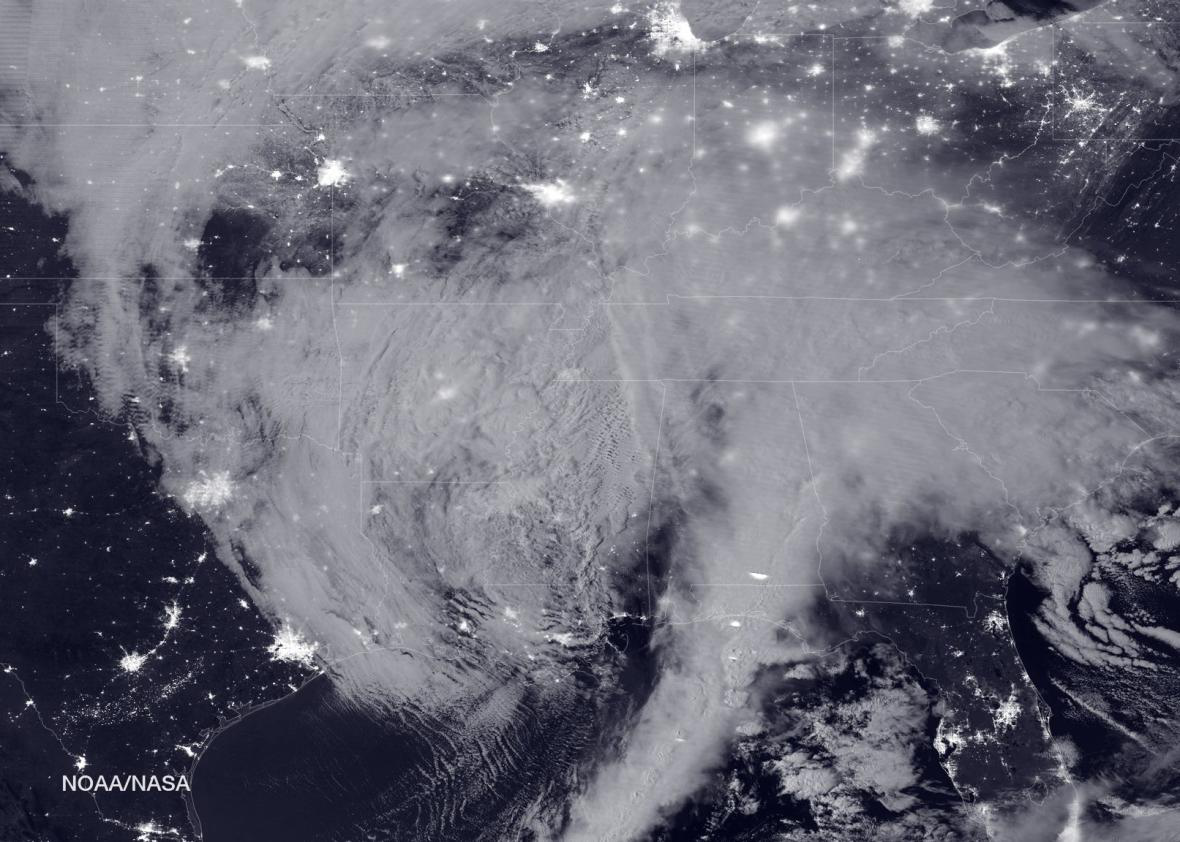 Our readers have christened the storm #DavidSnowie for obvious reasons, but for the Washington area, this will truly be the Blizzard of the Century if the latest model runs pan out. The National Weather Service in D.C. has stopped forecasting an exact snowfall range—saying "more than two feet" is now expected.
States of emergency have been issued by governors up and down the East Coast, from Georgia to Maryland, and the National Guard has been placed on standby in the D.C. area to assist with carving paths through the heavy snow. In a rare move, the NWS has even dispatched the Hurricane Hunter aircraft to gather additional data over the ocean in hopes of improving the forecast.
Further north, the storm's forecast is much trickier: A very sharp snowfall cutoff is expected to set up right over the New York City area, with anywhere from 2 to 20 inches of snow possible, depending on a currently unknowable 50 mile north or south shift in the storm track. At the coasts, strong winds, up to nearly hurricane force, will batter beaches with 20-foot waves for three high tide cycles, prompting concern for severe beach erosion and major coastal flooding from Maryland to Massachusetts.
There are a few reasons why this blizzard will be so huge in D.C. First, a record-breaking El Niño in the tropical Pacific Ocean is creating an abnormally strong jet stream, from which this storm will transfer the bulk of its energy. Back in October, I wrote that El Niño has a habit of producing exceptionally big East Coast snowstorms, but I didn't expect something quite this big. From the Carolinas to New England, enough snow will fall in total to give every man, woman, and child in America 7,000 snowballs.
In addition to El Niño, human-caused global warming has helped lift current Gulf Stream water temperatures just off the East Coast to record levels. Sea levels are rising in the Northeast at a faster rate than almost anywhere else on Earth, and climate change is already adding about a foot to each coastal flooding event, as it will with this one. The extra boost from the warmer water is adding even more energy into this storm system, increasing the availability and transport of moisture toward land and producing more efficient wind gusts to the surface. In short, climate change is making this blizzard worse.
Based on the latest forecast information available on Friday morning, here's what to expect:
Carolinas and Southern Virginia
The primary impact over the southeast will be a major ice storm centered on the Charlotte, North Carolina, area, which is already underway. There, the NWS is warning of "widespread power outages" as the storm funnels cold air southward. In the southern Appalachians, 4–5 inches of snow have already fallen, and more than two feet of snow is on the way near Roanoke, Virginia. More than a foot of snow is possible as far south as northern Georgia. The snow should wrap up by Saturday evening.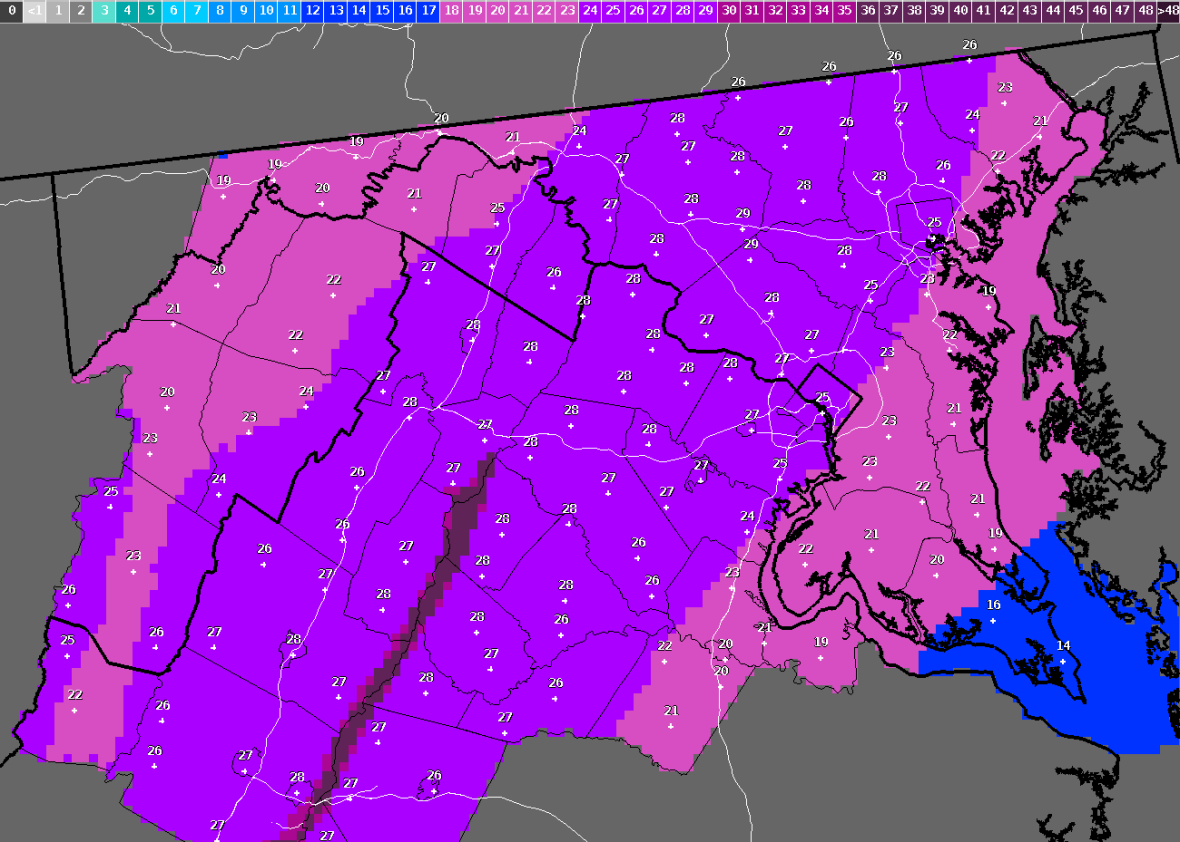 Washington, D.C.
The latest weather models show the first snowflakes arriving imminently, and a blizzard warning is in effect until 6 a.m. Sunday. During the interim, the NWS is warning of "life threatening conditions" with heavy snow up to three inches per hour and wind gusts to 60 mph, which will transform the nation's capital into a Hoth-like landscape. Schools, transit, and the federal government are all closed Friday, and it will be the first time ever Metro's subway and bus system has entirely closed for the weekend. Longtime D.C. meteorologist Bob Ryan endorsed the decision, calling the blizzard "a monster crippling storm."
The NWS is probably being a bit conservative when they're saying the city will end up with "more than two feet" of snow. Most weather models are showing the possibility for much more. On the other hand, there's still a chance that if the storm moves a bit further north than expected, a bit of sleet or drier air might briefly act to tamp down totals. On the low end, D.C. can expect about 20 inches, which is an incredible thing to say. On the high end, the GFS model has been hinting that perhaps 40 or 50 inches could be possible somewhere in the region. For reference, DC's all-time snowfall record, set during the Knickerbocker storm of January 1922, is 28 inches.
My advice? First, be safe, but then, enjoy it: The D.C. Snowball Fight Association has tentatively planned a battle in Dupont Circle on Sunday morning, and Capitol Hill will be open to sledding.
Baltimore
The snow should start at around 3 p.m. on Friday and continue thorough 8 a.m. on Sunday. Conditions will be similar to those in D.C., although models have been showing Baltimore just a bit north of the sweet spot of this storm. Wind gusts to 55 mph will make for impossible travel conditions all day on Saturday.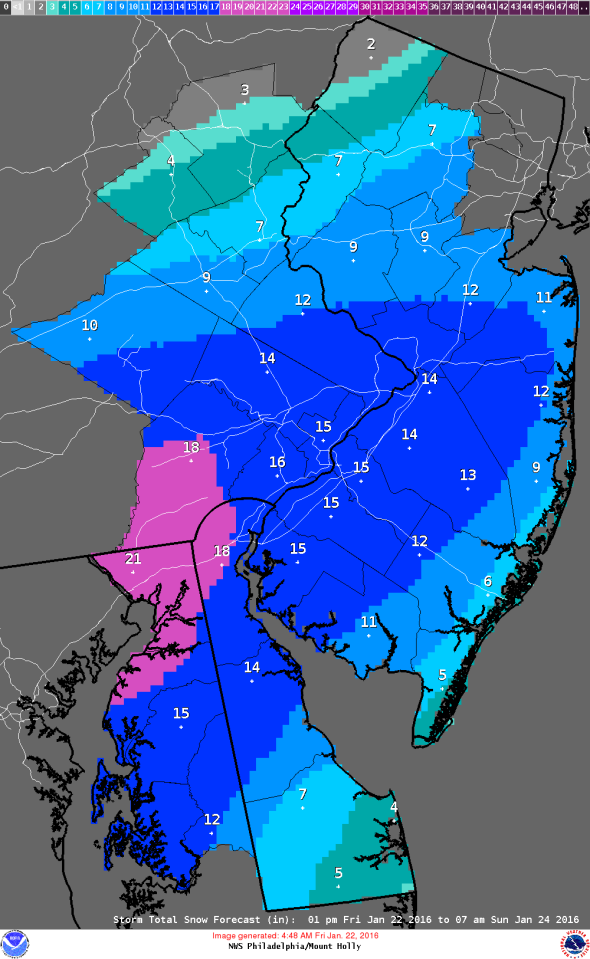 Philadelphia
The snow should start by about 6 p.m. on Friday and continue through 10 a.m. on Sunday. In contrast to the D.C. and Baltimore areas, the heaviest snow in Philadelphia will probably come in bursts with lulls in between. The heaviest bands could contain thundersnow and 40 mph wind gusts, and 12–18 inches is likely when it's all over.
Delmarva and the New Jersey shore
Coastal flooding could rival that of Hurricane Sandy in isolated spots along the coastline, particularly near Cape May in southern New Jersey. Significant flooding will last for three tide cycles, beginning on Saturday morning, with the Saturday evening high tide probably the one of most concern. Wind gusts could reach hurricane force, pushing heavy surf and 20-foot waves ashore, creating damaging beach erosion and threatening some seaside homes. North of Atlantic City, the flooding will be nowhere near as bad as Sandy.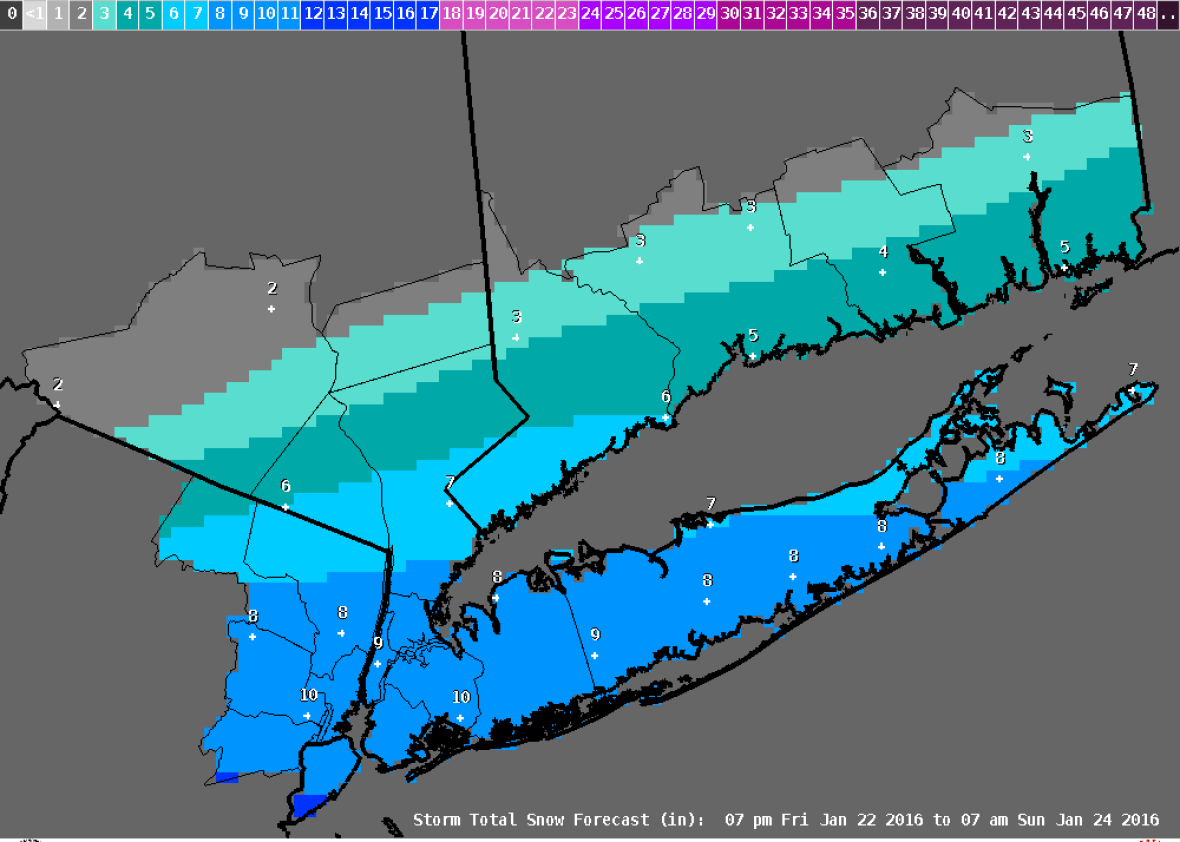 New York City
The snow should start by about midnight on Friday night and continue through noon on Sunday—that's about all we know for sure, even at this late stage. Here's why: A tremendously sharp cutoff of snowfall will set up right over the city. So, for example, one weather model on Thursday showed two inches in the Bronx and 20 inches in Princeton, New Jersey, just 60 miles away. Since that cutoff could easily shift north or south a bit, it'll be an hour-by-hour forecast throughout the event to figure out what scenario is most likely. Wind gusts could reach 55 mph in the city during the storm's peak on Saturday afternoon and evening that, if coinciding with heavy snowfall, would produce whiteout conditions. For now, it looks like the lower-end snowfall scenario might win out, though, with totals of about 8 to 12 inches, which still isn't too shabby for snowfall lovers, especially considering how warm this winter has been so far. Atlantic-facing beaches on Long Island could suffer significant beach erosion and some coastal flooding is expected there too, but nowhere near Sandy levels.
Boston
Sorry, New England, this just isn't your storm. Boston is most likely to receive just a couple of inches of snow, though as a consolation prize, there could be potentially severe beach erosion in southeastern Massachusetts as the storm's center passes by on its way out to sea.