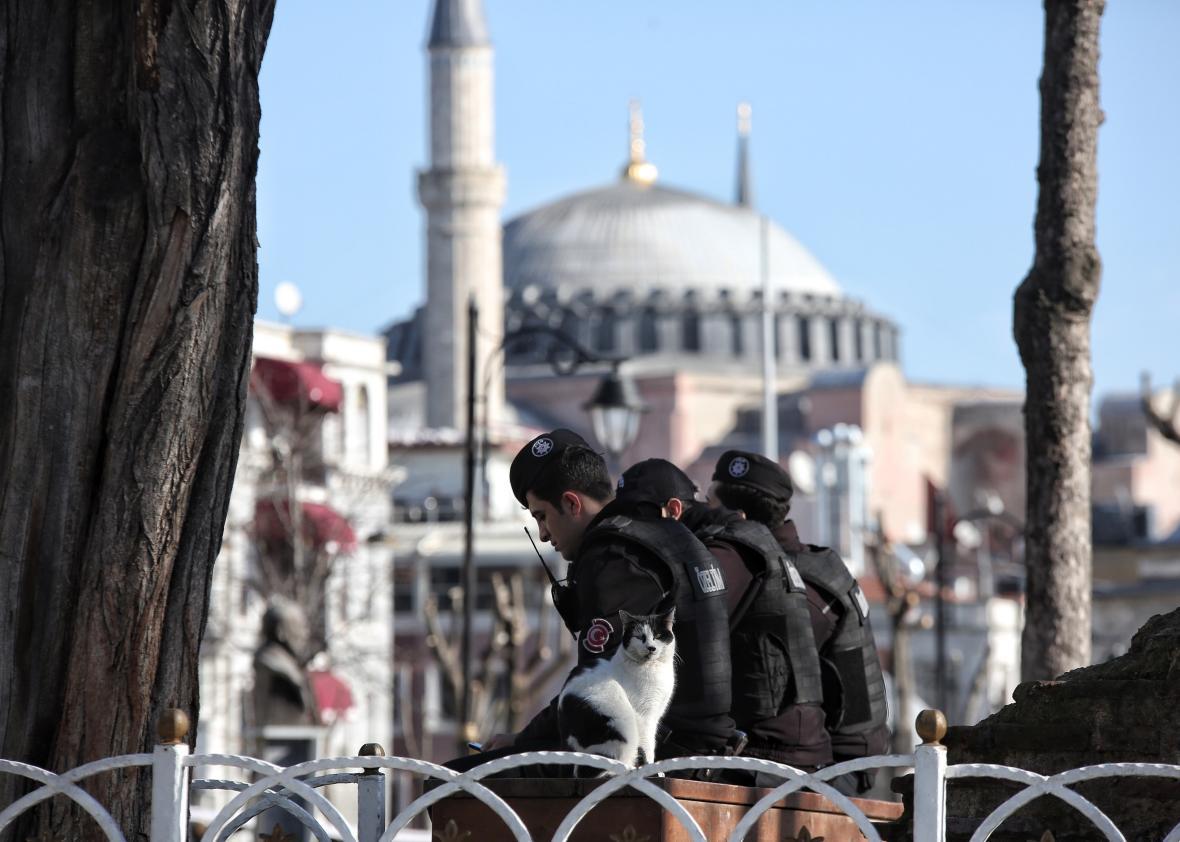 At least 10 people, most of them German tourists, were killed in a suicide bombing in Istanbul on Tuesday. The blast took place near the Blue Mosque and the Hagia Sophia, two of Turkey's most popular tourist attractions. A Norwegian and a Peruvian were also reportedly wounded.
There was no immediate claim of responsibility and the Turkish capital has suffered recent attacks from a number of groups, including Kurdish militants and leftist factions. Turkey's long-running military conflict against Kurdish separatists in the country's southeast has reached its highest level of violence in decades. But Turkish President Recep Tayyip Erdogan said that authorities believed the bomber was from Syria and security officials say there is a high probability ISIS was involved.
Turkey has participated in the airstrikes against ISIS since last summer and has also been a major backer of the rebel forces fighting against Bashar al-Assad's government. More than 2.2 million Syrian refugees have also sought refuge in Turkey, and many more migrants from countries including Syria, Iraq, and Afghanistan have used the country as a transit point on their way to Europe.
Tuesday's bombing is just the latest in a number of recent attacks on tourism in the Islamic world. There have been several attacks on tourist areas in Egypt, including the pyramids of Giza and a resort on the Red Sea. These attacks can be economically devastating, as Tunisia learned when bookings saw a sharp fall following a beach massacre by ISIS gunmen last summer. Turkey's vital tourism sector already experienced billions in losses last year thanks to security concerns and rising tensions with Russia. Tuesday's attack won't help.
Toppling Assad and containing Syrian Kurdish militants, who the government believes are linked to their counterparts in Turkey, have been Ankara's main priorities in Syria. The country has only reluctantly begun to take the fight against ISIS seriously after a number of attacks including a massacre that killed 32 youth activists in the border city of Suruc last summer. If the group was indeed behind Tuesday's bombing, in the heart of the Turkish capital, directed at both its most iconic landmarks and a pivotal sector of the country's economy, it might just force Turkey to address ISIS as the major threat it is. 
---