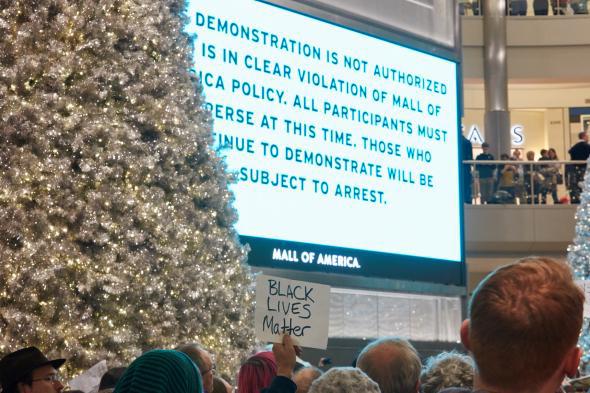 A Black Lives Matter protest at the Mall of America in Bloomington, Minn. drew some 500 protesters Wednesday afternoon before the demonstration moved to the Minneapolis-St. Paul International airport. The mall protest briefly shut down a portion of the mall and, according to local police, at least a handful of arrests were made a day after a Minnesota court refused to grant a blanket restraining order requested by the mall against the Black Lives Matter Minneapolis organization.
"About 80 stores temporarily closed their gates, kiosks were covered and even Santa left his sleigh shortly before protesters gathered at the massive shopping district on one of the busiest shopping days of the year," according to the Associated Press. "Numerous signs were posted on mall property, saying no protests were allowed—including a long message on a screen in a central rotunda between two Christmas trees."
Here's more on the scene from the AP:
About 500 protesters initially gathered at the Mall of America early Wednesday afternoon, then abruptly walked out while chanting, "What do we want? Justice! When do we want it? Now!" Some protesters then went to a nearby light-rail train station that allowed quick access to the airport a few miles away… Protesters blocked access to a terminal and caused significant holiday traffic delays around Minneapolis-St. Paul International Airport on Wednesday… Several people were arrested at the airport, where officials said access to one of two terminals was blocked and causing backups on nearby roads. Two security checkpoints were closed for about 45 minutes, causing some flights to be delayed, airport spokesman Patrick Hogan said.
The protests were aimed at drawing attention to the shooting death of 24-year-old Jamar Clark and pressure authorities to release video of the shooting. Clark was shot by a police officer during an altercation in November; witnesses say he was handcuffed at the time.
---