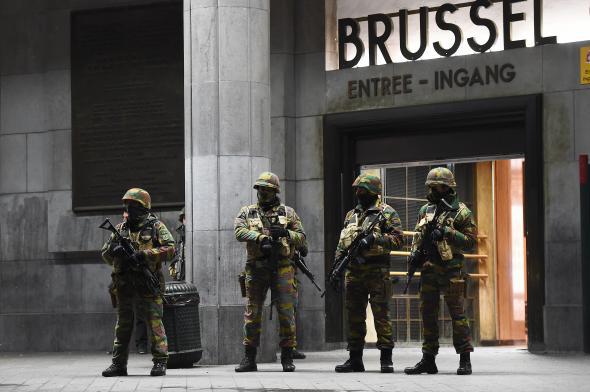 Look, no one said fighting terrorism was going to be easy. For soldiers and police officers on the frontline it's a vital but grueling job, and blowing off some steam is surely important. There are, of course, limits. A group of Belgian soldiers and police officers appear to have misunderstood where the line of appropriateness was drawn, even by European standards, when they reportedly held an orgy at a police station while a massive manhunt was underway in the aftermath of the Paris attacks last month. The city was on lockdown, so this happened (via Politico):
Eight soldiers and two female police officers allegedly engaged in lewd acts at a police station in the neighborhood of Ganshoren, just north of Molenbeek, where officers were hunting for suspects in connection with the November 13 Paris attacks, Belgian media outlets La Dernière Heure and De Standaard reported Tuesday… For two weeks in November, the Ganshoren station was transformed into a makeshift barracks for soldiers who were patroling the streets of the Belgian capital…
A police spokesman said an internal investigation is underway. Even still, it's not a good look for Belgium, which, with the Paris attacks, has come under intense scrutiny for its ramshackle security apparatus that's made it a European hub for would-be jihadists. Belgium has upped its game, making two arrests Tuesday that they say foiled a New Year's Eve plot to attack Brussels. The European Union hub has had difficulty jettisoning its keystone cop image when it comes to security, however.
"[The] Belgian soldier seen with a shopping bag while on anti-terrorist patrol in Brussels has been returned to his unit, pending the outcome of a disciplinary investigation," Politico reported last week.
---