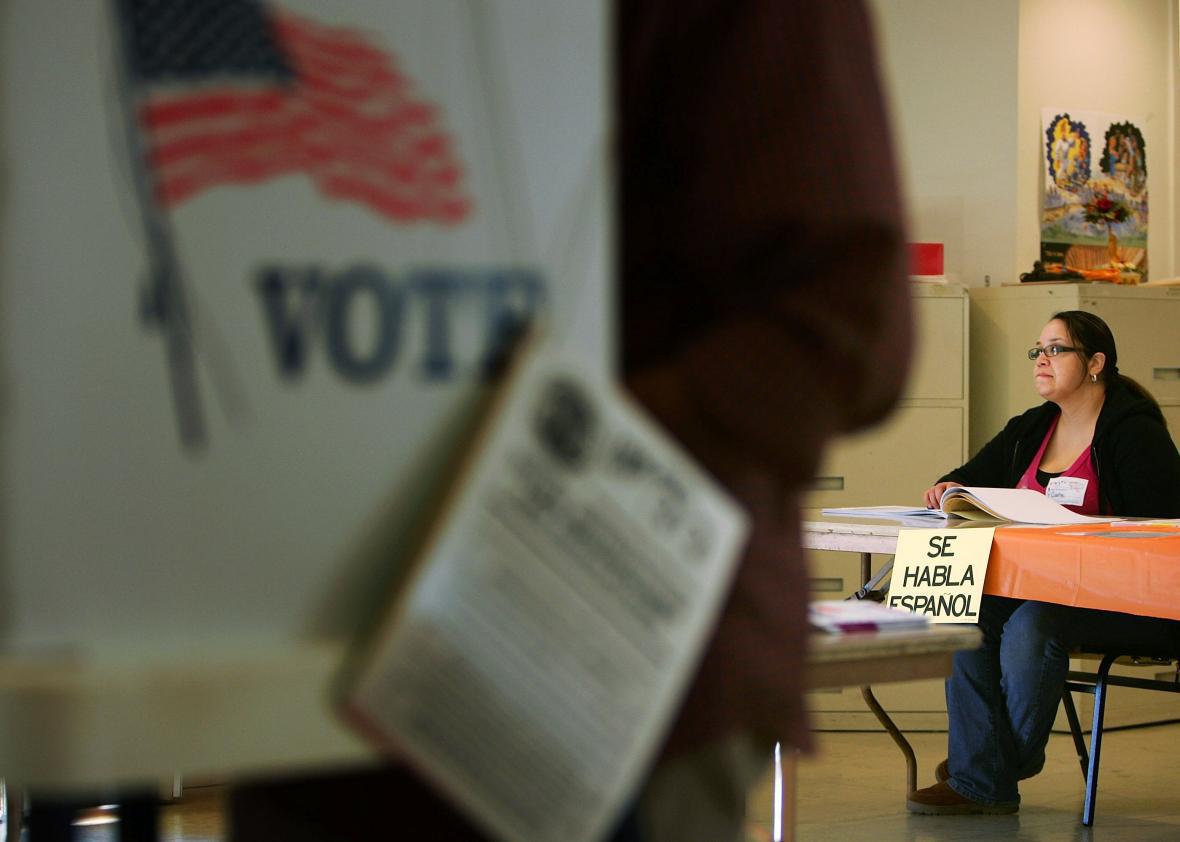 For the first time in its modern history, the Republican Party has a diverse candidate field for president. In fact, this year, it has the most diverse candidate field: Sens. Marco Rubio and Ted Cruz are Cuban American, Ben Carson is black, and Carly Fiorina is a woman. And as the Washington Post notes, this is an opportunity and a challenge. "Republicans face a tantalizing and vexing prospect this year," writes Marc Fisher. "They have a unique opportunity to reach out to minorities as the party has long wanted to."
The goal is that black and Latino candidates might be able to augment party outreach efforts like the Libre Initiative and Committed to Community (organizations focused on Latino and Spanish-speaking communities and black communities, respectively). Again, here's Fisher: "Some Republican leaders believe the way to soften the Democrats' hold on minorities is to field more black and Hispanic candidates and stay true to the party's ideals."
But there's a problem. Representation is great, but policies are better. And there, the Republican Party is lacking. Speaking to the Post, former Oklahoma Rep. J.C. Watts, who was one of two black Republicans in Congress when he entered the House of Representatives in 1995, hit this on the head: "We're still not talking about the concerns of that young black couple starting a business or that young Hispanic family… Where are our solutions to deal with incarceration reform, unemployment, the trouble blacks and Hispanics have getting home mortgages?"
Yes, individual Republican lawmakers have backed reform on mass incarceration, immigration, and other issues that hold a special resonance for minority communities. But as a party, the GOP and its voters are on the other side of every issue most important to minority voters, from concerns over police violence to immigration reform and help for unauthorized immigrants.
The idea that voters would ignore this—and vote instead on descriptive representation—is belied by the actual record of black and Latino Republicans in statewide elections. South Carolina Sen. Tim Scott won just 10 percent of black voters in his 2014 re-election race, while Ted Cruz lost Latinos almost 2-to-1 in his 2012 bid against Paul Sadler. Indeed, a recent study from University of Cincinatti political scientist David Niven suggests that—among blacks at least—any electoral boost from racial identification is lost if the candidate is a Republican. "There are some very successful African-American Republicans, but those folks don't attract African-American votes," he said. "Party matters so much more than race." Other data shows something similar for Latinos.
With that said, there's anecdotal evidence that—even in a fight between Democrats—skin color is less important to winning voters than substantive representation. Rep. Steve Cohen is a Jewish congressman who represents a mostly-black district in Tennesee. In 2006, he won a three-way race against the Republican candidate and an independent—Jake Ford, brother of Harold Ford—despite losing key endorsements from influential black pastors. He's faced a black opponent in each subsequent primary election, and succeeded each time. Some of this is just incumbent advantage, but we also can't ignore the degree to which Cohen has built a durable bond with the district's voters.
Put simply, there are clear and obvious limits to the political value of descriptive representation. And even when representation has mattered—Barack Obama's 2008 campaign, for instance—the impact is overstated. Conventional wisdom is that Obama drove enthusiasm and turnout among black voters, giving him his huge margins with blacks in the 2008 and 2012 elections. But that's only partially true. For starters, the rise in turnout in presidential elections preceded Obama; the black turnout jump from 2000 to 2004 is similar to the jump from 2004 to 2008. Obama accelerated turnout growth, but he didn't cause it.
Even then, we can attribute a large portion of 2008's black turnout to community organization and outreach, not Obama's blackness. "Campaign attentiveness, group identity, and efficacy measures did not reach especially high levels among African Americans in 2008, and their influence on turnout was less significant than other factors," wrote researchers in a 2009 study on black turnout in President Obama's first election. "[D]oor-to-door, mail, phone, and Internet activities of the political parties may have been more of a factor in mobilizing Blacks than an amorphous, media-driven buzz surrounding Obama's charismatic and historic candidacy."
In other words, Obama the person was less important to black turnout than the Democratic Party's ties to black voters and the campaign's effort to broaden and strengthen those ties. Which, again, is fodder for the broader point: Representation is important to outreach with minority communities, but it's not dispositive. What counts most are ideas and policies that appeal to those communities, and an infrastructure that brings them to the polls.
Which means that, for now, Republicans are stuck. They have a diverse field, but those candidates are tied to orthodoxy that doesn't appeal to most blacks and Latinos, to say nothing of the affective problems with the GOP field, from Trump's vocal bigotry to Chris Christie's not-so-subtle dog whistles. The Republican presidential primary might look more like America than the Democratic one, but that's not enough to win.
---