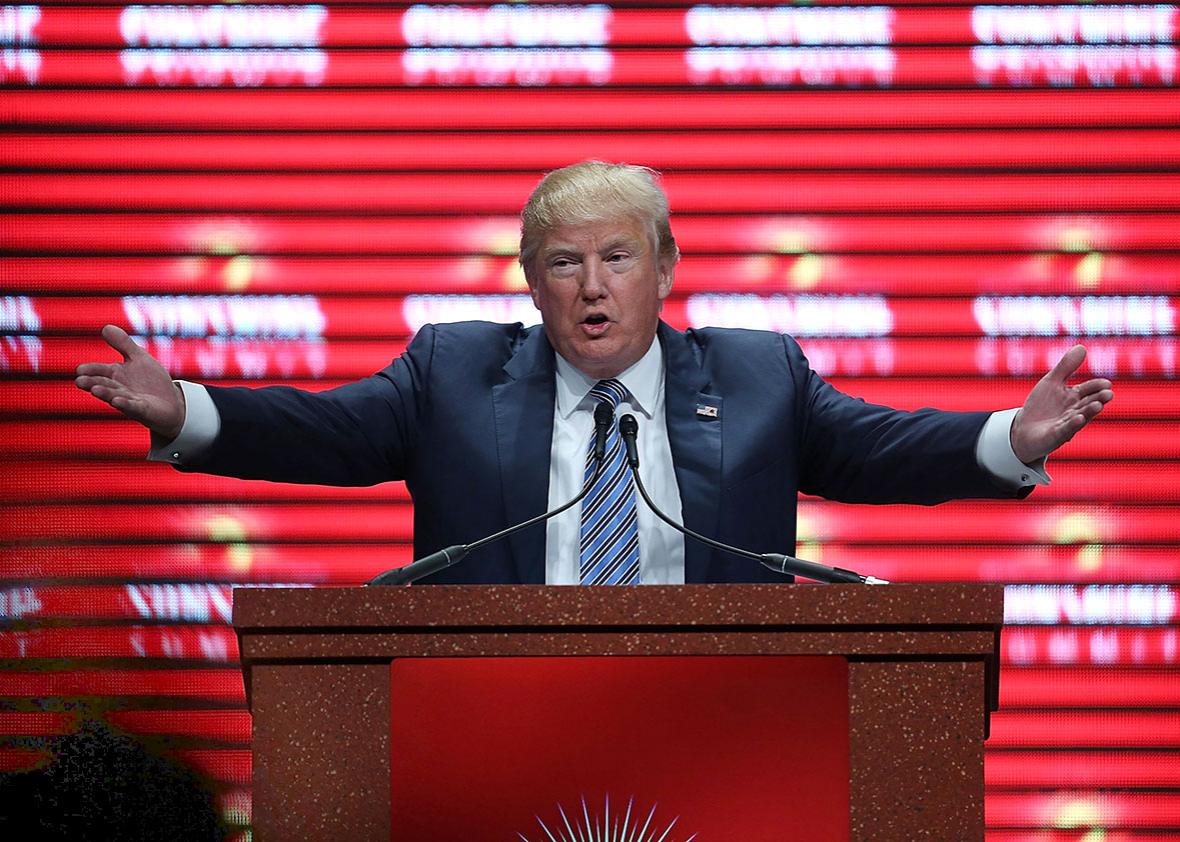 Donald Trump is talking up an independent presidential bid again after a brief peace of two to three months. Why? Probably because he just says whatever he feels like saying at any given time. If we're looking for something resembling a concrete proximate cause, though, it would be the recent chatter that vaguely establishment-aligned outside groups are gunning for him.
New Day for America, a super PAC nominally supporting Ohio Gov. John Kasich has corralled donors from various Republican Party establishment camps for the express purpose of taking down Trump in his New Hampshire stronghold and beyond. "The attack," as Politico first reported, "will play out over the next two months on radio, TV, mail and online in New Hampshire." Kasich's own campaign will run ads against Trump, too. Meanwhile, Liz Mair, a veteran GOP operative and opposition researcher, is "planning a 'guerrilla campaign' backed by secret donors to 'defeat and destroy' the celebrity businessman's candidacy," the Wall Street Journal reported late last week.
Trump is arguing, Trumpily, that this may count as the Republican Party treating him "unfairly," the cavernous opt out to which the RNC supposedly agreed in exchange for Trump's signature on a worthless piece of paper in September. "I'm going to have to see what happens. I will see what happens. I have to be treated fairly," Trump told ABC's George Stephanopoulos on Sunday. "You know, when I did this, I said I have to be treated fairly. If I'm treated fairly, I'm fine. All I want to do is a level playing field." Trump's hit man and counsel Michael Cohen reiterated on CNN Tuesday morning that if the GOP "break[s] that agreement with him, as they say, woe be on them," adding that the super PACs going after Trump are making a "bad, bad decision."
There's a 99.9 percent chance this is a bluff, but it's a powerful one: If Trump did follow through with an independent bid, Hillary Clinton would become president. Does that threat give the super PAC generals leading these assaults the chills?
"What gives me chills is the idea that Trump could become the GOP nominee, or if he catches lightning in a bottle, president," Mair tells Slate. "In reality, he's probably going to have ballot access issues if he tries to go third party.
"I think Trump is a pretty garden variety, bigmouthed bully who likes to scare people into giving him what he wants by making wild threats," she continued. "It's generally bad practice to let bullies get whatever they want, and I think that remains the case here."
Trump does not want to run an independent bid for the presidency. And if he did, it wouldn't be because some super PACs loosely tethered to the "establishment"—i.e., all Republicans who hope Trump doesn't become the party's presidential nominee—ran ads against him in New Hampshire. If they didn't run these ads, and Trump lost the nomination for some other reason, then he would just come up with another excuse about how the GOP wasn't "fair" to him as a foundation for the independent run he won't launch anyway.
The more questionable aspect to the super PACs' strategy is how they're going to sway his supporters from their establishment perch. Trump supporters are, to use the euphemistic term preferred by consultants, "sticky." They are stubborn as hell, and none of Trump's hourly gaffes that have terrified the establishment class have shaken the resolve of his dedicated fans. This should be plenty obvious to everyone who is not a Trump supporter and spends all day banging his head against the wall wondering how anyone could possibly support Donald Trump for president of the United States. We'll see what Mair's group comes up with. But how is New Day for America, propped up by establishment megadonors supporting Kasich, Sen. Marco Rubio, and Jeb Bush, going to change the picture?
Consider New Day for America's first ad against Trump that's part of a "digital buy" in New Hampshire and Ohio, released Monday to coincide with Trump's visit to the state.
To use the highly sophisticated jargon of political science, this is super-duper lame. It's a collection of the various comments pundits predicted would ruin Trump over the past six months that haven't ruined Trump. He is silly and nasty and pervy, yes. Trump supporters either don't care or like him specifically for that. What else? There's this new clip from the official Kasich campaign. It's a much better spot, assailing Trump for his comments suggesting Muslims' constitutional rights should be violated. Good show! But again: How will this change the minds of Trump supporters, many of whom might fancy the idea of Muslims losing their constitutional rights? Especially when Trump can swat the accusations away by telling his supporters, credibly, that it's the work of GOP establishmentarians?
I am not here just to trash everyone's so-far lousy ads. That's only a big part of it. Instead, let's consider the sort of figure that it will take to stop Trump. It has to be someone with impeccable conservative credibility: the sort of figure who can take on Trump's nonsense and lies without the likes of Rush Limbaugh and Breitbart News running interference.
It's got to be Sen. Ted Cruz, who's moved into a statistical tie with Trump in Iowa. Cruz has already started pushing off Trump in an effort to position himself as a compromise candidate between the nonpoliticians and the establishmentarians. Now that they're 1-2 in the first caucus state, we—and Trump, and the rest of the GOP—will be interested to see where Cruz pushes things next.
If Cruz can take down Trump and assume his voters, though, it would be a Pyrrhic victory for the establishment: They'll have eliminated the big problem, but then they'll be saddled with a dominant Ted Cruz. At that point, they just might have to accept it.
---