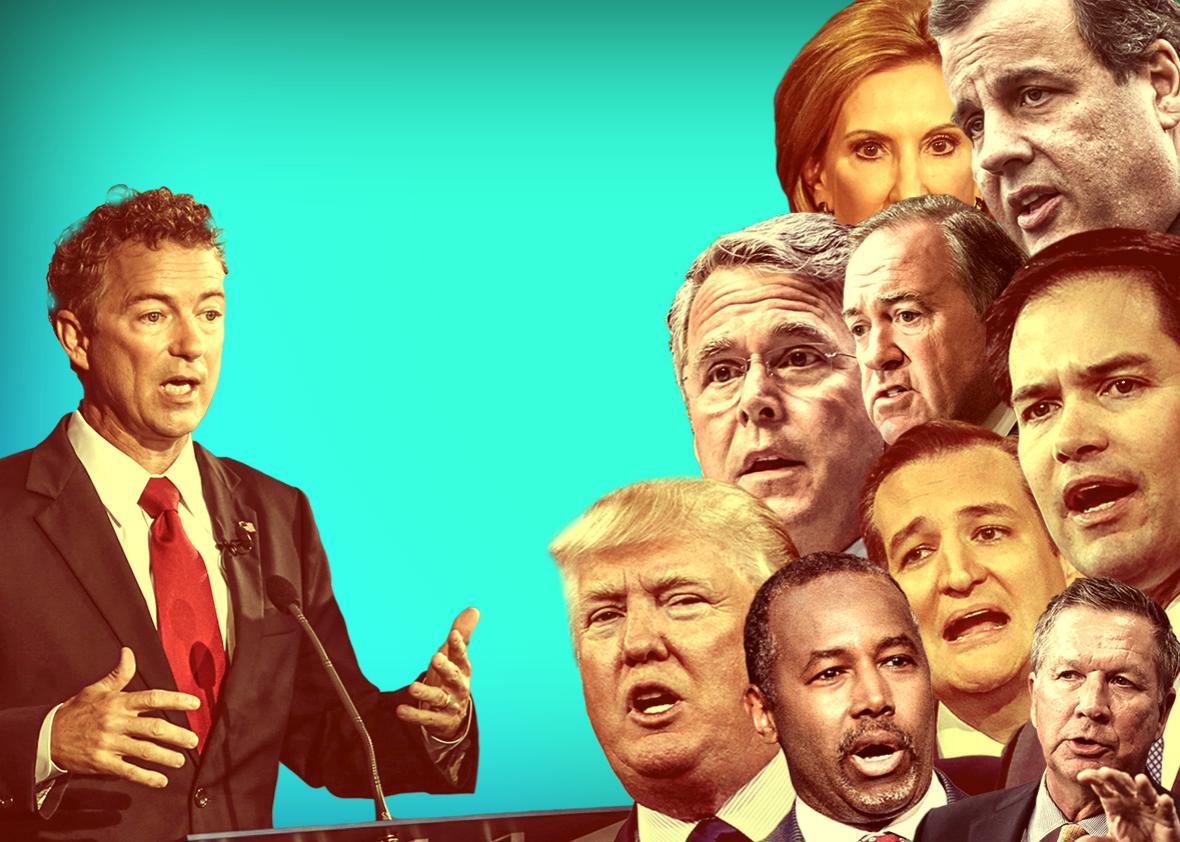 "We're vulnerable," Sen. Marco Rubio, one of the top hawks in the 2016 presidential race, said Monday evening at a summit convened by the Wall Street Journal. "What happened in Paris could happen in a major American city, at any moment, at any time."
And if it does, well, guess who may be partly to blame, aside from the nefarious Democrats?
"At least two of my colleagues in the Senate aspiring to the presidency—Sen. Cruz in particular—have voted to weaken the U.S. intelligence programs just in the last month and a half," Rubio went on. "And the weakening of our intelligence gathering capabilities leaves America vulnerable." The smoothest candidate in the race then matter-of-factly lumped Cruz and his fellow intelligence-savaging legislators with the disclosures of the "traitor, Edward Snowden," as the two developments that "will cost us the ability to gather actionable intelligence against elements operating in our territory."
Rubio's aides wasted little time retweeting coverage of the remarks and playing up a hashtag, #PhonyTedCruz. (Because Cruz made it more difficult to listen in on terrorists/anyone on the phone? Or because Cruz is considered a phony person? Both? Does it matter?) Rubio was widely believed to be referring to Cruz's vote on the USA Freedom Act, a piece of legislation originally conceived in 2013 following Snowden's disclosures and finally passed this year. The act trimmed intelligence agencies' bulk metadata gathering capabilities. It's not clear what Rubio meant when he said "in the last month and a half," since the act passed in June. Also, Sen. Rand Paul voted against it—though because he, like other surveillance reform advocates, didn't think it went far enough in overhauling the Patriot Act. The Rubio campaign did not respond to a request for clarification.
Cruz's campaign, a similarly smooth operation, was prepared with a cheeky response. "Does Sen. Rubio attribute the same attack to Sens. Scott, Ayotte, and Grassley who also voted for it?" replied Cruz press secretary Catherine Frazier to Slate, neatly siding Cruz with popular GOP senators representing, respectively, the three early voting states of South Carolina, New Hampshire, and Iowa. "Cruz is a proud supporter of the bill which champions both the protection of our privacy rights and Americans' national security interests."
The USA Freedom Act didn't disrupt the country's intelligence gathering capabilities all that much. President Obama, who, like Rubio, has a dim view of Snowden's actions, wouldn't have signed it into law if it did. And though Cruz still considers himself a "proud supporter" of the law, it's hard to believe, post-Paris, that you will see him on the Senate floor participating in Paul's next marathon speech against the U.S. surveillance state. And that assumes that Paul, set back yet again by a terrorist attack abroad that's stirring up the hawkish elements in his party, devotes much time to the surveillance state going forward.
The surveillance state itself certainly sees an opening to press its advantage after suffering years of abuse at the hands of progressive Democrats and libertarian-leaning Republicans. CIA Director John Brennan, whose 2013 confirmation was subject to a rousing, well-supported filibuster from Paul, lashed out at surveillance critics Monday. "I would anticipate that this is not the only operation ISIL has in the pipeline," he said, going on to mock the "hand-wringing" over government surveillance. And many current and former intelligence officials have lamented to Yahoo News, among others, that the Snowden disclosures have allowed plotters to shift their communications to more untraceable methods.
The Republican Party appears to be siding more with surveillance advocates than government intrusion critics. Donald Trump—a good bellwether for the Republican base's id—has said that he would "strongly consider" shutting down U.S. mosques and, were he merciful enough to leave them open, would merely subject them to blatantly unconstitutional surveillance efforts. These are some seriously extreme comments, and they will be met with an overwhelmingly positive reception from his supporters. Rep. Peter King said that it's time to put "political correctness" aside and "have surveillance in the Muslim communities." Rep. Joe Barton asked at a House hearing on Tuesday if there is "something we can do" to shut the parts of the Internet that ISIS uses. Barton did concede that shutting down lots and lots of websites might be difficult because "they pop up like weeds."
The Republican side is far from unanimous, post-Paris, about how to respond to ISIS militarily. Though none would argue that they're satisfied with the Obama administration's strategy of targeted airstrikes and limited special operations on the ground, only a few—Jeb Bush, Sen. Lindsey Graham, and Gov. John Kasich—actively support the deployment of ground troops to the region. Others, like Cruz, Rubio, and Trump, seem to think that more bombing, along with ground efforts from regional allies, would do the trick.
But when it comes to homeland security? It's sure looking like whatever brief flirtation some in the GOP had with reining in the broad, post-9/11 surveillance apparatus will dissipate.
---