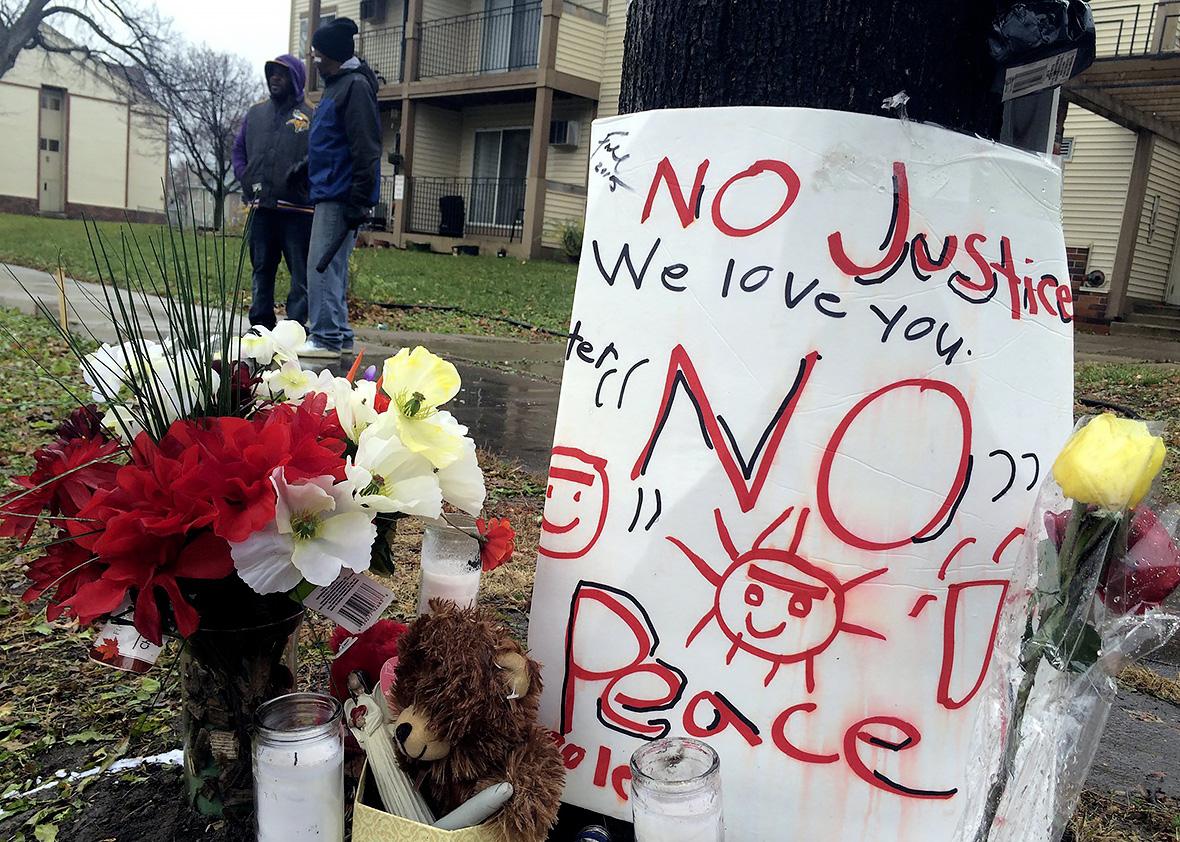 Minneapolis is the latest American city to become engulfed in racial turmoil, following the shooting death of 24-year-old Jamar Clark by a police officer in the early morning hours of Sunday.
Clark was allegedly involved in a domestic dispute with his girlfriend when police and paramedics arrived. According to a statement from the Minneapolis Police Department, paramedics were treating Clark's girlfriend when Clark began interfering and "disrupting their ability to render aid." A struggle ensued, the statement said, and "at some point" an officer who has yet to be named fired his weapon.
Clark's father told the Associated Press that his son was shot in the head, directly above his left eye. Afterward he was held on life support, and according to his brother, died Monday night.
Witnesses said Clark was handcuffed at the time of the shooting. Police have disputed that account. The state's Bureau of Criminal Apprehension is investigating, but in a move that Black Lives Matter activists applauded, Mayor Betsy Hodges announced Monday she has also requested a federal investigation from the Justice Department's Civil Rights Division.
Clark's death sparked demonstrations almost immediately, with about 250 people organized by the Minneapolis chapter of Black Lives Matter marching to the police precinct a few blocks from the shooting scene on Sunday afternoon. Demonstrations continued Monday, reaching a fever pitch when about 100 protesters linked arms and blocked I-94, bringing traffic to a standstill for more than an hour. According to the Minneapolis Star-Tribune, 51 protesters were arrested and led away in handcuffs; a State Patrol lieutenant said they will probably be cited for "unlawful assembly and being pedestrians on the freeway," both misdemeanors.
On Sunday, Metropolitan State University professor Jason Sole, a member of the local NAACP chapter, told the Associated Press, "We've been saying for a long time that Minneapolis was one bullet away from Ferguson. Well, that bullet was fired last night."
One of the witnesses, a neighbor named Teto Wilson, told a local Fox affiliate that Clark was "pinned down" when he was shot. "He wasn't fighting, he wasn't screaming or anything," Wilson said. "The next thing we know, about a minute later after watching it, the gun went off. That's what I saw. But the guy was not fighting back."
Police Chief Janeé Harteau said at a press conference Monday that the officers on the scene when Clark was shot were not wearing body cameras, but she would not comment on whether video footage from some other source, such as a dashboard camera in a patrol car, might be available.
---