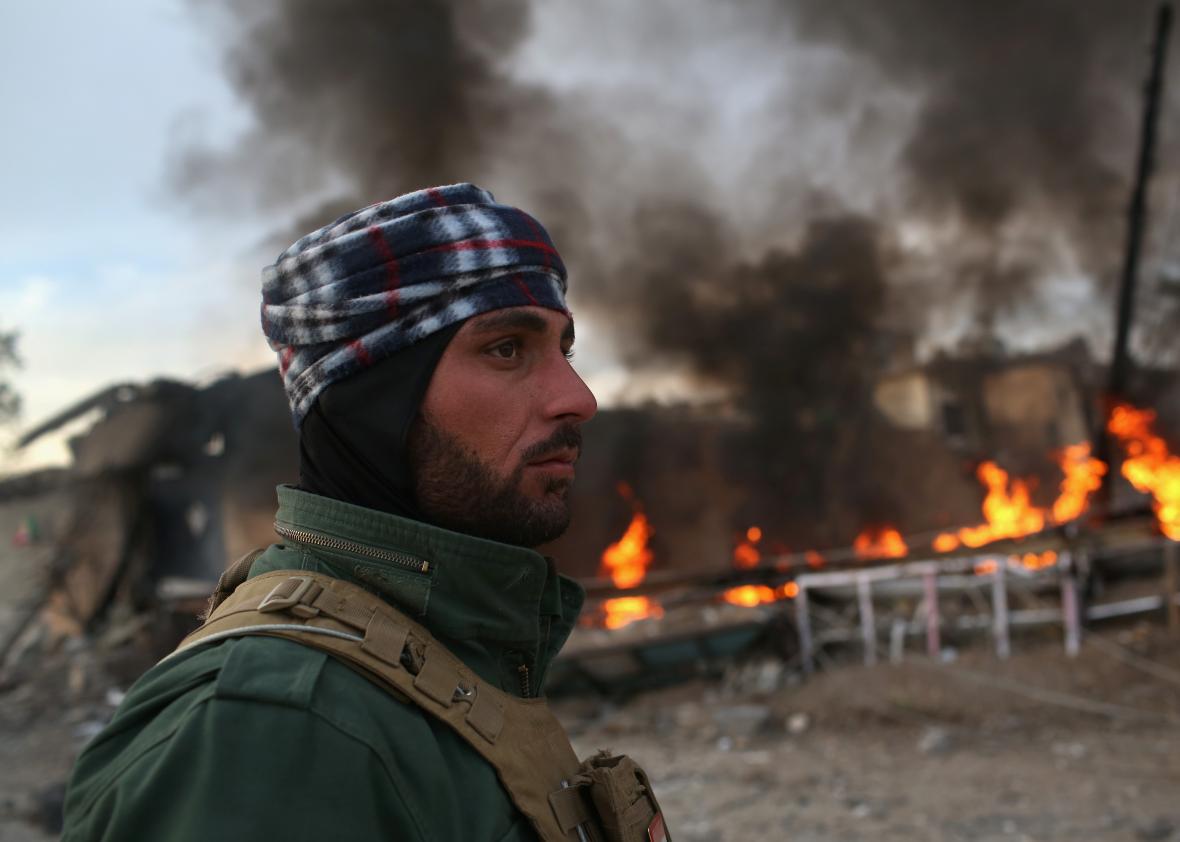 If you like what you see, please encourage a friend, family member, or enemy to sign up for the Today in Slate email newsletter here.
Slate–comers,
Wednesday began with a police raid in northern Paris suburb Saint-Denis that left two people dead and seven more arrested for their alleged connections to last week's killings and alleged plans for a follow-up attack. If ISIS continues to attack the West with deadly violence, it could be a sign that the group is actually getting weaker.
ISIS will become more deadly before it dies.
For the past year, ISIS has been losing territory in Syria and Iraq, a trend likely to continue under new, vigorous air assaults from France, America, and Russia. Turkey, Jordan, and Iraq itself have also launched aggressive new campaigns against the group. These losses are real, but historically, terror groups that lose territory become more deadly, not less. Al-Shabab, al-Qaida, and the IRA launched major strikes as they lost ground, and that tactic has been successful. In part, those groups' attacks aimed to bait foreign powers into overreaction, to swell recruitment. "Governments may unfairly target communities at home or overseas, further contributing to radicalization," Seth G. Jones writes. Hm. Perhaps that's something to consider amid the debate over refugees.
A longer-term threat comes from global warming—a whole lot of warming.
El Niño is the periodic warming of the Pacific Ocean. We've had one this year, and it's not typical; it's the strongest El Niño ever recorded, and globally, October 2015 was the most unusually warm month ever recorded. There's a 99.9 percent chance 2015 will become the warmest year ever recorded, too. This has all had huge effects already: Massive forest fires in Indonesia have yielded intense smoke and haze that has made half a million people sick. An El Niño–linked weak monsoon season has created food shortages in India. Floods will come. In a few weeks, Paris will host an international summit on global warming; this extraordinary year would be an appropriate one to deliver the first global agreement on climate change.
About those refugee fights, and old battles over Uber and No Child Left Behind.
A less deadly fight between Uber and New York City is over. Uber won.
Antimerially,
Seth Maxon
Home page editor for nights and weekends
---