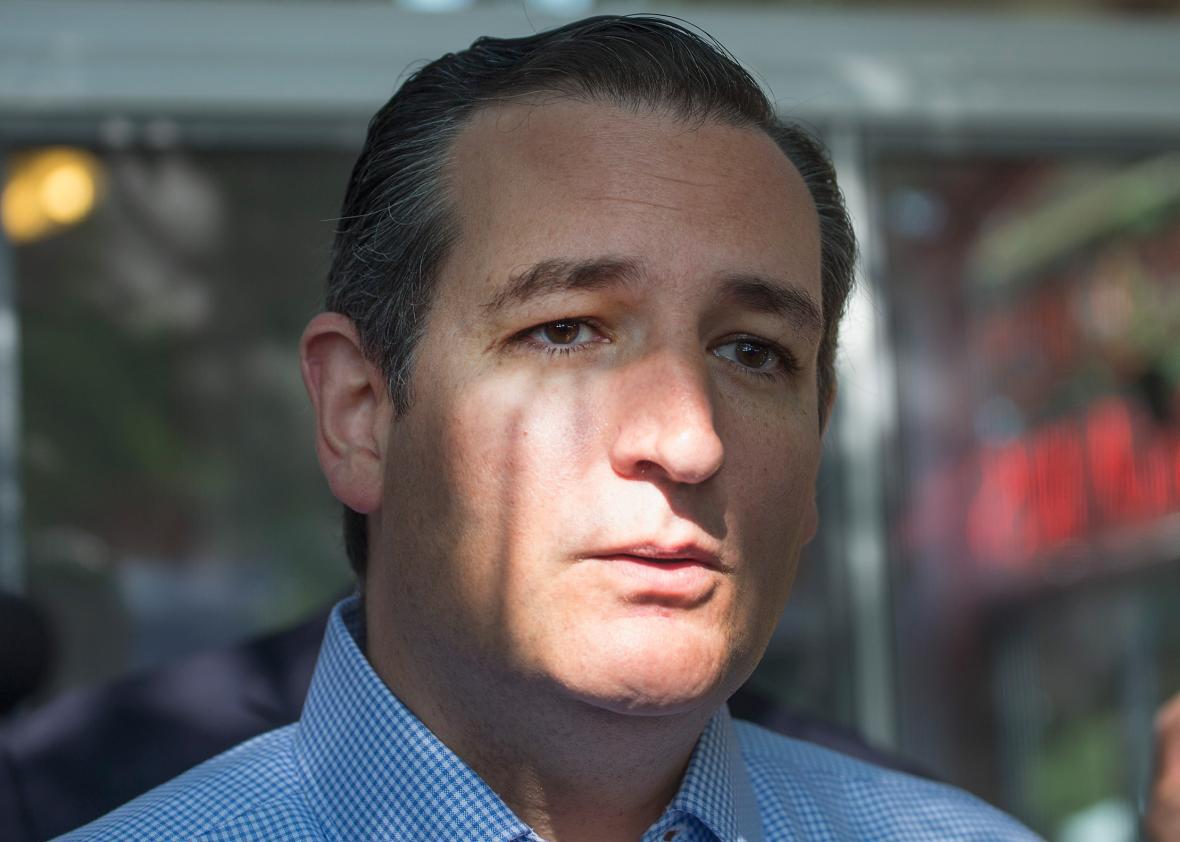 If you like what you see, please encourage a friend, family member, or enemy to sign up for the Today in Slate email newsletter here.
My fellow Slate–ericans,
One of the Republicans currently campaigning to run America will be the GOP nominee. Ted Cruz has a better chance than most of them.
Ted Cruz could be the next president of the United States. Really.
The Texas senator seems like a marginal figure; mainstream Republicans including Mitch McConnell, George W. Bush, and major party donors dislike him, and currently, he is not as popular among "outsiders" as his rivals Donald Trump and Ben Carson. But Cruz has a path to victory, one informed by none other than Barack Obama. Like Obama, he's built a huge ground operation, and he has combined aggressive grassroots funding with large donations. (Cruz has raised more campaign money than any GOP candidate besides Jeb Bush.) He's polling third in Iowa behind Trump and Carson, and he has a larger, stronger operation than either of them. More than any other "outsider" candidate, Cruz is in a position to survive into a head-to-head contest with the "establishment" winner, whether that's Marco Rubio or Jeb. Once it's one-on-one, the nomination—and thus the White House—could legitimately go to Cruz. He needs to catch a lot of breaks, but President Cruz is eminently plausible.
Another president has fallen—a college president.
Saturday night, 30 University of Missouri football team members announced that they were boycotting play and practice until Tim Wolfe, the school's president, was fired or resigned. On Monday, Wolfe quit, effective immediately. For months, students at Mizzou protested the way Wolfe responded (and did not respond) to a series of racist incidents, including complaints of slurs, harassment, and vandalism. In one case, someone used human feces to scrawl a swastika on a dorm. The players' successful activism is admirable, but it really shouldn't have taken action from the football team to seriously address such ugly incidents of racism.

Dear new Prudie: What should I do when the sun explodes?
Ain't that America,
Seth Maxon
Home page editor for nights and weekends
---