At the University of Missouri, students have ousted their president over his mishandling of racist incidents. At Yale, protests ignited over an email that told students of color they were overreacting to racist Halloween costumes. On Thursday, Georgetown University students joined these protests against racism on campus. But they're not after an indifferent or dismissive administrator. Instead, they're proposing a novel form of reparations, one that ought to change the way universities address their slave-owning pasts.
Activists began staging a sit-in outside the Georgetown president's office today, calling for a conversation about race on campus and a reckoning with how the school has benefited from the institution of slavery. "We're in a climate now were students on campus are not allowing stuff to just fly anymore," one of the protest organizers, senior Queen Adesuyi, told me. "We're acting in solidarity with other black students on other campuses that have to deal with the same issues."
At the center of the students' grievances is Mulledy Hall, a campus building named for a Jesuit and former Georgetown president who sold 272 slaves to a Louisiana plantation to pay off university debts in 1838. The building was unused for years, and reopened this fall as a student residence. At the same time the school reopened Mulledy Hall's doors, Georgetown President John J. DeGioia tasked a Working Group on Slavery, Memory, and Reconciliation with instating a plan to confront Georgetown's newly resurfaced, slave-paid legacy.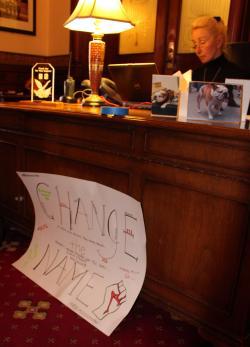 Adesuyi says that although the university began planning to reopen the residence hall last year, it didn't tell the students until an email went out the day before school started this semester. "If we knew about it last year, we would have been organizing much earlier," she told me. Some black students had already been placed in the building, Adesuyi says, and many now feel uneasy in their own homes. The coalition of black students and allies who are leading the protest are pushing for the hall to be renamed Building 272, for the number of slaves sold to keep Georgetown afloat.
On Friday morning, more than two dozen students sat outside DeGioia's office on their laptops and phones, marking up class readings with highlighter and reading textbooks, looking and sounding as much like a library study group as a protest. Following Thursday's rally, which drew about 250 students, faculty members, and staff, the activists' goal isn't so much about noisemaking—as at Mizzou, the sit-in leaders have been hesitant to speak to the media—as it's about longevity. Through a Google spreadsheet, they're aiming to sign up at least 10 students per 30-minute shift to keep the sit-in going from 9 a.m. to midnight daily until the university meets the group's demands. "Remember, we'll be studying, eating, chillin, so the nightly grind will just be on Healy 2 instead of Lau 2 for a while," wrote one of the organizers on the wall of the sit-in's Facebook event, referring to the president's office location and the campus library, respectively. "Hell, you can even have your meetings there!" On Friday, donations from Georgetown alumni paid for a few pizzas for breakfast for the group outside the president's office.
The students are using the hashtags #GU272 and #BuiltOn272 to communicate and organize on social media, where they've linked to articles placing their protest in the context of other movements for racial justice at colleges and universities around the world. Those struggles are happening as close by as Washington, D.C.'s Howard University, where black students were targeted by death threats on Thursday, and as far away as South Africa's University of the Western Cape, where campus police are using rubber bullets and stun grenades to disperse student protests over tuition and staff outsourcing.
In addition to the renaming of Mulledy Hall, Georgetown activists are asking for plaques to identify the unmarked graves of slaves on campus, an annual program to explore Georgetown's history of slavery, the inclusion of information about black people's contributions to Georgetown in campus tours, mandatory diversity training for professors, and the rechristening of McSherry Hall, a campus building named for the Georgetown president who presided over the 1838 slave sale.
But the demand that could have the biggest effect on Georgetown's future, if the university complies, comes down to money. The student activists have proposed a new endowment fund, equal to the present value of the profit garnered from the 272 slaves, for the purpose of recruiting black professors. It's a brilliant example of how universities could enact something in the vein of reparations—a tangible admission of the link between the horrific acts of generations past and today's racial injustice, one that would provide an equally tangible benefit to current and future students of color.
Is it feasible, though? In 1838, a slave cost on average around $400; using that figure, 272 slaves might have netted the university a little more than $2.7 million in today's dollars. Georgetown associate philosophy professor James Mattingly says an endowed chair requires between $2 million and $2.5 million—not an outlandish sum for the university. Georgetown's current endowment clocked in at $1.4 billion at the end of the 2014 fiscal year, and a recent development effort—the university's biggest fundraising campaign in history—raked in $1.5 billion, with more than $628 million going to faculty and academic programs alone.
"As a university, we are a place where conversations are convened and dialogue is encouraged, even on topics that may be difficult," DeGioia said in a statement released on Thursday. "We are supportive of our students and proud of the ways they have engaged race, identity, diversity and equity here at Georgetown and in our nation." His administration has recognized the ugly-looking implications of keeping Mulledy's name on a residence building. Adesuyi told me that members of the working group DeGioia appointed, which includes current students, alumni, and faculty members, have agreed that a name change is necessary. So what's taking so long? "We're actually finally seeing that the university is giving us the runaround," Adesuyi says. "Things that take money—it's understandable that that stuff takes more time. But renaming a residence hall is not too much to ask, particularly when it's named after someone with such a harsh past."
Mattingly chalks it up to institutional inertia. "Presumably, bringing in or paying off $100,000 or more worth of Georgetown debt played a structurally important role in the flourishment of the university in the 1800s," he told me. "If you're the head of a university, you might not be surprised to think that things that saved the university, people that saved the university, through whatever horrific means, can't be so easily written off. … [But] I think it should have been immediate. I think once this was brought up, there was no reason to continue to perpetuate it."
American universities have only recently begun to publicly grapple with the fact that these elite institutions, like the United States, were literally built on the exploitation of black bodies. Beginning with Brown University's Committee on Slavery and Justice in 2003, universities around the country have unearthed disturbing truths about how their schools profited from human bondage. For many universities, Georgetown included, slavery made the difference between a viable institution and a shuttered one.
"The fact is that this kind of oppression and slavery redounded hugely to georgetown's financial benefit," Mattingly said. "It seems to speak for itself that one would want to take some of that tremendous largesse that we have and take actual substantive steps toward changing the kind of society that we're building when we educate students here. A faculty position … whose job it is to study, disseminate, and bring attention to issues about diversity and oppression is about the least one can expect."
See more of Slate's coverage of campus protests.
Correction, Nov. 13, 2015: This post originally placed Mulledy's slave sale in 1832. He sold the slaves in 1838.