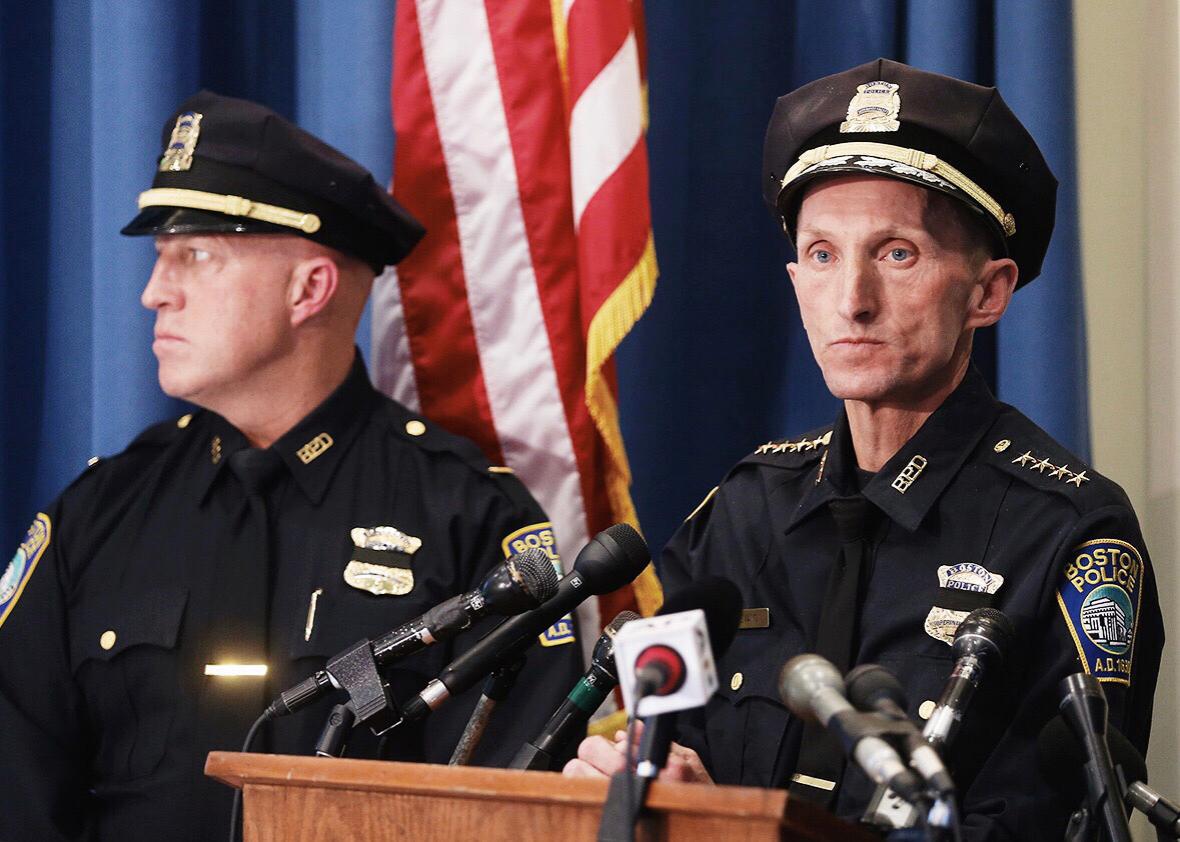 In a Boston Globe story published Monday about police officers who have provoked a large number of complaints from civilians, a retired sergeant is quoted as saying that, "If you're not getting complaints, you're not working."
According to the Globe, Sgt. Martin B. Kraft spent 32 years with the Boston Police Department, and during that period he amassed 40 complaints, 15 of which were at least partially substantiated by investigators. Data analyzed by the Globe indicates he is one of a dozen officers with the BPD who have received more than 20 complaints over the past two decades for infractions like "untruthfulness, use of force, disrespectful treatment, unbecoming conduct, and criminal violations."
Kraft's explanation for his record: "I did my job." People who work for civilian complaint review boards—the sometimes independent, often toothless bodies that investigate complaints against police officers—hear this kind of thing all the time. It is an insidious idea, and not only because it equates good police work with the kind of aggressiveness that leaves people feeling violated and angry, but because it besmirches many officers who do their jobs perfectly well and don't ever hear complaints about their methods.
That's most police officers, by the way. While the Boston Community Ombudsman Oversight Panel doesn't have complaint data broken down by individual officer, the equivalent body in New York does. In a recently published report covering the period of Jan. 2014 through June 2015, New York City's Civilian Complaint Review Board found that misconduct complaints "are driven by a small percentage of the police force." During that time span, just 10 percent of the NYPD's nearly 40,000 officers were responsible for 78 percent of the 6,920 misconduct claims the board received. Just 1 percent of officers were responsible for about a fifth of all complaints. Meanwhile, 86 percent of NYPD officers did not receive even a single misconduct complaint.   
While it's obviously true that officers doing street work in high-crime neighborhoods are going to have more tense interactions with citizens than "house cats" who answer phones at headquarters, that doesn't mean guys like Kraft—or Lawrence D. Welch, a Boston officer who has earned 55 complaints in his 26 years on the job—are better police officers than their colleagues whose behavior rarely leads people to file grievances against them.
"There's a difference between working hard and working smart," said police accountability expert Sam Walker, an emeritus professor of criminal justice at the University of Nebraska Omaha. In an interview, Walker recalled working on a consulting project with the police department in Phoenix about 10 years ago and seeing performance data for all the officers in a given precinct. Of the two officers who had the highest number of arrests, Walker said, one had a lot of complaints, and the other didn't—proof positive, Walker believes, that it's possible to do aggressive police work without leaving a trail of resentment in your wake.
Boston Police Department spokesman Lt. Michael McCarthy echoed that sentiment and rejected the argument made by Kraft in the Globe story when I called him Monday morning. "Anybody with any credibility who read that statement from former Sgt. Kraft dismissed it as fast as they read it," McCarthy told me. 
---