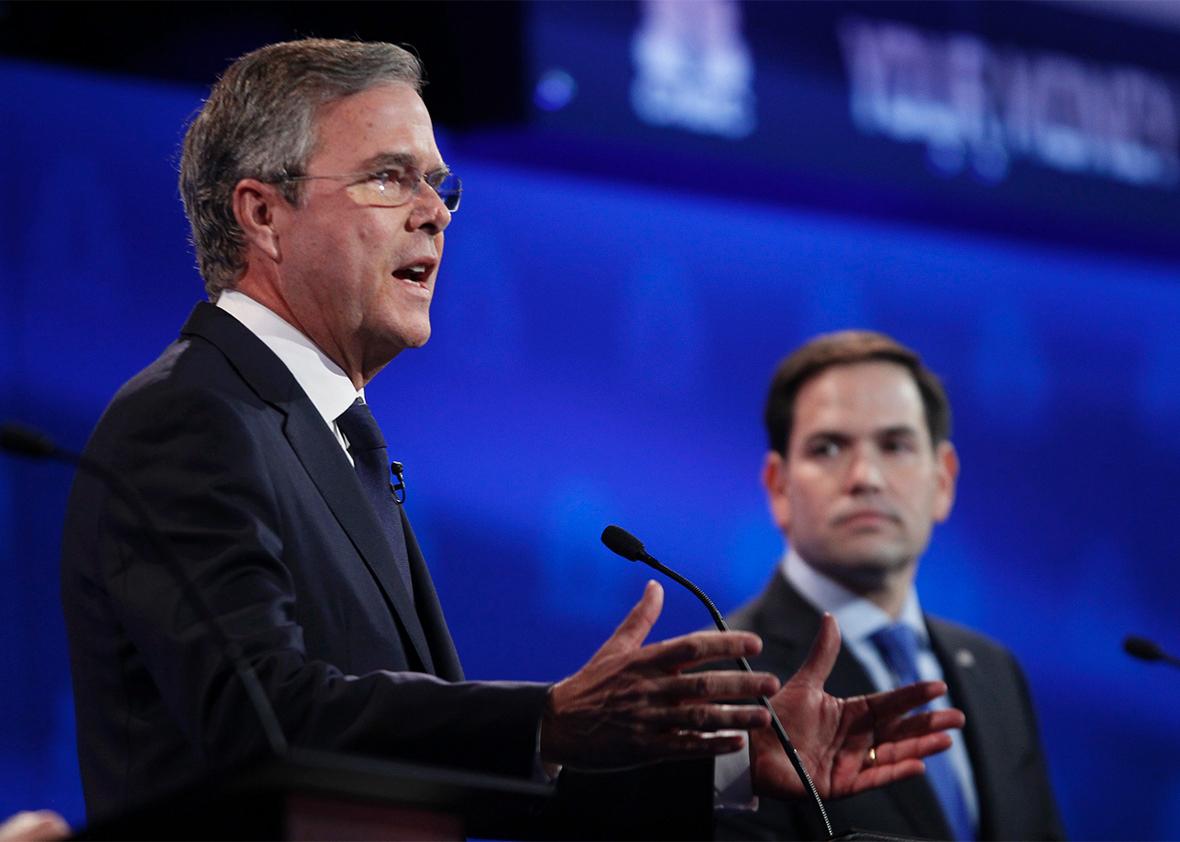 Jeb Bush's campaign has been pronounced dead about 100 different ways by almost every media outlet. This is great and funny. Is it true? So far only Bush seems to think he's in excellent shape. "It's not on life support," Bush said Thursday of his campaign following his poor debate performance on Wednesday night. "We have the most money, we have the greatest organization. We're doing fine." The first two claims may check out. The last one is dubious.
Hounding Jeb Bush is America's most enjoyable hobby, but OK, OK: He's not dead. There's still plenty of time until voting begins, and if he can catch some sort of break—like Hillary Clinton's campaign did with the first Democratic debate and the week that followed—all of those advantages he has in endorsements, organization, and outside money will be there waiting for him. He doesn't need to drop out anytime soon. Though, again, we hope everyone keeps asking him when he'll drop out, because it's amusing to see Jeb! get all worked up.
The rise of Marco Rubio is a real head-scratcher for Team Bush. The gathering consensus that Rubio is the candidate to beat officially congealed into the prevailing conventional wisdom following's Rubio's latest sharp debate performance. This seems like one of those rare, smart conventional wisdoms, in that Rubio also has plenty of outside money, is ideologically similar to Bush but perhaps a touch more conservative, and most importantly, good at politics.
Unless things change fairly soon, Bush and his advisers will have to make a difficult decision: How hard do they want to go after Rubio? Do they want to do everything in their power to destroy the figure who's viewed by more and more of the Republican intelligentsia as the party's best hope against Clinton? Or will they bow out relatively early if Rubio is in position to become the nominee? The choice may not be Bush's in the end: The party may make that decision for him.
The signals coming from Bush's organization now point largely to the "destroy Rubio at all costs" option, in grand Bush family tradition. What a coincidence on Thursday that just as the media was tucking itself in with Rubio, a 112-slide Bush strategy PowerPoint mysteriously "leaked" to the presses. Near the front of the presentation are several slides devoted to Rubio, "A Risky Bet." Among the bulletin points: Rubio has "no accomplishments, negating hit against Hillary Clinton," nor, "outside of lobbying and legal consulting," does he have any "credible experience beyond government." Rubio has "never been in charge of anything larger than two dozen people." The slide also pounces on certain ethical lapses, such as his "misuse of state party credit cards, taxpayer funds, and ties to scandal-tarred former Congressman David Rivera." And most luridly: "Those who have looked into Marco's background in the past have been concerned with what they have found."
The criticisms are kept at the sort of cowardly remove typical of party primary attacks. Rubio's total lack of accomplishments doesn't bother Bush at all—never think that!—it's just that they would "[negate a] hit against Hillary Clinton." That's why it's a problem. Similarly, Rubio's "misuse of state party credit cards, taxpayer funds, and ties to scandal-tarred former Congressman David Rivera" doesn't bother Bush's team, personally, in the least. But they do "[take] away [a] line of attack on Hillary Clinton." Marco Rubio is an inexperienced, accomplishment-free, corrupt, incompetent, lazy, useless garbage human being … is what the lousy Democrats will say, we mean! It's much like how Newt Gingrich's operation in 2012 ran a bunch of ads about how Mitt Romney was a rapacious job-slashing capitalist death machine who feasted on the brains of laid-off workers … is what the Democrats would say. Indeed, the Democrats did, following Gingrich's lead.
Gingrich didn't decide to lay off the attacks because he wanted to or because they were ineffective. He did so because the entire Republican establishment and media complex saw their presumed nominee getting thrashed in a way that offered bipartisan validation to looming Democratic attacks. They instructed Gingrich to cut the crap lest he squander away the reservoir of goodwill he retained among Republicans.
Rubio is far from being the presumed nominee, and Bush isn't quite in a Gingrich's long-shot position. But already we have a sign that the establishment won't just let the Bush campaign do to Rubio whatever it wishes. Mitt Romney's ex-adviser Beth Myers wasted no time pushing back against the claim that "those who have looked into Marco's background in the past"—as in, those who vetted Rubio for the vice presidential nomination in 2012—"have been concerned with what they have found." Not true, according to Myers. "As the senior Romney advisor who handled VP vetting and had access to all the vetting documents, I can say that Senator Rubio 'passed' our vetting and we found nothing that disqualified him from serving as VP," she wrote. "The Bush aide referred to in this article is simply wrong." Romney and his crew have taken it upon themselves to ensure that the eventual Republican nominee escapes from the primary process without too much baggage. If that PowerPoint presentation is a taste of what's to come from the Bush campaign, then consider Myers' response a taste of how party leaders will respond.
It's not imperative for Bush to retake his advantage over Rubio by the time Iowa votes. Both of these campaigns will have the resources to go the distance if necessary. What Bush does need to do, though, is remain roughly in the same ballpark as Rubio. If Bush stays flat while Rubio ascends, the powers that be will do everything they can to put a freeze on the Right to Rise super PAC's bank account.
---