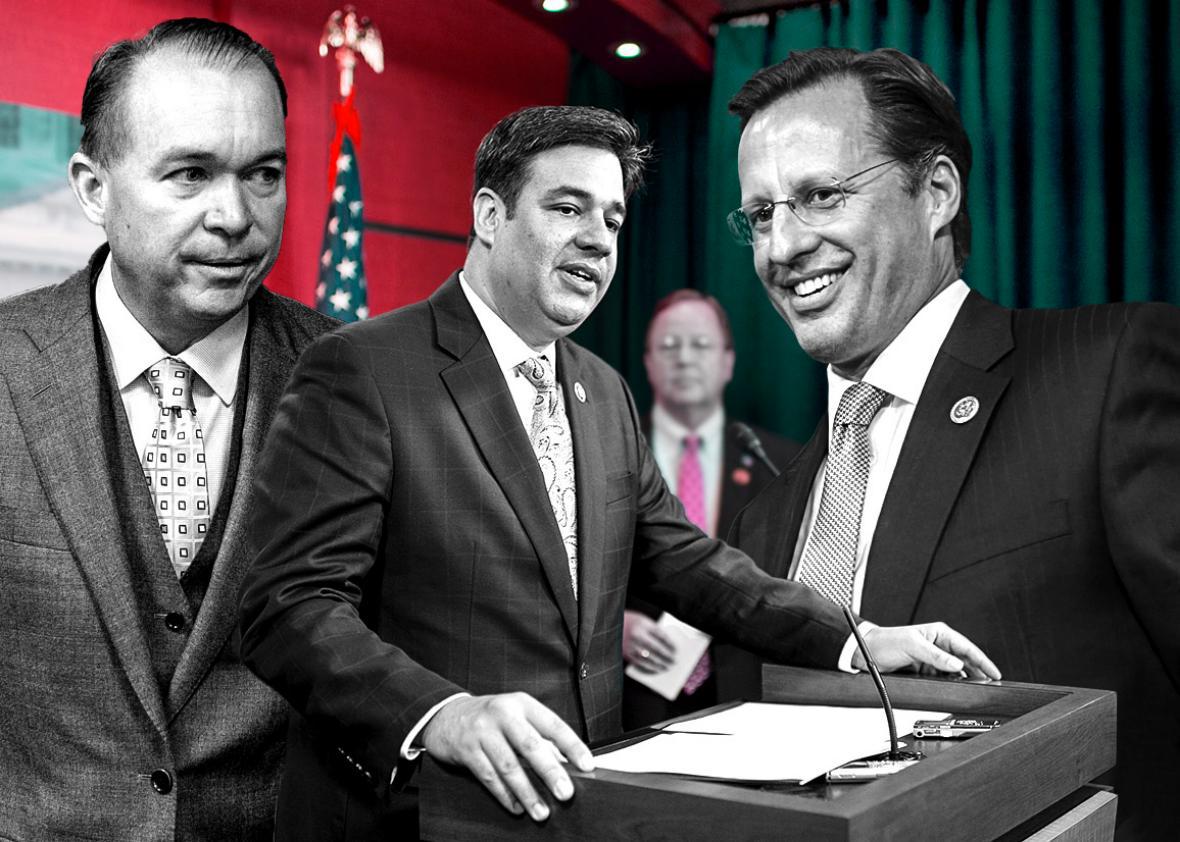 Slate–ropolitans,
Since the Tea Party takeover of the House of Representatives, 40 ultraconservative congressmen, collectively known as the House Freedom Caucus, have held the key to passing any federal laws in America—or rather, the key to passing none.
It would be nice if the House Freedom Caucus admitted that they're powerless to do anything alone.
These congressmen argue that they're the only politicians in Washington brave enough to dismantle the Affordable Care Act and defund Planned Parenthood. But it's not true—they can't do anything by themselves. It turns out bills require the approval of both the House and the president (the Senate, too!) to become law. Jim Newell argues that the Freedom Caucusers are too cowardly to level with their constituents. If they were braver, Newell argues, they would risk their jobs and tell the voters who support them that they will never defund anything as long as they literally need to work with Democrats. But that would require an interest in governing that goes beyond ideological grandstanding.
Enough inside baseball; it's an exciting time for actual baseball!
Tuesday night is Game 1 of the World Series between the Kansas City Royals and the New York Mets. Maybe you're not a baseball fan, but want to know why each team might win. There's a good case for the Mets and a good case for the Royals. The Mets have a dominant young pitching staff and red-hot hitters. The Royals have been derided as having a Luddite manager who rejects the statistical "moneyball" revolution that has taken over the league. But in fact, the Royals are the epitome of a moneyball team that has serious talent and smarts. Their manager has said some dumb things and made some dumb choices, but the Royals are really, really good at hitting, defense, and relief pitching. Full disclosure: I am a Mets fan and I believe. But the Royals scare me.
This is all too thrilling for words: :-P , :-( , :-O
Let's. Go. Mets.*
Seth Maxon
Home page editor for nights and weekends
If you like what you see, please encourage a friend, family member, or enemy to sign up for the Today in Slate email newsletter here.
*#LGMs are not Slate endorsements. Especially not from Slate Royals fan Eric Holthaus.
---