Former Olympian and four-category world champion boxer Roy Jones Jr. officially became a Russian citizen on Tuesday thanks to an executive order signed by President Vladimir Putin himself. In doing so, he joins the growing ranks of aging male celebrities who have publicly declared their loyalty to the Russian president.
Jones asked Putin for citizenship at a private meeting held in Crimea last August. According to an announcement on the Kremlin website, Putin agreed so long as "the athlete intends to spend a significant part of his life working in Russia."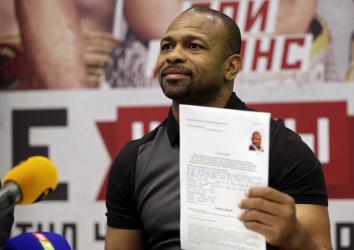 Declaring it "one of the happiest days of my life," Jones personally thanked Putin this week, saying "Russia's such a welcoming country, and many people in the world want to become her citizens."
The former champ has fallen in stature a bit in recent years. Lately, he's taken to fighting exhibition bouts in places like Latvia, Poland, and Russia, often accompanied by his own musical performances. But with his resume, Jones will fit in just fine among Putin's Expendables-like cohort of international celebrity admirers. While Soviet Communism once drew the regard of idealistic but naïve American performers like Pete Seeger and Paul Robeson, over-the-hill machismo is the defining characteristic of the celebrities drawn to Putinsim.
The top dog in Putin's celebrity squad—the Karlie Kloss to his Taylor Swift if you will—is '90s action icon Steven Seagal.* Putin and Seagal, both 52-year-old martial arts enthusiasts, are longtime friends according to the Kremlin. The Buddhist star of Under Siege, who is partially of Russian heritage, is a regular guest on state-sponsored international cable network RT and has described Putin as "one of the greatest world leaders, if not the greatest world leader, alive today" and says he "would like to consider him as a brother." 
The trust between the two men is so great that, according to Max Seddon and Rosie Gray of Buzzfeed, Putin suggested to Barack Obama at a tense meeting in 2013 that he appoint Seagal as a special envoy to Moscow. A "flabbergasted" Obama declined. That same year, Seagal attempted to organize a  U.S. congressional delegation to Chechnya, but the members involved, including Reps. Michele Bachmann and Steve King, apparently got cold feet at the last moment. Seagal has said he is considering applying for Russian citizenship.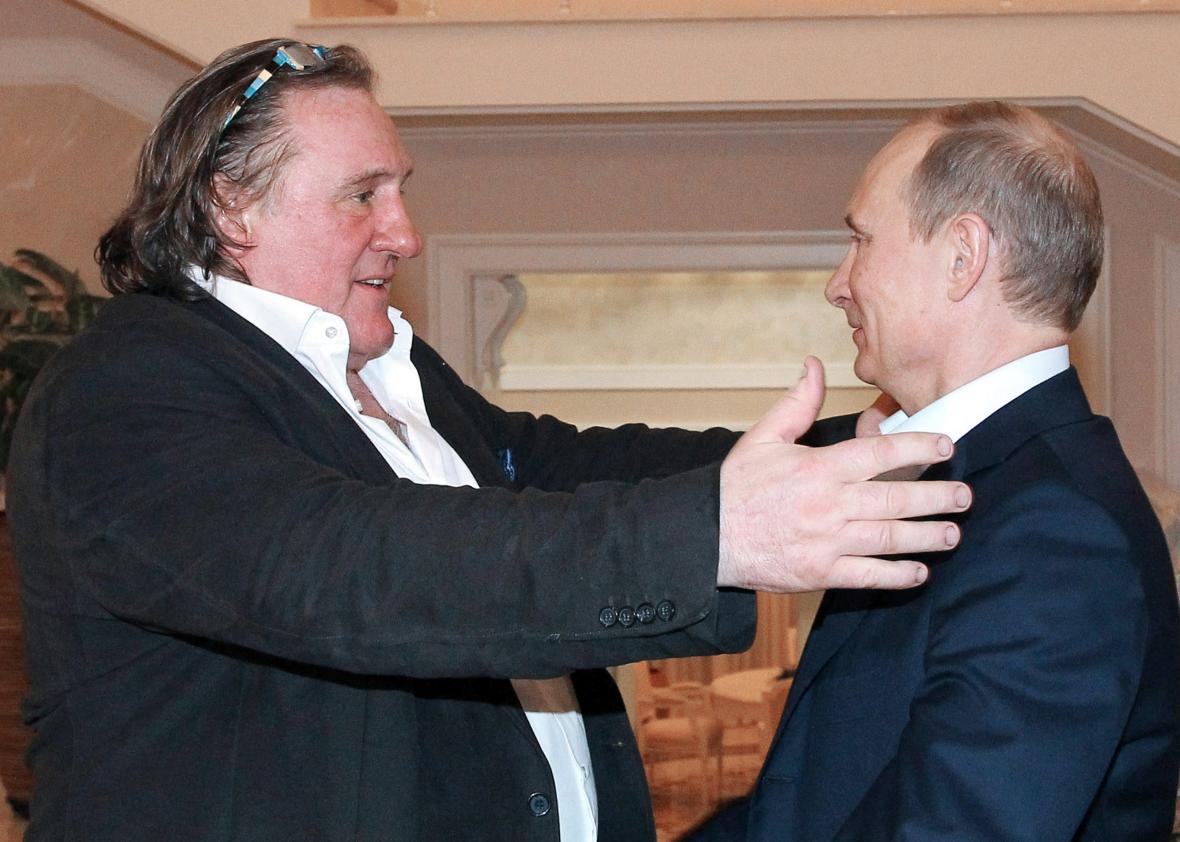 French actor Gerard Depardieu's attachment to Russia seems a bit more self-serving than Seagal's, though is equally enthusiastic. Putin personally handed Depardieu his new Russian passport in 2013. The president had signed a decree granting him citizenship following a very public tax dispute between the actor and the French government. (Prime Minister Jean-Marc Ayrault had called Depardieu's decision to move abroad to avoid the new Socialist government's high taxes on millionaires "shabby and unpatriotic.") "I have come to Russia because Putin is a democrat," Depardieu said. The actor has also been chummy with Chechnya's notorious strongman Ramzan Kadyrov, who gave him a luxury high-rise in Grozny. Here's a video of Depardieu doing something resembling dancing to Chechen folk music at a reception hosted by Kadyrov:
Last year, Depardieu starred alongside Elizabeth Hurley in Viktor, a revenge drama filmed in Moscow and Chechnya, performing in English in what the New York Times review called a "tongue-lollingly thick Russian accent that suggests tranquilizers."
Rounding things out, Limp Bizkit frontman Fred Durst also seems to be angling to join the club. Though now widely reviled in its home country, Limp Bizkit is still extremely popular in Russia. In a recent interview with a Moscow radio station, the Chocolate Starfish and the Hot Dog Flavored Water auteur said that he tries to travel to Russia at every opportunity, "wouldn't mind getting a Russian passport," and asked if the "relevant authorities" could help him make it happen. An enthusiastic tweet from the Russian embassy in London suggests he might get his wish:
 "How Russia is portrayed in the media is far from reality, and I want to prove to everyone, that it's really cool!" Durst continued in the interview. Since then, Limp Bizkit has received an invitation to perform from the "culture ministry" of Donetsk People's Republic, the pro-Russian separatist enclave in Eastern Ukraine, and the band's Russian tour manager has suggested they might swing by on their next tour.
This is undoubtedly an odd list, but remember Putin is the leader of a fading superpower dismissed by many as a few years past its prime who has won public support by promising his citizens a return to greatness and global relevance. Perhaps it's not so surprising that this particular set of guys are drawn to him. 
Correction, Oct. 29, 2015: This post originally misspelled Steven Seagal's last name.