Much of South Carolina remains at a standstill on Monday as one of the worst flooding events in U.S. history continues to unfold. Truly stupendous amounts of rain have fallen, and state officials estimate that more than half of South Carolina is currently underwater. And it's not over yet: The water level in major rivers will continue to rise for most of the week as runoff from tributaries upstream slowly makes its way to the Atlantic.
As if the flooding wasn't enough, a National Weather Service statement late Sunday warned residents: "Be alert to wildlife that may have been displaced by flood waters, including alligators and snakes."
The Associated Press reports at least seven deaths have been blamed on the storm so far. Police in Columbia, the state capital, planned fresh door-to-door checks on Monday, marking a fluorescent orange X on houses as they go—harkening back to the aftermath of Hurricane Katrina in New Orleans 10 years ago.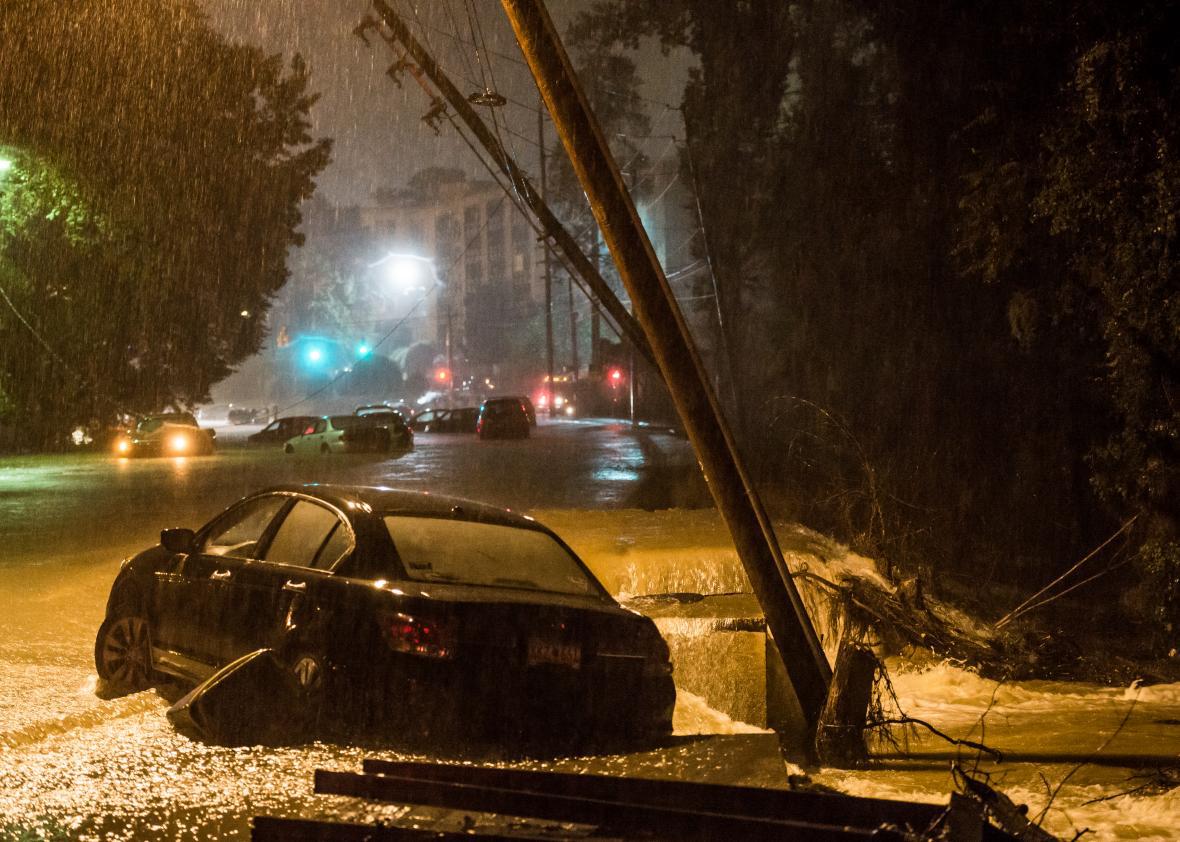 The exceptional flooding can partially be blamed on a persistent stream of tropical moisture from Hurricane Joaquin. On Saturday evening, it became obvious that the rain was falling fast enough for a dire scenario to unfold. The National Weather Service issued a rare "flash flood emergency" for Charleston, warning residents to "act quickly to protect your life." On Sunday morning, as floodwaters were overwhelming the state, the South Carolina Emergency Management Division issued an urgent bulletin, including a special push notification on Twitter, urging every single person in the state to remain where they were if they could do so safely. (They repeated that call on Monday.) One news station in Columbia told viewers not to go to church on Sunday, saying, "We have never seen anything like this."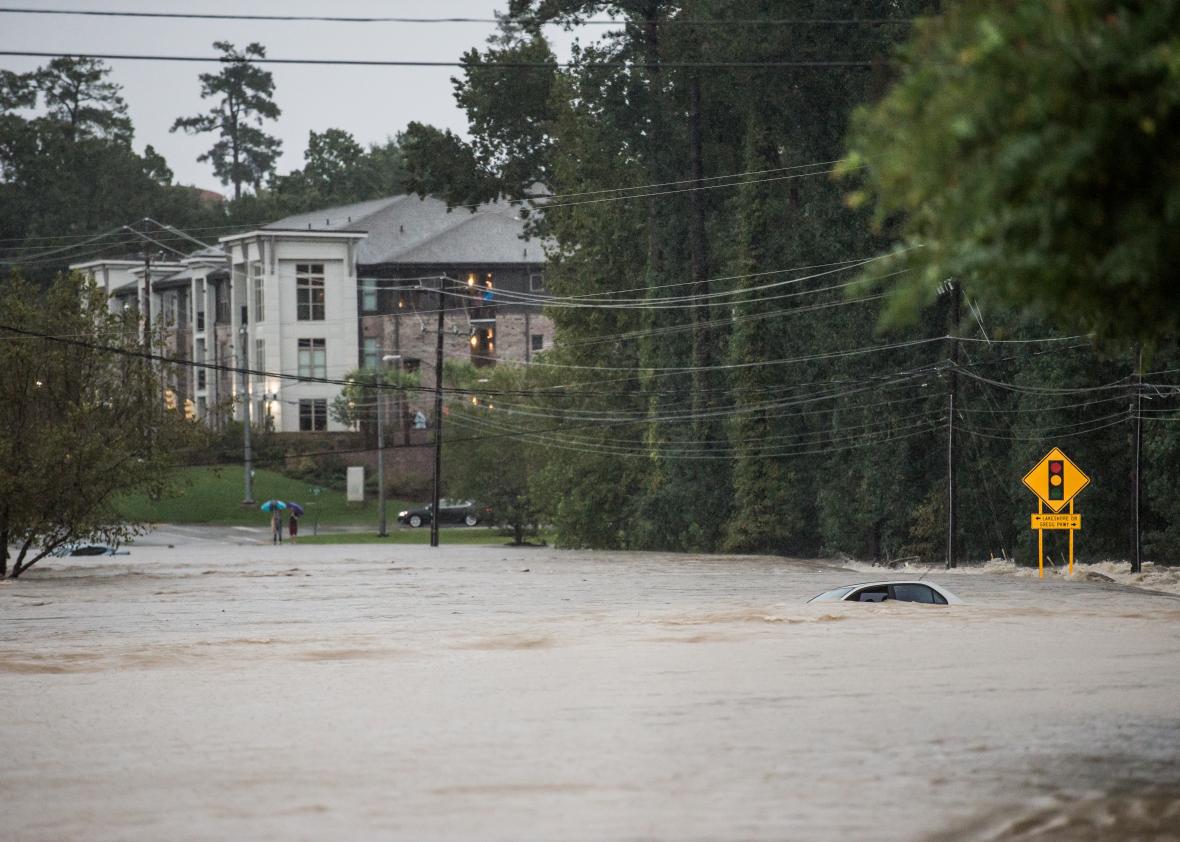 Even with all the warnings, Sunday was a day filled with harrowing rescues statewide. At one point, the city of Columbia said 200 high water rescues were "pending." Columbia's fire department dispatched officers to homes, trees, and cars, and in one case, a helicopter was sent to rescue a firefighter who himself became trapped in the high water. In Charleston, the Coast Guard—which normally responds to distress calls at sea—was performing rescues over land.
The flooding was worsened by several dam breaches across the state. At one dam near Greenville in the western part of the state, water was flowing through the spillway at more than a thousand times the normal rate.
As Brian Hinton, deputy chief of the Charleston County Volunteer Rescue Squad, told the New York Times, "For us, this is a biblical event."
As of Monday morning, the National Weather Service said that event was finally waning. The true amount of rainfall and flooding may never be known. In one example, the USGS water level gauge measuring Gills Creek in Columbia stopped measuring at more than 10 feet above flood stage early Sunday. A later statement from the National Weather Service confirmed that the gauge had been washed away. The flow of the Congaree River through downtown Columbia peaked at four times the historic maximum before its gauge also appeared to fail early Monday.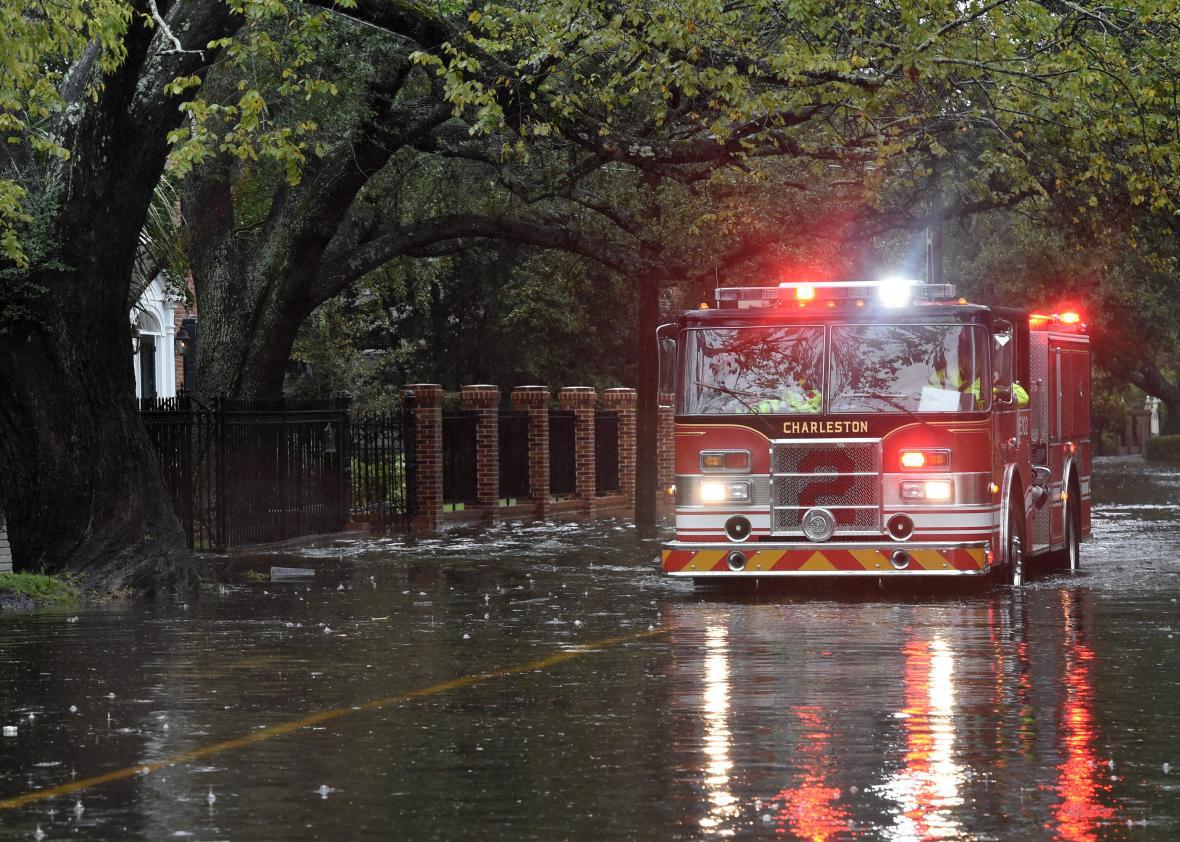 Many official weather observers across the state also reported difficulties measuring rainfall during the height of the storm because it was falling so fast. Where gauges held out, like at the airport in Charleston, nearly every standing rainfall record was broken, including a new monthly rainfall record in less than four days—racking up a total that eclipsed some of the worst flooding events in U.S. history.
Sadly, this is exactly the type of event we can expect to see more of as the planet warms. One of the most straightforward responses to climate change is a quickening of the hydrologic cycle: Warmer air speeds evaporation and can cause rain to fall with greater intensity. This supercharges the atmosphere, and boosts the likelihood of devastating floods. What's less clear is how many of these events it will take—major floods also hit China, France, and Guatemala over the last week, with more than 100 dead—before we start bending the global emissions curve away from a worst-case climate scenario.