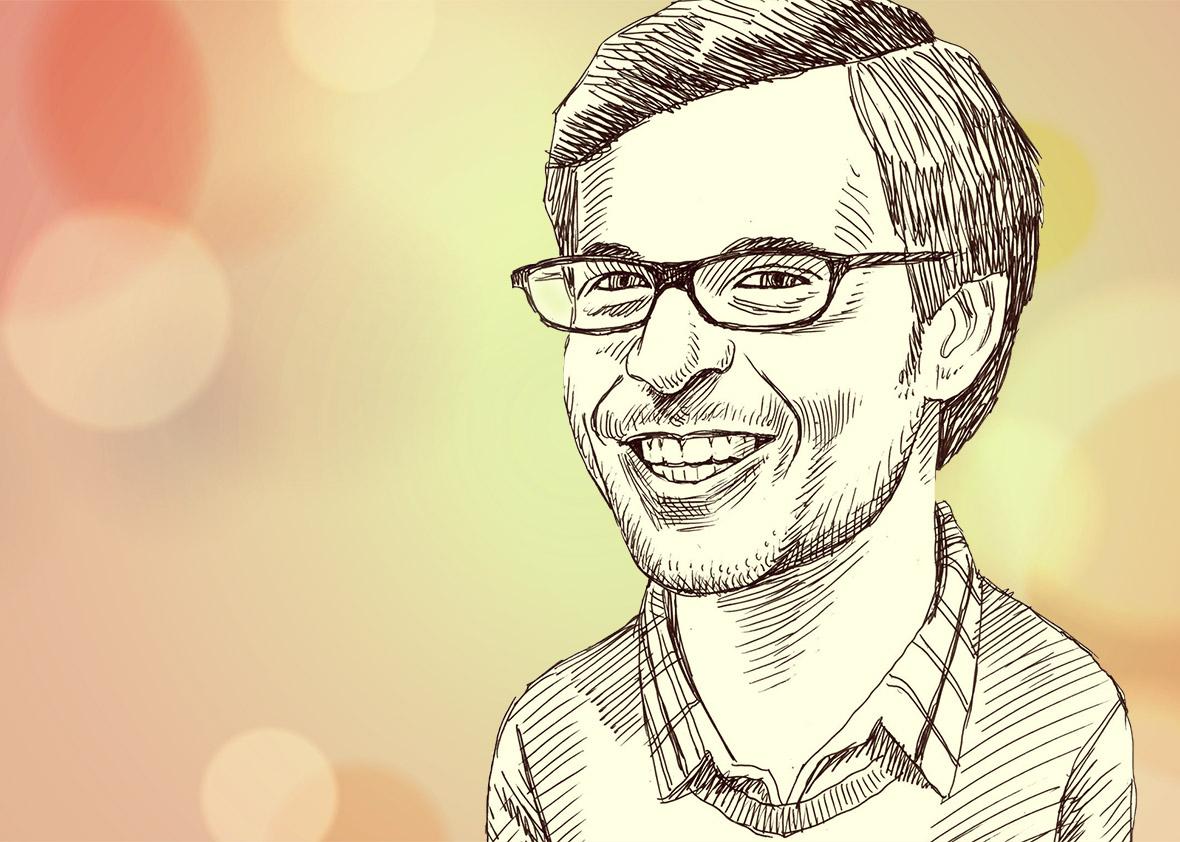 Beware, Slate Plus–aritions,
I'm Seth Maxon, Slate's spooky creature of the night. OK, I'm too short and bespectacled to scare someone, but I am our blood-red website's home page editor during nights and weekends. When the moon glows and pigskins fly, I decide which Slate pieces to promote on our home page, watching traffic and writing headlines to entrap all who enter Slate.com. OoOOoooo!
Like many monsters, my powers defy and befuddle: I also copy edit for Slate, excising unsuspecting commas and surgically inserting en-dashes wherever I see fit. I've also written about your number of sex partners, the legend of Hersh and Bin Laden, and the dress. Most recently, I started haunting inboxes everywhere with our Today in Slate newsletter. It's a daily email that aims to share which Slate stories to read, watch, or listen to if you want to understand the world. Which can be tough in our mysterious realm of vampire bats, loose blimps, and Ted Cruz; I'm here to help. If you like Slate Plus newsletters, I promise you'll like it. Please subscribe!
This week, Slate offered a terrifying panoply of pieces to feature on the home page and in the newsletter.
Monday, both prominently showcased Will Oremus' outstanding story about adaptive learning technologies. In the ancient past, teachers taught students with lessons delivered on paper, blackboards, and in lectures. Today, artificial intelligence is killing the textbook. The old bind-and-ink companies are betting their futures on educational computer programs that respond to students' abilities and weaknesses, developing courses for each kid's needs. This might revolutionize education, but it raises practical, ethical, and philosophical questions, too: How much of learning can really be automated? Do we want companies to collect and potentially sell data about children's learning? What do students want and need from a teacher? Will's piece is a fascinating investigation into a promising tool that will soon be in schools across America.
I really appreciated this clear-eyed explanation of the bacon-will-give-you-cancer story; this knowing, skeptical look at the chatter that Luke Skywalker will be evil in the new Star Wars movie; Katy Waldman's ellipsis exegesis; and my copy deskmate Heather Schwedel's polemic against long-sleeved shirts masquerading as shorter-sleeved shirts.
All were more delightful than Wednesday's Republican debate, during which candidates feared the truth and rational tax plans, CNBC's moderators lost control and authority, and Jeb bombed. (He also inspired a "Bush is doomed" media narrative that's a self-fulfilling prophecy.) And if the debate caused you to wonder about the broader state of political dysfunction, I recommend Lily Hay Newman's conversation with Neil deGrasse Tyson about pols who mangle science and Jim Newell's look at the Freedom Caucus's cowardly refusal to level with voters about what's possible in Washington. Ultraconservative congressmen win campaigns by promising voters the end of Obamacare and Planned Parenthood, but since they need the president and Senate to sign off on legislation, that is impossible, full stop. Would be nice and even brave if they'd admit it.
The week's scariest story was Dahlia Lithwick's piece about crime lab scandals, most egregiously in Massachusetts, where tens of thousands of people were wrongfully convicted because a chemist and a drug-addicted lab technician tampered with evidence. These injustices created a horrifying problem that has ruined many, many lives and has no simple solution. Speaking of justice, I also recommend Leon Neyfakh's Q&A with one of the authors of a provocative study questioning the myth that ex-cons usually return to prison.
The Mets' struggles are mythic in their own right, and as a fan, I still gotta believe Mike Pesca's argument for why they should be the World Series favorites, instead of the Royals, who are proving their case through the first two games. I've been casting spells on the Kansas City players before the series shifts to Queens Friday night, so if the Metropolitans win, you'll know why.
Happy Halloween! And thank you so, so much for supporting Slate with your Plus membership! You are our dark spirit.
Seth
---