U.S. News & World Report got itself a nice scoop last night by obtaining a 112-page internal Jeb Bush campaign document that outlines the flagging former governor's strategy for the Iowa and New Hampshire presidential caucus/primaries and outlines potential lines of attack against rival "establishment" candidate Marco Rubio. (A similar, shorter strategy document that was intentionally released to reporters a few days ago raised eyebrows by referring to Rubio as the "GOP Obama," which was apparently supposed to be an insult.) Some of the takeaways from the leaked document:
Bush thinks the personal finance problems that Rubio shrugged off at Wednesday's debate could be serious liabilities for him.

Bush is planning to spend $11 million on an "advertising blitz" in January, of which half will be spent in New Hampshire.

Bush doesn't think he can win Iowa but is aiming to get 18 percent of caucus votes there (he's currently at 6 percent).

Far and away, though, the best detail in the piece is this gem, which U.S. News mentions very casually:
They'll need that message to be heeded in order to make it to their fourth-quarter fundraising rollout, scheduled for Dec. 5 at the trendy Art Basel in Miami. The event is called, "Pop Art, Politics & Jeb."
What now!?! For those who aren't familiar with Art Basel, it is a hip art-fashion-film-advertising exhibition/series of parties at which you will see people like James Franco. It is in other words a very unlikely place to find a Republican presidential candidate who is noticeably awkward even compared with other Republican politicians. And Pop Art of course was a movement commonly associated with Andy Warhol, a gay man and amphetamine enthusiast who is not a noted hero of most Republican primary voters. (Warhol did, however, reportedly once say, "I know I should be for the Republicans, because I hate paying taxes.")
Here's an illustration for the event included in the leaked U.S. News document: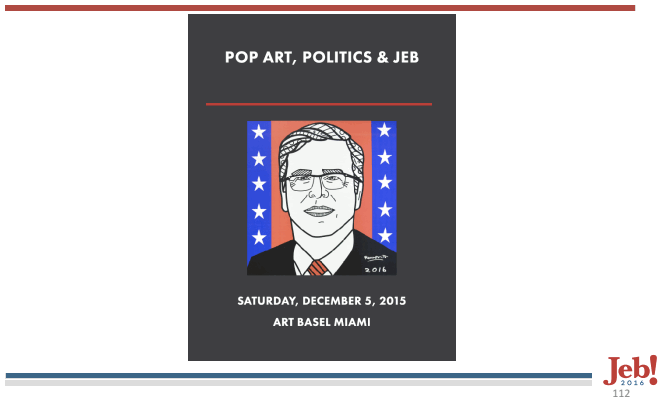 Amazing.