Yes, Hurricane Joaquin is headed out to sea. But in addition to the widespread coastal flooding from Virginia to Massachusetts that's already occurring and likely to intensify over the weekend, an even bigger threat is the truly tremendous amount of rainfall that's on the way to the Carolinas.

Flooding across the Southeast, in particular, is likely to be historic. One analysis predicts that parts of the Carolinas are on pace for a "thousand-year rainstorm," which isn't exactly a rainfall bigger than any rainfall in a thousand years—we only have reliable weather records for 150 years or so, after all—but an estimate based on statistics. Whether it is truly such an event, the rainfall that's about to happen is exceedingly rare. And could be very dangerous.
For perspective: The National Weather Service expects more than 15 inches of rain to fall in South Carolina—three months of rainfall in three days—which threatens to break the state's all-time monthly rainfall record in the span of a single weekend. A public statement from the Greenville-Spartanburg, S.C. National Weather Service office, which also covers mountainous parts of western North Carolina, warned of resulting landslides and destructive mud flows and cautioned local residents to be prepared to leave their homes "as quickly as possible" should "moving earth" threaten their communities. The heaviest rain should occur during the day on Saturday, and likely won't taper off until late Sunday.
The National Weather Service in Charleston issued a strongly-worded addition to this afternoon's flood watch, in characteristic all-caps style:
* LIFE-THREATENING FLASH FLOODING IS POSSIBLE. DURING THE TIMES OF HEAVIEST RAINFALL…ROAD CLOSURES COULD BECOME COMMON AND MOTOR VEHICLE TRAVEL COULD BECOME IMPOSSIBLE. WHERE THE HEAVIEST RAIN FALLS…STANDING WATER COULD REMAIN AND IMPEDE OR PREVENT TRAVEL FOR EXTENDED PERIODS OF TIME. IN SOME AREAS…WATER COULD ENTER STRUCTURES.
Later on, the statement mentioned downtown Charleston would be especially at risk during times of high tide. The Charleston NWS office also provided some flood safety tips.
How can this happen, with the hurricane so far away? Think of Joaquin as a giant tropical fountain: It's been spinning near the Bahamas for most of the last two days, with winds greater than 100 mph turning the ocean into a blanket of sea spray that's being sucked upwards by intense thunderstorm updrafts. All that water is entering a low-level jet stream pointed squarely at the southeast U.S.—a weather pattern that's being enhanced by strong Canadian high pressure. The result is an atmosphere over the Southeast that's saturated all the way up to the stratosphere: A perfect recipe for historic rainfall and flooding.
The meteorological term for this is a "predecessor rain event," which I discussed in a bit more detail earlier this week. Once you factor in the record-warm ocean temperatures boosting evaporation even further in the vicinity of Joaquin, the current weather setup is basically the atmosphere conspiring to produce truly extreme rainfall rates. The Washington Post's Capital Weather Gang noted, however, that these sorts of rainfall events are notoriously tricky to predict, so the heaviest rainfall could happen anywhere from northern Georgia through the Carolinas to southern Virginia.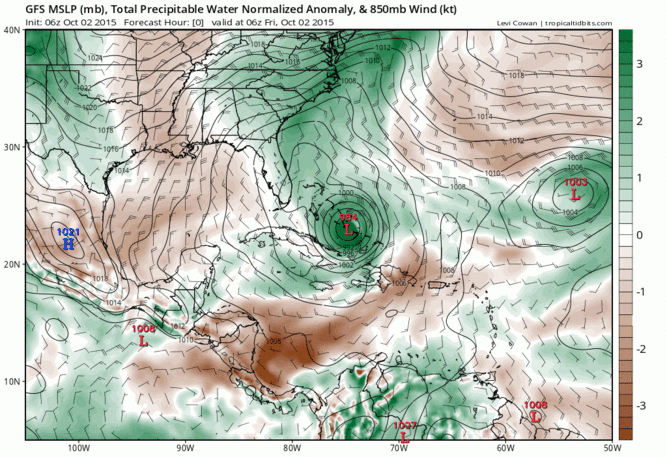 Since warmer air can hold more water vapor than cooler air, this is exactly the sort of thing we can expect to see more of as climate change intensifies. It's also a trend that's been widely observed to be already occurring across the entire country. In 2013, a similar thousand-year rainstorm devastated parts of the Front Range of Colorado, though a different meteorological setup was to blame.
If you have friends or family in the Carolinas, please caution them to take this flooding event seriously. The damage it's likely to produce will be Joaquin's lasting legacy in the U.S.