Irving, Texas "clock kid" Ahmed Mohamed and his parents and siblings are moving to Qatar, the family announced today in a press release:
After careful consideration of all the generous offers received, we would like to announce that we have accepted a kind offer from Qatar Foundation for Education, Science and Community Development (QF) for Ahmed to join the prestigious QF Young Innovators Program, which reflects the organization's on-going dedication to empowering young people and fostering a culture of innovation and creativity.
This means that we, as a family, will relocate to Qatar where Ahmed will receive a full scholarship for his secondary and undergraduate education.
Mohamed's sister told the Dallas Morning News that her brother will study at the Doha Academy. The press release language about the QF Young Innovators Program, incidentally, is taken directly from a press release that the Qatar Foundation put out on Oct. 5 after the family toured its facilities. There is no apparent evidence on Google or in the Nexis news database of anything called the "Qatar Foundation Young Innovators Program" having existed before two recent QF press releases. (The Qatar Foundation is affiliated with something called the World Innovation Summit for Health Young Innovators program, but that program involves invididuals up to 30 years of age who have "significant achievement innovating in a health-related field.")
Here are the results for a search of "Young Innovators Program" on the Qatar Foundation website: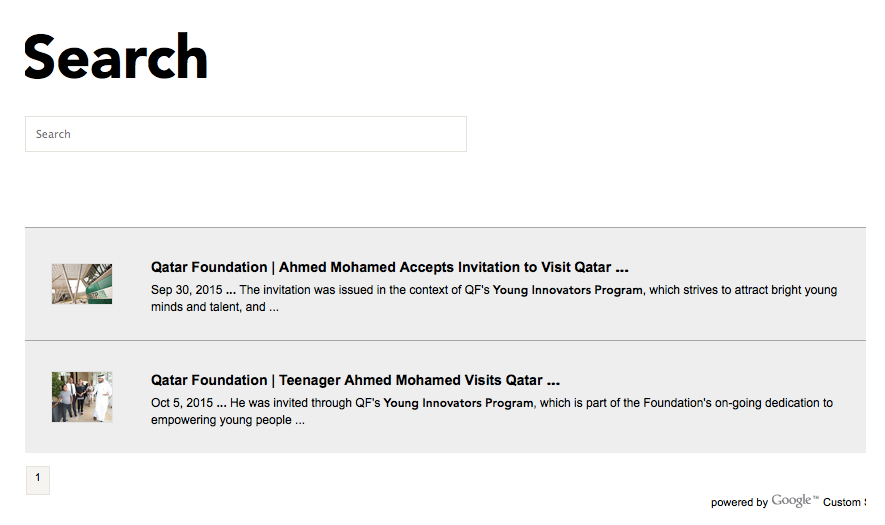 (I emailed the Qatar Foundation asking for more information on the Young Innovators Program and will update this post if they respond.)
On Monday, the younger Mohamed was a guest at a White House "astronomy night" at which he briefly met President Obama. Last Wednesday, he and his family met Sudanese strongman and accused war criminal Omar al-Bashir, against whom Mohamed's father Mohamed Elhassan Mohamed ran for president in two quixotic campaigns. Mohamed's father also made news in 2011 after appearing as the Koran's "defense attorney" in the Koran "trial" staged by Florida pastor Terry Jones. Never a dull moment in the Mohamed family!